As any experienced trader knows, a short squeeze is defined as short sellers, in this case call writers, being forced to cover their position before their position can be closed out on expiration day. In the case of Seadrill Ltd. (NYSE:SDRL) there is a possible short squeeze developing. It is possible call writers get off the hook due to the much anticipated market correction resulting from tapering of the Fed's open market operations. It is, however, unlikely due to current volume and historical trends. Seadrill is, simply, too close to the ex-dividend date and will likely spike due to high demand for the stock (and dividend) and a low supply of the stock. It appears shorts may be forced to buy into high demand and low supply to cover their positions.
How did we end up here
In order for investors to understand how the situation is going to develop it is important to understand how the situation developed into what it is today. Seadrill was seen by many investors as a massive risk mainly because in 2011 and 2012 it paid more in dividend than it had in free cash flow. Serious doubt as to whether the company would be able to continue its industry leading quarterly payments created a perception that call options could undoubtedly be safely written above $40.00. In actuality Seadrill has performed well this year. They have generated more contract revenue than should have been possible based off the sum of the dayrates on the fleet status report . Seadrill has not only benefited from the revenue of new rigs leaving the ship yard but from the performance of the fleet as a whole and even from a strengthening US Dollar. In my article "Seadrill Offers Dividend And Growth", a mathematical analysis of Seadrill is available to provide additional clarity if necessary.
The August 17 Calls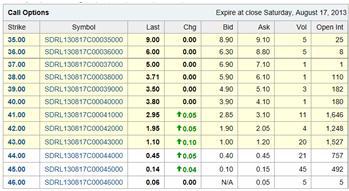 Source: Yahoo Finance
The Situation
I've been tracking and trading Seadrill for the past 18 months. Over the past 18 months I have made note of the fact that Seadrill increases by an amount nearly equal to 1.5 times the amount of the dividend and sells off by approximately the same amount on the ex-dividend date. A run up to the dividend is common with most high yielding dividend stocks. This should seal the fate of the August 17 options chain resulting in a short squeeze. Many investors have anticipated Seadrill retreat from 52 week highs with the rest of the market but due to the fact that Seadrill will soon be paying its dividend that retreat does not seem to be likely until the ex-dividend date. In all 3 charts below the run up to the dividend was preceded by volume less than half the 3 month average. This week we have seen volume less than half of the 3 month average. Also in all 3 charts the stock sold off sharply on the ex-dividend date.
May 6th - June 5th 2013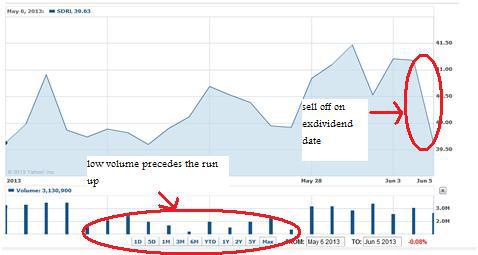 Source: Yahoo Finance
November 6th - December 6th 2012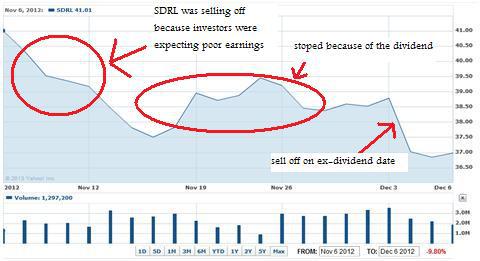 Source: Yahoo Finance
August 3rd -September 4th 2012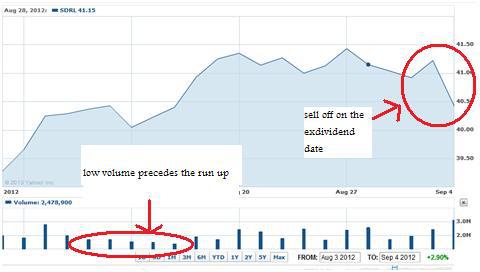 Source: Yahoo Finance
Conclusion
Although it is possible call writers could get off the hook in the next 5 business days it appears unlikely based off of current volume and historical trends. Investors should not be surprised to see a price spike relevant to shorts covering their positions and delivering the stock to the call buyers on top of the price spike related to the ex-dividend date.
The Short Idea
The possibility of a short squeeze is a little speculative. It may be imprudent to buy calls in anticipation of a short squeeze. However, should a short squeeze develop, shorts will be buying into low volume alongside investors interested in the dividend. Share price could exceed 50 dollars. Puts shouldn't be too expensive (since the stock just gained 10%) and traders have the advantage of waiting to ensure the situation develops as it should. Holding near the money puts going into the ex-dividend date would put investors in position for possibility of some promising upside with little possibility of down side since the stock has sold off on every ex-dividend date for the past several years.
How This Could Affect Long Interest
I hate to state the obvious but if the situation does in fact develop and a short squeeze takes place then obviously longs are going to see a little volatility in the next 30 days and your dividend reinvested isn't going to buy you as much as it has in the past. Longs should probably be more focused on Q2 earnings and look beyond the volatility. If Seadrill's performance in Q2 matches up with the markets expectations, then you should be, for the most part, unaffected once the dust settles. This could, however, offer an investors with long term interest an opportunity to hedge their position since crude prices are expected to pull back from recent highs.
Disclosure: I am long SDRL. I wrote this article myself, and it expresses my own opinions. I am not receiving compensation for it (other than from Seeking Alpha). I have no business relationship with any company whose stock is mentioned in this article.