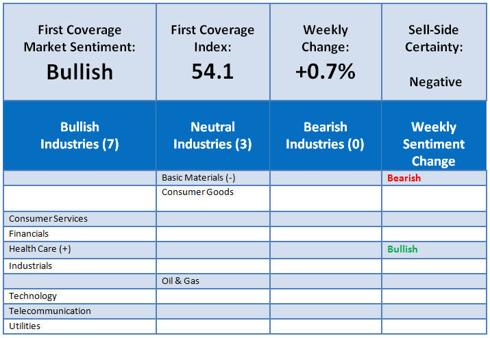 Sell-Side Content to Stay Content.
Another week and when it comes to the only data point that matters, the one that asks, "Did we get some data point that made the sell-side sit up and take notice that things aren't as rosy as they seem?", the answer is a resounding no!
And with that acknowledged, the sell-side continues to suggest, if only a tad less enthusiastically than in previous weeks, that their buy-side clients remain long the market.
Sell-Side Gets Very Bullish on Healthcare.
Healthcare surprised us by undergoing a very large bump in bullish sentiment over the last week. Clearly, the cause of these things are always somewhat ambiguous, but in this case, it's a good bet that either the first cases of H1N1 re-emerging or the troubles that President Obama continues to wrestle with regarding healthcare reform helped the cause.
Regardless of the cause, over the last week, a sell-side increase in bullishness within the healthcare industry by almost 17% dwarfed the next largest increase of 2.2% in telecommunications.
Financials Sentiment Yet to Roll Over.
A couple of weeks ago, we mentioned that the sell-side's love affair with financials was levelling out. It wasn't falling apart, and we hadn't seen anything dramatic happen that would make us think the sell-side had gone bearish on their places of employment. But, the rapid rise in bullish sentiment that had taken this industry from 10th to 3rd did seem to have exhausted itself over an extended, at times hyperbolic, run.
The data going through First Coverage also seems to support the belief that a break in the sentiment surrounding financials would be needed for the overall market to enter a sustained bear period. On the bright side, another week down and still no break in financials to report.
Basic Materials Aren't as Basic as You'd Think.
One week up, one week down. The relationship between the sell-side and the basic materials industry is definitely becoming a complex one.
Renewed belief amongst some in a strengthening US dollar might have been enough to make some of the sell-side professionals jump off the commodity bandwagon (dollar goes up, prices come down), but that alone probably wasn't enough to make sentiment decline over 10.9% in the industrial metals and mining sector.
Another potential cause for an increase in the bearishness surrounding precious metals could be a result of growing comfort by the "undecided" branch of sell-side professionals with the underlying fundamentals of this extended rally.
The Tickers That Are Generating the Greatest Buzz.
Over the last week, the following stocks had the greatest sentiment shifts in ideas being communicated between the sell-side and buy-side on First Coverage.
Bullish:

Bearish:

Until the first week of October…