Investors are always looking for new ideas. While utility companies are not usually new to most long-term investors and especially income investors, reviewing their fundamentals using new tools may produce some "new" ideas. Return on Invested Capital (ROIC) should be a "new" tool used by utility investors seeking to expand their portfolios.
ROIC is a management effectiveness ratio that helps investors identify managers who maximize profits from all sources of capital at their disposal. ROIC incorporates shareholder returns from both equity capital and debt capital. Many investors usually highlight earnings and dividend growth, yet these come with a heavy price for regulated utilities. That heavy price is a growing investment base funded by large and usually increasing long-term liabilities on their respective balance sheets. Earnings growth rates and return on equity do not consider the impact of these higher liabilities. ROIC provides insight into how effectively total capital is deployed, regardless of its origin. Total capital analysis is very important in capital intensive sectors such as utilities.
Several websites offer ROIC calculations and it is becoming easier to incorporate this matrix into every fundamental analysis. Reuters offers fundamentals of long-term debt to equity, most recent trailing 12 months (TTM) return on equity and average 5-yr return on equity. I use this as the basis for the formula ROIC=ROE / (1+Debt to Equity ratio) to calculate ROIC. I prefer this formula as it factors only long-term debt rather than total debt outstanding and most capital projects are financed using long-term debt. Morningstar offers ROIC numbers, as does fastgraphs.com. These sites are readily available.
There are any numbers of electric utilities that are mentioned when asked for new research ideas. I have looked at the following list and compared ROIC numbers: Exelon (NYSE:EXC), Southern Company (NYSE:SO), Wisconsin Energy (NYSE:WEC), NextEra Energy (NYSE:NEE), Dominion Resources (NYSE:D), Northeast Utilities (NU), PPL Corp (NYSE:PPL), Duke Energy (NYSE:DUK), Alliant (NYSE:LNT), ITC Holdings Corp (ITC), and Avista Corp (NYSE:AVA). The table below lists TTM ROIC, 5-yr average ROIC, the difference between TTM and 5-yr average, and LT Debt to Equity ratio of each, and then sorted by 5-yr average ROIC:
| | | | | | |
| --- | --- | --- | --- | --- | --- |
| Company | | TTM ROIC | 5-yr ROIC | TTM vs 5-yr ROIC | LT Debt to Equity |
| Exelon | EXC | 2.97% | 9.59% | -6.62 | 0.80 |
| Southern Company | SO | 4.71% | 6.19% | -1.48 | 1.04 |
| Wisconsin Energy | WEC | 6.55% | 6.04% | 0.51 | 1.03 |
| NextEra Energy | NEE | 3.94% | 5.56% | -1.63 | 1.41 |
| Dominion Resources | D | 1.08% | 5.50% | -4.42 | 1.60 |
| Northeast Utilities | NU | 4.70% | 5.13% | -0.43 | 0.80 |
| PPL Corp | PPL | 5.10% | 5.10% | 0.00 | 1.72 |
| Duke Energy | DUK | 3.28% | 4.85% | -1.56 | 0.93 |
| Alliant Energy | LNT | 6.02% | 4.78% | 1.24 | 0.93 |
| ITC Corp | ITC | 4.41% | 4.42% | -0.01 | 2.13 |
| Avista | AVA | 3.28% | 3.74% | -0.46 | 1.01 |
| Utility Sector | | 4.18% | 2.20% | 1.98 | 1.41 |
Investors should be looking for ROIC that is above sector averages of 4.18% for TTM. In addition, an upwards trend should be in place whereby TTM exceeds the 5-yr average. If not, further research needs to be conducted to determine if the slide in ROIC is temporary or a more permanent problem. For example, EXC's large decline in ROIC is based on very weak electricity pricing and EXC's exposure to merchant power generation.
There is the belief that ROIC is the most important fundamental number for consideration and the earnings growth that fuels dividend growth cannot be sustained above the overall return management generates from all its sources of capital.
Fastgraphs.com offers a 15-yr graph of historic ROIC that should be very useful for investors, and is found in its F.U.N graph segment. Below are graphs for the above mentioned companies:
EXC: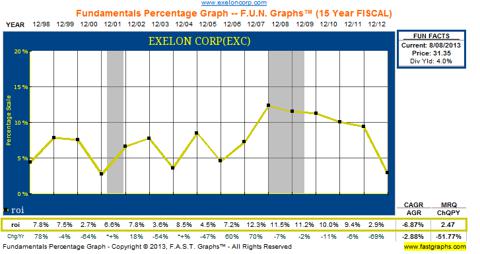 SO: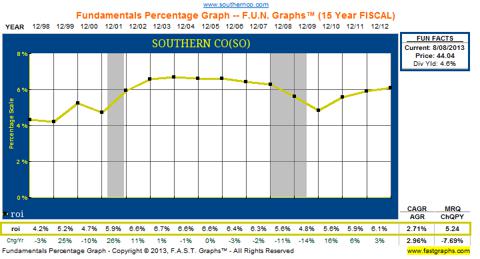 WEC: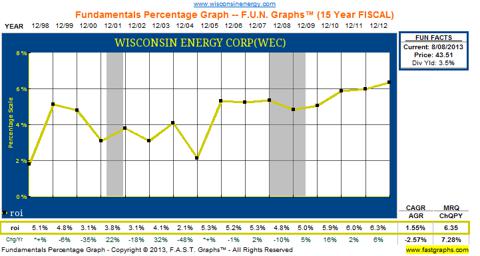 NEE: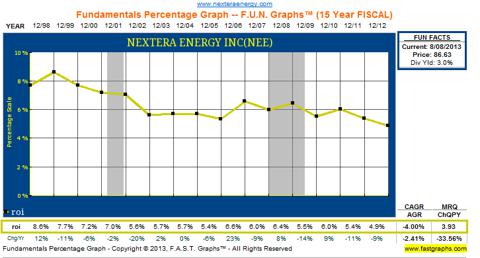 D: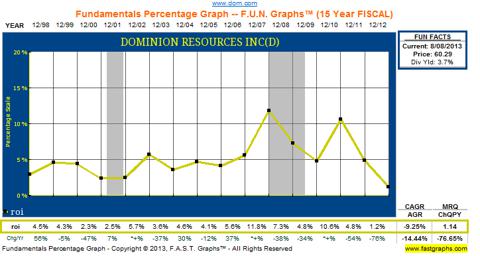 NU: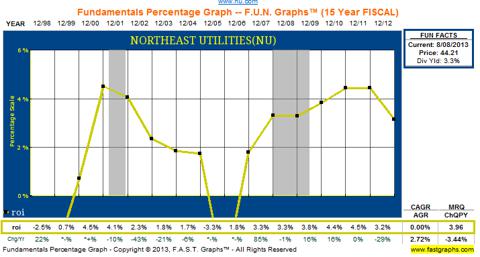 PPL: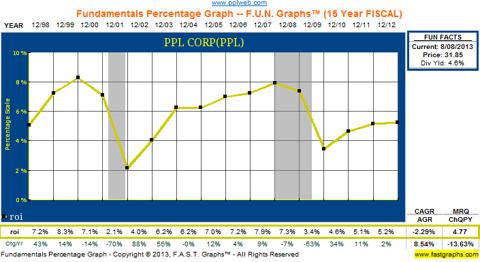 DUK: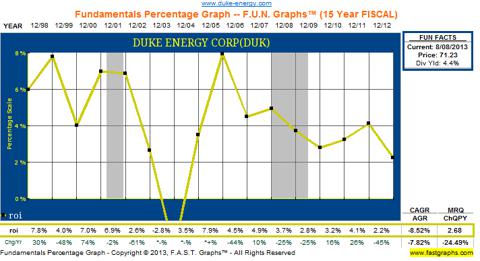 LNT: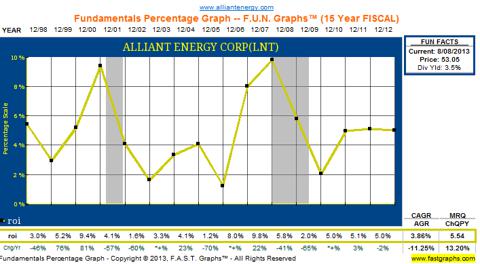 ITC: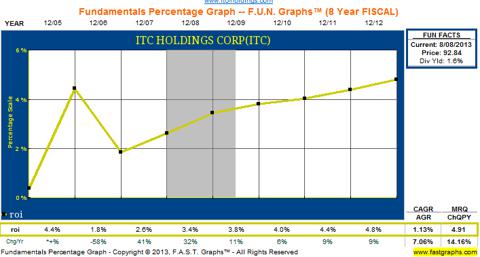 AVA: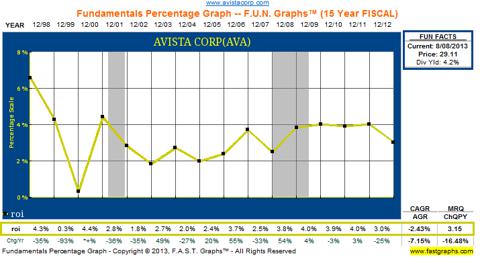 As investors research new ideas or review current holdings, ROIC analysis could become quite interesting. These charts tell an intriguing tale of management performance and it is important for utility investors to appreciate the amount of annual volatility they depict. Comparing these charts to steadier charts of earnings and dividend growth should give most investors pause.
When TTM ROIC declines, as in the case of EXC, DUK, or D, it is important for shareholders to research the potential reasons and to determine if the situation is temporary. Accompanying these declines should be stock price weakness that may offer long-term buying opportunities.
Author's Note: Please review important disclaimer in author's profile.
Disclosure: I am long EXC, ITC, SO. I wrote this article myself, and it expresses my own opinions. I am not receiving compensation for it (other than from Seeking Alpha). I have no business relationship with any company whose stock is mentioned in this article.