The Wendy's (WEN), a fast food company, is prioritizing capital allocation for funding the Image Activation initiative, and cash distribution to its shareholders. Based on its present structure, 22% of restaurants are company owned, while the other 78% are franchised. It is about to bring changes to this format in order to improve its margins and costs.
But presently, Wendy's is facing a labor strike, which is expected to have a significant impact if the case doesn't favor the company's side. Still, the company is positive, and it initiated strategies to improve its sales and grow its franchise restaurant base. What's inportant here is to determine how the company is going to manage this labor setback in order to concentrate on its futuristic opportunities.
Image Activation initiative gaining momentum
Wendy's opted for an Image Activation model to remodel its fast-food joints in the coming two years' period. For this purpose, the company narrowed its focus to three model tiers, all of which will feature modern exterior designs, fireplaces, lounge seating, booths, separation between order placement and pickup, a new queue, and front-counter design.
For Tier 1 reimage, it allotted capital investment ranging from $650,000 to $750,000. Wendy's completed the reimaging of Tier 1 in early 2011, which resulted in sales lift of 25% in that year, and sustained at 20% in the 2012. The Tier 2 reimage will have a capital investment range of $510,000 - $550,000, and Tier 3 is expected to be around $375,000. Tier 2 is expected to deliver sales lift of approximately 20% in this fiscal year, while the Tier 3 will post nearly 7.5% of sales lift, based on its previous year's restaurant sales of $2.1 billion. As of the end of 2012, Wendy's completed nearly 76 restaurants, or 1.2% of the system unit base.
Last year the company announced a $10 million incentive program, through which it aimed at providing $100,000 per unit stipend for the reimaging of 100 franchise restaurants in 2013. Wendy's is expected to reimage 100 restaurants in 2013, 200 restaurants in 2014 and 2015 each. Additionally, it will reimage 100 franchises in 2013, 200 franchises in 2014, and 300 franchises in 2015.
Dividend: Although Wendy's has a low dividend yield, Wendy's is known for its consistent dividend payments to its shareholders.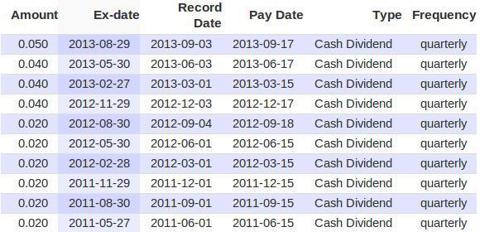 Source: GuruFocus
Thanks to benefits from increased franchising, Wendy's has raised its dividend from $0.04 to $0.05, a 25% hike. Based on this rise, Wendy's can pay $79 million in the form of dividends over the coming four quarters, bringing its dividend yield to 2.8%.
Shares Buyback: In November last year, Wendy's management team authorized $100 million for share repurchase activity. The company kept this share repurchase authorization plan lowest on the list of capital allocation priorities, causing delays to the repurchase plan. It aimed at utilizing this activity strategically, especially on the changing scenario of the stock price performance. In other words, this plan would have been utilized if the stock did not respond well. But in the past seven months, Wendy's stock has grown by 56.17%, from $4.70 during the start of the year to $7.34 as on August 1, 2013. With improved results in the past two quarters, the company is expected to initiate this shares buyback program from this quarter onwards, and continue until the end of this fiscal year.
Labor wage hike issue
In the recent second quarter results, Wendy's posted operating EPS of $0.08, surpassing the street estimates of $0.06. This was primarily due to strong restaurant level cost controls, which brought the restaurant level margins to 16.7%, an increase of 2.6% compared to its year-over-year quarter. This strategy included labor controls reducing by 0.6% quarter-over-quarter, reduction in breakfast advertising, and lower beverage costs.
Based on recent events, it seems that margins face a huge threat. A few days back, thousands of fast food employees belonging to Wendy's, McDonald's (MCD), Subway, Domino's (OTC:DPUKF), Yum! Brands (YUM), and Burger King (BKW) stormed the streets across major U.S. cities in order to protest low wages and the right to unionize. Most importantly, Wendy's workers are set to strike from August 3 to August 11, calling it "Wendy's week of action". This is one of the largest labor strikes in U.S. history. Presently, Wendy's pays the federal minimum wage, which is $7.25 per hour, but they are requesting this to nearly double to $15 per hour. Earlier, many workers from different food chains tried to strike, in order to raise their wages to $9, and were unsuccessful in their efforts. But, this time, protests are on a large scale and have the support of various political.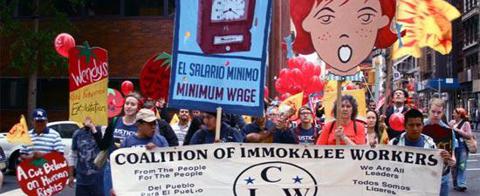 Source: http://ciw-online.org/wendys/
On the other side, these companies find it impossible to raise the wages to the demanded price. The $200 billion U.S fast food industry cannot easily accept this hike as labor is already the biggest cost. If these wages raise the requested amount, companies will have to opt for downsizing or layoff plans going forward. They may replace workers with comparatively less costly, automated machines or equipment like touch-screen ordering and payment devices. In addition, they can opt for more part-time workers rather than full-time workers in order to boosts profits. For example, in the Europe McDonald's installed thousands of touch-screen systems for ordering, replacing human workers in large numbers. Assuming McDonald's had to implement a similar strategy in the U.S., it could lead to approximately 14,000 job cuts from this food giant alone. If McDonald's were to agree the proposed wage hike, it would have to shed an additional $4 billion every year.
Still, there are various jobs like cleaning tables, floor mopping, cooking burgers, and many more, which would prove difficult to replace humans with machines. Overall, these factors pose a huge risk for Wendy's. Labor costs already account for nearly 30% of the company's total revenue. Last year, it incurred about $641.3 million.
Assuming that the end result will be in favor of workers, with a rate hike to around $10.50, Wendy's would have to shed an additional $310 million to accommodate this expense every year. I base this assumption on the bill sponsored by a Florida Congressman, supported by the signature of 100 economists, for hiking the wage to $10.50. This may also lead to further delay in the company's share repurchase program.
Reduced Interest Expense
In May last year, Wendy's undertook a new term loan of $1.125 billion in order to replace its 10% Senior Notes along with an existing term loan. Additionally, in May of this year the company refinanced $350 million of its senior secured term loan A, and repriced its $769 million balance of the senior secured term loan B. These refinancing transactions have extended the maturity of Wendy's debt, providing annualized interest expense savings of nearly $50 million, versus the 2011 interest expense of $114 million.
Interest Expense

Fiscal Year

In $ Million

2009

121.2

2010

137.2

2011

114.1

2012

98.6

2013E

70
Looking at the current debt structure of Wendy's, I do not see any additional debt refinancing, or interest rate reductions over the coming two years, as the company has already refinanced all its debt facilities until 2016.
Valuations
I am considering the enterprise value, or EV, of Wendy's to understand its position in terms of lucrative investment opportunity compared to its industry peers . As on August 2, 2013, the enterprise value of Wendy's is $3.82 billion. Based on the trailing 12 months' revenue of $2.52 billion, the EV to revenue ratio stands at 1.51 times. Comparing it will its peer companies like Dominos, McDonald's, and Buffalo Wild Wings (NASDAQ:BWLD), it has a better ratio, as these companies have posted 2.85 times, 3.93 times, and 1.67 times respectively. On considering the EV to EBITDA side of valuation, where lower is better in terms of valuation, Wendy's again impresses with the lowest ratio of the clan, at 11.27 times, while Dominos stands at 15.74 times and Buffalo Wild Wings posted 11.95 times. These valuations will boost investors' confidence as Wendy's showcased better valuations than its peers.
Risk attached to this thesis
The major risk affecting this thesis is the present ongoing labor strike. In recent history, labors haven't been successful in achieving their desired amount of wages. Still, with the suppose of political groups and the media, I am cautious regarding the end result.
Macro factors, like a future down turn in regional job creation, can affect this thesis, as this brand targets the young male demographic. With the recent pickup in the job creation, this risk will be easily deleted.
Conclusion
Wendy's is doing great on the business side. Additionally, its continued focus on serving its shareholders with cash distribution, which includes a 25% increase in dividend and commitment to utilize the share repurchase authorization, will impress its investors and indirectly increase investor confidence.

Source: YCharts
Looking at its stock price performance, the company has well performed with over 65% growth compared to S&P 500, which posted 22.73% year-to-date. With such prospects, I support the company's expectation that it will post EPS of $0.19 this fiscal year. In addition, in the long term, I anticipate that once this re-image initiative is complete, Wendy's can opt to expand internationally, targeting to increase its franchise base globally.
Therefore, I recommend a buy for this stock.
Disclosure: I have no positions in any stocks mentioned, and no plans to initiate any positions within the next 72 hours. I wrote this article myself, and it expresses my own opinions. I am not receiving compensation for it (other than from Seeking Alpha). I have no business relationship with any company whose stock is mentioned in this article.