Intel (NASDAQ:INTC) is the world's largest semiconductor company with 80% plus global marketshare in the PC and server processor market. The company's x86 chips are ubiquitous in data centers and the laptops/PCs used today. However, the company has a miniscule share in the rapidly growing smartphone and tablet market. The company's semi chips are not designed to work in mobile devices, where power consumption is more important than raw processing power. Intel has been making herculean efforts and pouring massive resource to become a significant player in the mobile application processor area. The company has carefully crafted its R&D and capital spending strategy to take on the incumbent ARM (NASDAQ:ARMH) based players. The first mobile chips made on Intel's world leading 22 nm Tri Gate process nodes will be rolling out in September. Till now, Intel mobile chips used to be made on the 32 nm node using a 5 year old architecture. The new Silvermont architecture will allow Intel to start shipping "Baytrail" chips with low TDP and high processing power. These chips will be launched in early September; in time for OEMs to ship Baytrail powered tablets, laptops and convertibles to customers during the crucial holiday season. Intel's stock has declined by ~10% since the last earnings result, when the company lowered the full year guidance due to more than expected weakness in the PC business. However, I remain optimistic about Intel's prospects given the Baytrail launch followed by Merrifield during early 2014.
Current Intel Mobile Processors
Intel has introduced mobile chips in the past couple of years but their shipments have been limited as Intel's chips suffer from some constraints:
They are made on 32 nm process node compared to ARM players such as Nvidia (NASDAQ:NVDA), Qualcomm (NASDAQ:QCOM), Mediatek, Spreadtrum (NASDAQ:SPRD) and Rockchip which produce mobile chips at the 28 nm. A smaller geometry affords greater processing power to be packed in a smaller package allowing for lower power consumption and cost.
Intel's Atom chips are made on a 5 year old architecture which is unable to take advantage of Intel's massive manufacturing progress during this period. Intel's Atom chips were meant for netbooks which were to be low powered and low cost. Intel was more interested in putting a defense around its high priced, high power Core line of chips than making Atom the core of its existence.
While Intel's initial "Medfield" and "Clover Trail" processors are not the best in the industry, they are good enough. They have also helped Intel establish itself in the mobile devices market. However, Intel will really start hurting the competition when they introduce Bay Trail later this year. Intel could beat the mobile SoC companies both on price and performance.
What are Silvermont and Baytrail
a) Silvermont Architecture
Intel has not refreshed its low power, low cost Atom architecture since 2008 when it first introduced these processors for the "netbook" market. Intel has generally made high end processors which are focused towards processing power and are not geared towards energy efficiency. Mobile devices such as smartphones and tablets require very low power consumption because of their small form factors. ARM has dominated this space as its design is optimized for energy efficiency. Intel's new Silvermont architecture will use Intel's 22nm Tri-Gate SoC process. This will improve energy efficiency without compromising on processor power.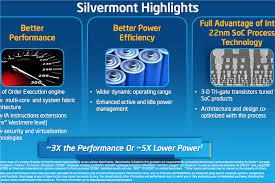 Silvermont Advantages
Better Power Consumption and Security Management Capabilities - Intel will manage to dramatically improve performance without compromising on power management. Intel is claiming 3x better performance at the same power or 5x lower power at the same performance. The new chips will also have better security management capabilities as compared to the existing chips. For mobile devices, performance per watt is more important than performance alone, as good battery performance is a critical need.
More Cores, higher Bandwidth and lower Latency- Intel's current generation of chips do not support more than 2 cores compared to the 4 to 8 core chips being shipped by competitors. The new architecture will not only allow Intel to pack in more cores, but will also have higher bandwidth and lower latency.
b) Baytrail
Baytrail will be Intel's low power, low cost answer to the tablet, PC and convertible market. The company is introducing a number of Baytrail processors with different processing power, energy consumption and prices. These will be marketed towards different computing segments such as tablets, PCs and convertibles. There are also indications that Intel is going to sell its low power Baytrail processor for the embedded market as well. The embedded processor market is currently being targeted by AMD but Intel wants to own the whole processor market. Now that Intel has a low power solution it will seek to put its processor in most low power applications. Nvidia and AMD which had a free run in the automobile and embedded market will have to compete harder for design wins.
Intel are gearing up to release their Bay Trail-T processors at the Intel Developer Forum in San Francisco, likely on September 11. The chips are the next generation of Atom tablet CPUs, following from Saltwell-based Clover Trail processors seen in a range of recent Windows 8 (and some Android) devices.

According to VR-Zone, who have obtained information relating to Intel's Bay Trail-T launch, the family will come with four models. The Z3770 and Z3740 are the high-end SKUs designed for high-density displays, as both can support up to 2560 x 1600 panels and come with 17.1 GB/s of memory bandwidth over up to 4 GB of dual-channel LPDDR3 RAM. THe Z3770 is clocked at 2.4 GHz while the Z3740 is 1.8 GHz, both with four 22nm Silvermont cores and 2 MB of L2 cache.

Source - Techspot
Why Baytrail could decimate the Competition
Intel has destroyed the server and PC MPU competition through sheer technological and manufacturing expertise. Its main competitor AMD has decided to shift its resources to niche areas like custom made silicon. So it won't be surprising for Intel to decimate the competition in the tablet and smartphone areas. Intel has a huge manufacturing and technological advantage over competitors, as it is the only company producing chips on the 22n nm node using the 3D trigate process. Everyone else is stuck at the 28 nm node and even the best mobile processors from Qualcomm are being made at the 28 nm node. There are doubts that the leading manufacturing competitors to Intel such as TSMC (NYSE:TSM), Global Foundries will be able to reach the lower nodes. By 2014, Intel will already be producing chips at the 14 nm node while it is doubtful that others will even reach where Intel is right now. The manufacturing advantage places Intel in a great position to beat the competition in both processing power and cost. If Intel manages to execute on its current timeline then there will be no reason to doubt that Intel will be a big force in the tablet market by next year.
Tablet Market Dynamics favor Intel
The smartphone processor market is dominated by Qualcomm due to its communication expertise but the tablet market is far more fragmented today with Nvidia, Mediatek and Chinese vendors such as Rockchip having substantial market shares as well. Apple (NASDAQ:AAPL), which dominates the tablet market, makes its own custom designed "A" chips at Samsung foundries. The dynamics of the tablet market are changing rapidly with Apple losing share and the Asian vendors such as Acer, Lenovo, Samsung gaining rapidly. This places Intel in favorable position as it has great relationships with the Asian OEMs. In fact Samsung (OTC:SSNLF) is already using Intel's processor in its Galaxy Tab 3 and Asustek (OTC:AKCPF) uses Intel processors in its "Memo Pad" tablet products. The PC giant Lenovo (OTCPK:LNVGY) which is gaining large amounts of marketshare in the tablet and smartphone market has also used an Intel processor for its K900 flagship smarpthone. If Intel can come up with a product which is 2x better than Clovertrail, then Intel could capture 30-40% of the tablet market in double quick time.
While Apple still holds about 43 percent of the worldwide tablet market -- by far the single largest percentage -- Samsung, Amazon, Lenovo, Acer, and others saw hefty year-to-year gains in shipments during the second quarter, ranging from 228 percent (Acer) to 317 percent (Lenovo), according to a research note released Thursday by Canalys.. Samsung, which saw shipments jump 295 percent, had the second largest share with 22 percent on the back of 7.4 million units shipped in the quarter.

Source - CNET
Apple is losing Marketshare to the Asian Companies
Top Five Tablet Vendors, Shipments, and Market Share, Second Quarter 2013 (Shipments in millions)
| | | | | | |
| --- | --- | --- | --- | --- | --- |
| Vendor | 2Q13 Unit Shipments | 2Q13 Market Share | 2Q12 Unit Shipments | 2Q12 Market Share | Year-over-Year Growth |
| 1. Apple | 14.6 | 32.4% | 17.0 | 60.3% | -14.1% |
| 2. Samsung | 8.1 | 18.0% | 2.1 | 7.6% | 277.0% |
| 3. ASUS | 2.0 | 4.5% | 0.9 | 3.3% | 120.3% |
| 4. Lenovo | 1.5 | 3.3% | 0.4 | 1.3% | 313.9% |
| 5. Acer | 1.4 | 3.1% | 0.4 | 1.4% | 247.9% |
| Others | 17.5 | 38.8% | 7.4 | 26.2% | 136.6% |
| Total | 45.1 | 100.0% | 28.3 | 100.0% | 59.6% |
Souce - IDC
The $200 Touchscreen PC could see a reverse Tablet cannibalization
I think the computing market has shifted towards the lower priced segment as users find that they can do most of their work using lower cost and lower powered products. The Chromebook popularity attests to this fact. Intel is not unaware of this trend and knows that ARM based players such as Nvidia , AMD could eat its lunch from below. The company announced that it would enable $200 touchscreen laptops by the end of the year and Baytrail-M chips will do exactly that. A $200-300 touchscreen laptop with Intel processor and performance could spark a huge revival in the PC market. Note there is a huge demand for a good computing device at reasonable prices in the emerging markets. Tablet surge is the proof of this fact. Unlike the West where tablets are secondary consumption devices, tablets are the main computing devices in lower income developing markets. If customers are able to buy a good laptop (touchscreen would the icing on the cake) at a cheap $200 price, then you might see "tablets being cannibalized by laptops". Sell side analysts and market research agencies with their simplistic models of growth extrapolation will never see this trend till Intel's stock reaches the $30 level.
According to a new forecast from the International Data Corporation (IDC) Worldwide Quarterly Tablet Tracker, tablet shipments are expected to grow 58.7% year over year in 2013 reaching 229.3 million units, up from 144.5 million units last year. IDC now predicts tablet shipments will exceed those of portable PCs this year, as the slumping PC market is expected to see negative growth for the second consecutive year. In addition, IDC expects tablet shipments to outpace the entire PC market (portables and desktops combined) by 2015. (A press release summarizing IDC's latest PC market forecast can be found here.)

Source - IDC
Stock Performance and Valuation
Intel's stock has declined from the $25 level to again test the $22-23 level, after Q213 results did not come out as good as expected. The PC market decline continues unabated and at a faster pace than expected. I don't think that Q3 results are going to be too great either, as Baytrail processors will start to get traction only during the holiday season. The stock remains extremely cheap given the massive manufacturing, marketing and technological strengths of Intel. The company gives the highest dividend yield amongst $100 billion technology companies and its P/E is quite low at just 11x.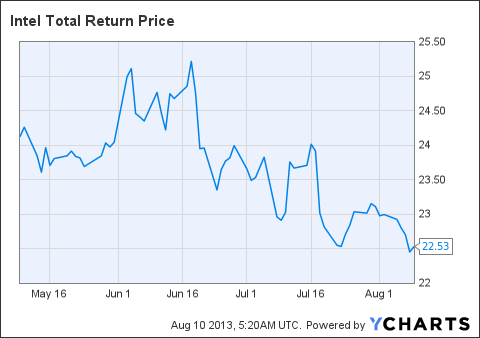 INTC Total Return Price data by YCharts
Summary
I consider Intel to be one of the best bets in the technology space due to a number of factors. The company spends more money on R&D and capex than any other company in the technology industry. It has a lead of almost 2 years over others in semiconductor manufacturing and technology. This lead is only going to become greater as Intel invests money in building 450 mm wafer fabs and moves to 14 nm process nodes. Baytrail will be Intel's first real salvo in the mobile processor market. This new chip will be made on the world's most advanced semiconductor process which competitors cannot copy. It will be made on a new architecture and will dramatically increase the processing power, while consuming very low amounts of power. Baytrail will not only allow Intel to gain a big market share in the tablet market but will also make a big impact on the PC market. I think that the investors might want to add to their Intel position as it is difficult to see Intel remaining in the low 20s post the holiday season.
Disclosure: I have no positions in any stocks mentioned, and no plans to initiate any positions within the next 72 hours. I wrote this article myself, and it expresses my own opinions. I am not receiving compensation for it (other than from Seeking Alpha). I have no business relationship with any company whose stock is mentioned in this article.