Once again we see a decline in BlackBerry short interest. According to the latest NASDAQ data, short interest in BlackBerry (NASDAQ:BBRY) common stock declined once more from 160.8 million shares as of 7/15/2013, to just 145.9 million as of the settlement date of 7/31/2013. The last time short interest in the stock was at this number was in late February.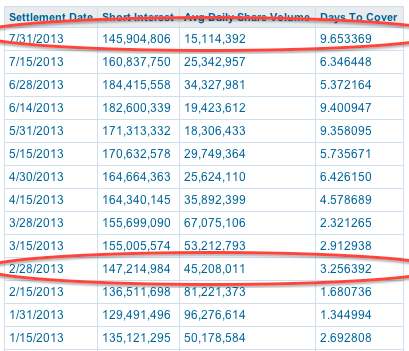 The recent talk about the company going private will probably further reduce the short interest in the stock, and at a certain point we might even see the shares pop.
However, a prerequisite is that market participants stop opening new short positions and the reduction in short interest continues. Because even though 15 million shares is a larger number, it is really not more than a day's trade. So while there are many investors that are closing out their short positions, there are many others who are opening short positions at the same time.
Are there possible catalysts for something like this? Yes there are.
For starters, while there is really no substantial evidence (as of yet) that anyone wants to put in a bid BlackBerry outright -- as has been the talk of the town lately -- in reality that possibility alone should deter market participants from opening new positions, even if a deal never ferments.
Again, even if a deal never ferments, I think the likes of Carl Icahn will probably take some kind of a speculative position just for the heck of it. And assuming (as I do) that BlackBerry would fetch a much higher price than the current price of the shares, I think the many speculative funds out there who thrive on such rumors will also take a position. It's just too sweet of a speculation proposition for them not to.
The recent announcement that BlackBerry is the first company to have the authority to operate on Department of Defense networks (please consider: The Importance Of The Department Of Defense Contract For BlackBerry) is also another catalyst. Yes it's a longer term catalyst, but nevertheless it's a catalyst in my book. Especially if the company gets any more good news on the security front (for example some big enterprise customer formally announcing full support for the platform).
Finally, while everyone sees this company as dead (and I think they are dead wrong for thinking so), BlackBerry in reality is coming back. Let's not forget that BlackBerry is in turnaround mode. Yes the company has failed to impress and expectations are running ahead of the company's current performance, but that does not mean that the company is not turning around. It is.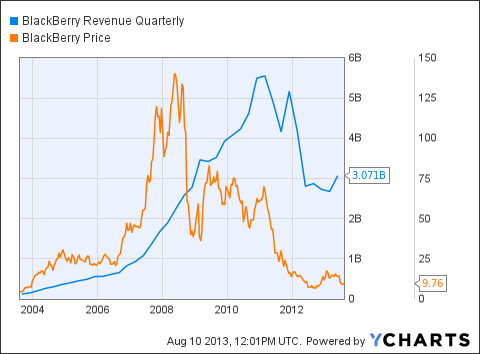 BBRY Revenue Quarterly data by YCharts
Looking at the chart above, when the company's stock was around $25 a share (mid 2005), BlackBerry was doing about $500 million in sales per quarter. Today the company is booking around $3 billion in sales per quarter, but the company's stock is around $10. Yes, maybe it was bubble back then, but this does not mean that BlackBerry deserves today's valuation. Investors should remember that what goes around, many times comes around also.
Finally, granted that BlackBerry is several years late coming out with a more sophisticated OS, and has let Google's (NASDAQ:GOOG) Android and Apple's (NASDAQ:AAPL) iOS take over market share; however, as the saying goes, never says never, because you never know what might happen in the future. Need I remind that Apple was once on the brink of bankruptcy and today it is the most valued company in the world?
Disclosure: I have no positions in any stocks mentioned, and no plans to initiate any positions within the next 72 hours. I wrote this article myself, and it expresses my own opinions. I am not receiving compensation for it (other than from Seeking Alpha). I have no business relationship with any company whose stock is mentioned in this article.