Precious Metals Weekly Market Wrap
Precious metals rallied along with other metals in another roller coaster ride that left the gold price little changed for the week while silver turned in its best performance in over a month. Talk of the Federal Reserve "tapering" their $85 billion per month bond buying program in September sent metal prices sharply lower early on, but weakness in the U.S. dollar starting at mid-week led to a strong rebound.
Silver ETF holdings were steady, but metal continues to exit U.S.-based gold ETFs. Some of this gold is surely finding its way to China where the latest data showed gold imports dipped, but remained near the record highs set earlier in the year. Though still quite modest, increasing backwardation in gold futures markets indicates relatively strong demand for the physical metal as precious metals enter their thinnest trading days of the year.
For the week, the gold price rose just over a dollar to $1,314.70 an ounce while silver jumped 3.4 percent, from $19.89 an ounce to $20.56. The gold price is now 21.5 percent lower than where it began 2013, some 31.6 percent below its record high of over $1,920 an ounce two years ago, and silver has fallen 32.3 percent so far this year, now 58.5 percent below its all-time high near $50 an ounce in early-2011.
It would be a mistake to read too much into the day-to-day price action during the month of August as nearly all markets see trading fall to its lowest levels of the year and thin volume can lead to outsized price moves. Nonetheless, psychologically important levels for both gold and silver have been tested from both directions in recent weeks and this has made an otherwise quiet period much more interesting.
For gold, it is the $1,300 an ounce level that has alternated between support and resistance and for silver it is the $20 an ounce mark. After falling sharply below these levels on Monday and Tuesday, both metals surged above them on Thursday and then held onto those gains. Improving economic data from China late on Wednesday fueled a commodities market rally where base metal prices surged and this helped drive silver higher.
A weaker trade-weighted dollar was another factor that drove metal prices higher (recall that the precious metals and the trade weighted dollar often move in opposite directions) as traders began to doubt that the recent Fed "tapering" talk will lead to action next month.
Also, there is growing speculation that the late-June lows for gold and silver may have formed an enduring bottom for this multi-year correction. Another month or two of "base building" would lead to more confidence that the lows are now behind us, however, any major move down for other asset classes in the months ahead (such as high-flying U.S. stocks) could result in a broad market rout that could send metal prices sharply lower.
Lower prices have clearly been a key factor in spurring record levels of gold demand in China.
As shown below, the Hong Kong Census and Statistics Department reported that net exports to mainland China fell from 106 tonnes in May to 101 tonnes in June, but this is still a phenomenal pace.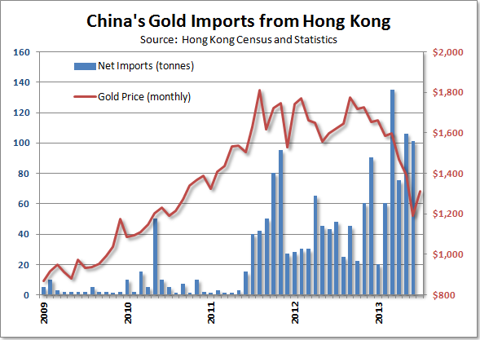 So far this year, China's net imports of gold via Hong Kong stand at about 500 tonnes. When combined with other imports and domestic production, it is all but certain that China will overtake India as the world's biggest gold buyer this year, shattering all previous records for gold demand in the process.
While this is surely the biggest bullish story in precious metals markets this year, you wouldn't know it by reading the coverage provided by the mainstream financial media. Bloomberg reported China's Gold Imports From Hong Kong Decline as Demand Slows in what was one of the most misleading headlines and deceptive gold stories in recent memory.
When also considering the physical delivery of over 1,000 tonnes of gold from the Shanghai Gold Exchange during just the first half of 2013, China has become the most important player in the gold market, though this has yet to have a positive impact on price.
At the moment, precious metals prices are set in the West and, as evidenced by ongoing outflows from gold ETFs, Western investors continue to sell what the Chinese are buying. Last week, another 16 tonnes exited the SPDR Gold Shares ETF (NYSEARCA:GLD) in the biggest outflow since mid-July. This marks the 32nd time in the last 34 weeks that metal has left the GLD trust as U.S. investors continue to see price strength as an opportunity to exit positions rather than an indication of a further rebound ahead.
Mild backwardation in the gold market continues and this is yet another indication of relatively strong demand for the physical metal. This data at INO.com indicates declining gold futures contract prices through December delivery dates with prices rising again in January. While backwardation of less than a dollar an ounce extending only a few months out is not likely to have a dramatic impact on the gold market, it's certainly worth watching.
This comes at the same time that gold forward offered rates in London, the rate offered for gold by bullion banks also known as GOFO, have been negative for an entire month in what is another unusual (and normally bullish) development in the gold market.
As for silver, holdings of the iShares Silver Trust ETF (NYSEARCA:SLV) were steady last week at 10,396 tonnes, still up more than 200 tonnes so far this year as the price has tumbled. To be sure, demand for silver in the U.S. has been one of the more curious developments in precious metals markets this year as Mineweb recently reported that American Silver Eagle coin sales saw their best July ever at 4.4 million ounces, nearly double that of a year ago.
Despite rationing by the U.S. Mint, it is expected that 2013 silver coin sales will shatter the previous record of 39.9 million ounces as sales through the first seven months of the year now stand at an impressive 29.5 million ounces, an annual rate of more than 50 million ounces.
Trading volume should slow considerably in the weeks ahead as traders take their last vacations of the summer, but there could be fireworks this fall.
Disclosure: I have no positions in any stocks mentioned, and no plans to initiate any positions within the next 72 hours. I wrote this article myself, and it expresses my own opinions. I am not receiving compensation for it (other than from Seeking Alpha). I have no business relationship with any company whose stock is mentioned in this article.
Additional disclosure: I own gold and silver coins and bars.