By Pete Najarian
RealNetworks (NASDAQ:RNWK) rose more than 6 percent yesterday along with extraordinarily heavy upside options activity.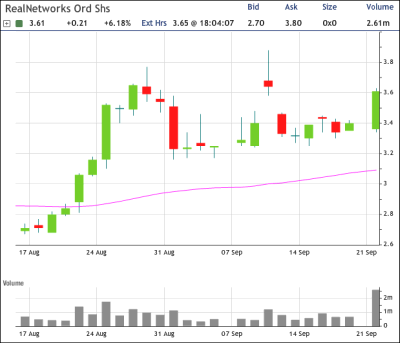 Volume was nothing short of explosive in both stock and options trading. The January 5 strike has averaged just 42 calls a day, but yesterday it saw more than 31,611 change hands for between $0.15 and $0.40 in a strong buying pattern against existing open interest of 1,429 contracts.
Stock volume was nearly 3.5 times the average turnover, pushing RNWK up 6.18 percent to $3.61 in the regular session and another 1.11 in after-hours trading. Shares of the digial media company are up some 35 percent in the last month.
For the calls purchased yesterday to turn a profit, RNWK would need to rise as much as 50 percent by mid-January, when the options expire.
It was unclear what was driving all the activity in RealNetworks, which reported a wider-than-expected loss in July for the second quarter along with declining revenue and writeoffs on the value of its assets.
More recently the company has gotten mixed news, gapping higher on September 10 with its new app for Apple's (NASDAQ:AAPL) iPhone but then gapping lower the very next day when JP Morgan downgrated the stock, dismissing the potential for upside from the deal.