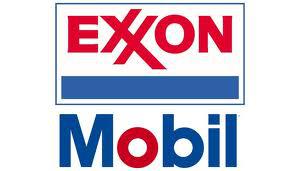 A recent article in The Economist magazine, Supermajordämmerung, predicts the day of the huge integrated international oil company is coming to an end. This article struck a cord and echoes my own sentiments with respect to shares of Exxon Mobil (NYSE:XOM). After finishing the article, my conclusion is Exxon needs to break-up and slim-down.
For years I have been frustrated with the lack of returns in my shares of Exxon Mobil. Many of XOM's shareholders are sitting on hefty long-term gains, so selling the stock is simply not an option for those facing large capital gains taxes. While management continues to brag about "returning money to shareholders," it has done very little to actually accomplish that feat. Despite a massive stock buyback program ($20 billion in 2012 alone) and in spite of a huge bull market run in the S&P500 over the past 5 years or so, XOM shareholders have little to show but XOM's dividend, which is the smallest of its peer group. Clearly something is wrong here.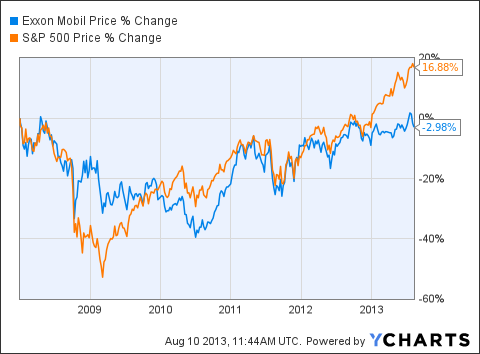 I know, I know, as management repeats ad nauseum: "Exxon is a large company that manages its business for profitable long term growth." But what large company isn't managed for the long-term profitability? How long will shareholders give Exxon's management a pass for its sub-par performance simply because this statement is repeated over and over again like some ancient mantra? It's time XOM shareholders wake up and realize there have been some fundamental changes in the worldwide oil market; the future is not the past; and they should not have blind faith in Exxon Mobil's current management team to successfully navigate the new realities facing the company.
Fundamental Changes in the Worldwide Oil Market
There are some fundamental reasons the future of the oil market will be significantly altered from that of the past:
As The Economist article points out, in the 1950s the "seven sisters" (BP, Esso, Gulf Oil, Mobil, Royal Dutch Shell, SoCal, and Texaco) controlled some 85% of global reserves. Today national oil companies ("NOCs") control over 90% of reserves. As a result, supermajor oil companies are increasingly having to explore and/or produce oil, which is harder to access and more expensive to do, either because of geology or politics. The supermajors are spending more money than ever before, but in many cases (like Exxon), oil production and profitability is actually falling.
We've been conditioned to believe oil demand will rise rapidly as billions of emerging market drivers in countries like China and India buy autos and take to the highway. However, The Economist article points out that gasoline demand peaked in developed countries in the mid-2000s and has been falling ever since due to the recession, more fuel efficient vehicles, and demographic trends. It also questions future oil demand growth forecasts from Exxon and the International Energy Agency ("IEA"). Exxon sees demand hitting 113 million b/d by 2040. The IEA predicts 104 million b/d by 2030. But research at Citi shows a decidedly different picture.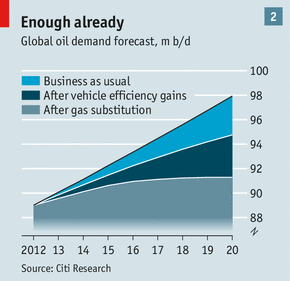 In China for instance, Citi recons that while the number of cars are estimated to grow by 7% a year, tighter fuel efficiency standards (34 mpg by 2015 and 47 mpg by 2020) are expected to offset oil demand by some 3.8 million b/d below what it otherwise would have been (see chart). In addition, Citi acknowledges the growth in natural gas transportation that the international oil majors seem intent on ignoring. The low price of natural gas in the US can't be beat. Indeed, the Economist says that 20% of American buses now run on natural gas, as do 40% of all new garbage trucks. In 2012, most new orders for buses and refuse were NGVs. LNG is beginning to take over in long-haul trucking as well as making inroads into rail locomotives and even container ships. As a result, Citi's research show global oil demand at under 92 million b/d by 2020 - a growth rate significantly slower than both Exxon's 0.8%/year growth forecast and the IEA's predictions. This would not be the first time the IEA overestimated demand. The Economist points out that in the late 1990s, the IEA predicted world demand would be 112 million b/d by 2020 while it now predicts 97 million b/d -- a delta of a whopping 15 million b/d. It is likely much of that miss was due to underestimating the impact of natural gas transportation and increased fuel efficiency standards. Indeed, in a recent Business Insider article, natural gas engines were listed as 1 of 8 extraordinary technologies identified by Goldman Sachs to which businesses must either adapt or die. This was not hard to predict -- I even wrote an article on the subject last year: Why Exxon Mobil Should Support Natural Gas Transportation.
In the past, NOCs relied on the big international oil companies to produce, refine, and sell their oil. They simply did not have the technology, project management, or market access that the supermajors could supply. That is no longer the case. Saudi Aramco, Petrobras (NYSE:PBR), Petronas of Malaysia and Chinese oil firms like CNOOC (NYSE:CEO) and Sinopec (NYSE:SHI) all believe they have the skill set to explore and produce oil, natural gas, gasoline, and chemicals on their own. Skills or technology the NOCs don't have are increasingly contracted out to global oil service firms like Halliburton (NYSE:HAL) and Schlumberger (NYSE:SLB) instead of to the supermajors as in the days of old.
NOCs are usually aligned with big governments with deep pockets. The NOCs therefore have access to capital at terms much better than the supermajors can get through the markets and thus have a big advantage when going head-to-head on asset acquisition targets. In particular, Chinese companies are a big competitor when it comes to locking up undeveloped resource acreage. As a result, deep pocketed NOCs are blunting another historical advantage of the supermajors -- access to the capital needed to obtain and exploit oil reserves.
In conclusion, there are a number of fundamental changes that are directly and negatively affecting international oil companies: access to reserves, slowing demand due to increased fuel efficiency and natural gas transportation, and competition from NOCs backed by deep-pocketed national governments.
What Is Exxon Mobil Doing?
The response of Exxon Mobil has been to plow more cap-ex at these problems while implementing a huge share buyback program in hopes of raising per share production, reserves, and earnings. While working out great for management, it's not working for shareholders at all. In fact, over the past 5 years, of all the international oil majors, only Chevron (NYSE:CVX) has beaten the S&P500: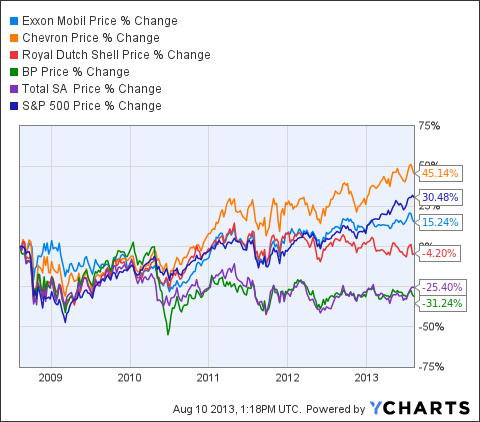 Chevron has accomplished this feat by its relentless focus on margins. In its latest Q2 quarterly earnings presentation, Chevron again announced it is #1 in its peer group in terms of important financial metrics like cash earnings/boe and return on capital employed ("ROCE").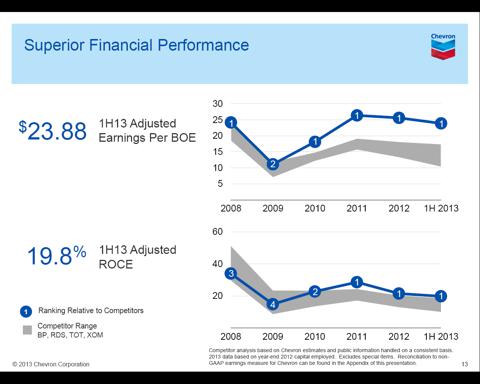 CVX's cash margin was $23.88/boe in the first half of 2013. On the company's Q2 conference call, George Kirkland, Vice Chairman and EVP, Chevron Upstream and Gas, had this to say:
We are almost $6.50 per barrel ahead of our nearest competitor. We have now held this top position for 14 consecutive quarters.
So we know XOM's margin/boe is at least $6.50 less than Chevron's. As a result, CVX shareholders have significantly outperformed those of Exxon in terms of both share price appreciation and dividend yield. Currently, CVX is yielding 3.2% versus 2.7% for Exxon.
But boy, aren't those huge XOM share buybacks great? No. As I pointed out in my earlier article ExxonMobil: Buyback Heavy, Dividend Light, Exxon Mobil's priority on share buybacks over dividends directly to shareholders ($20 billion versus $10 billion in 2012) is in direct contrast to its peers. For full-year 2012, CVX returned roughly $7 billion in dividends and spent $5 billion on share buybacks. This is a ratio of 2:1.4 in favor of dividends over buybacks, almost the complete opposite of XOM's method of "returning money to shareholders".
What Exxon Mobil Should Do
There are several things Exxon Mobil should do in order to reverse the trend of its stagnating stock price and company performance:
Prioritize The Dividend Over Stock Buybacks
The first thing XOM should due to signal to shareholders (and the market) of a change in the status quo is to reverse its priority of share buybacks over dividends directly to shareholders -- or at least equalize them. As I pointed out in my earlier article:
The 2:1 ratio in favor of buybacks needs to change to at least a 1:1 ratio. At year-end 2012, XOM had 4.734 billion total shares outstanding. If the company had a 1:1 ratio between stock buybacks and dividends in 2012, it would have resulted in $15 billion spent on each, or roughly another $1/share in dividends for shareholders ($3.28/share) for a yield of ~3.7%. As a result, the total share count at year end would have been higher by approximately 60 million shares. I think this is a tradeoff most shareholders would gladly embrace.
A 3.7% would have put XOM back in the game in terms of peer-group dividend yield. But the company has not taken my advice and as a result its current 2.7% dividend yield has it at the very bottom of its peer group.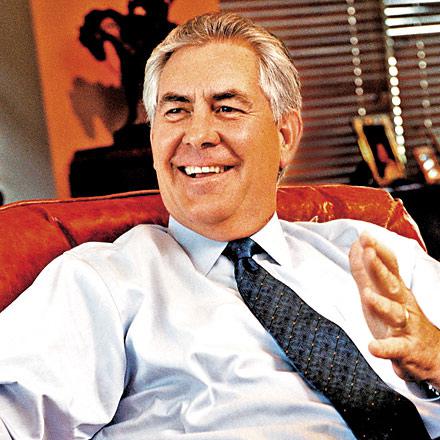 I remember the first few conference calls after current XOM CEO Rex Tillerson took the reigns after Lee Raymond retired in 2006. My first impression was, wow, if he is as good as his arrogance implies, we're in for a good ride with the stock. Well, while "T. Rex" may be a nice guy, the results have been less average. Many said Tillerson's legacy will ride on the $31 billion XTO deal. While it's still relatively early since the acquisition, all indications are that XOM overpaid for XTO, domestic US natural gas prices will stay weak for some time to come, and that the deal was ill-timed. Recently, Tillerson signed an agreement with Russia to explore in the Arctic -- a risky venture possibly involving hundreds of billions in capital expenditures. Truth is, since Tillerson took the wheel in 2006, XOM's operations, stock price, and dividend yield have all under performed its peers. Job #2 at Exxon: replace Rex Tillerson.
Conoco Phillips - A Case Study In Creating Shareholder Value

While ConocoPhillips (NYSE:COP) was a much smaller company than Exxon when it embarked on its multi-year strategic plan, both companies were integrated international oil companies with significant worldwide operations in E&P, refining, and chemicals. COP was simply a scaled down version of Exxon. I believe it is valid to compare the two with respect to COP's strategic plan to create shareholder value.
Back in May, I wrote an article on how COP's value creation strategy was working: The Conoco Phillips Spin-Off Of Phillips 66: 1 Year Later. In the article it was shown:
Based on the average trading price on the day of the spin-off, one year ago, the investor would have held shares worth:

(100_COP+50_PSX) = $5610 + $1667 = $7277.

At the close on May 7, those shares were worth:

(100_COP+50_PSX) = $6284 + $3242 = $9526.

That's an annual return of 30.9%. And that is not counting COP's generous dividend (over 4%) and PSX's decent and growing dividend (today at 2%). As Borat would say, "Verrry Niiiiice."
Exxon's return during that same 12-month period was 0.54%. Today, the combination of COP and Phillips 66 (NYSE:PSX) is worth even more despite a correction in PSX due to a narrowing of the Brent/WTI spread (a negative) and its MLP spin-off Phillips 66 Partners (NYSE:PSXP), a positive.
I am not advocating that Exxon should spin-off its entire refining or chemical businesses. The large integrated oil company model can work as Chevron clearly proves. That said, it is clear Exxon's cash margins are significantly below Chevron's. Logically, there must be numerous operations within Exxon that aren't up-to-snuff. It's time to monetize the low-hanging fruit and return cash to long suffering shareholders.
Break It Up and

Slim It Down
And this gets to the heart of the matter: Exxon is simply too big to be run nimbly and efficiently. It's time to break it up and slim it down. I've watched the executives of both Conoco and Phillips 66 since the spin-off. Conoco's CEO Ryan Lance and Phillips 66's CEO Greg Garland are focused like a laser beam on their respective company's performance. There is a new energy and enthusiasm and seemingly a healthy competition between the mother ship and her offspring. It's been great to see and as a shareholder, it's been profitable as well.
While asset divestiture is not necessarily a recipe for long-term growth, COP's strategic plan to organically grow production and margins at 3-5% is. COPs asset sales were simply a way to monetize non-core assets so the company could focus on the most economical (and less risky) portions of its portfolio. With 25 billion barrels of total reserves, this is exactly what Exxon should do.
At the same time, Phillips 66's strategy for growth revolves around utilizing advantaged crude logistics and growing its profitable midstream business by dropping-down assets to its PSXP MLP. Again, a great strategy for long-term profitable growth that Exxon should also adopt.
Reduce Executive Compensation
Forbes reports Exxon's CEO Tillerson's total compensation package in 2011 was $34,920,506. The Wall Street Journal puts COP CEO Ryan Lance's total compensation at $19.3 million. Considering the relative performance of the two companies, is Rex Tillerson really worth ~1.8x as much as COP CEO Ryan Lance? Has he worked as hard to create value for his shareholders? And you know this is replicated all the way down Exxon's plethora of Executive Vice Presidents. After all, who benefits the most from those huge stock buybacks -- an ordinary shareholder with a few hundred or thousand shares or an XOM executive with a million shares on an executive stock option plan? It's time to slim down Exxon Mobil, the number of executives, and their paychecks. If the company begins to perform as in the past, grows earnings per share, and ordinary shareholders begin to be truly rewarded, only then should executives be compensated at today's oversized rate. Currently, I simply don't see how XOM executives are worthy of such out-sized compensation packages.
Summary and Conclusion
Exxon Mobil's performance over the past 5 years has been "fair to middling" at best. There are a confluence of fundamental changes affecting international oil companies, so things are likely to get even more challenging for Exxon in the future. Exxon is simply too big to be well managed for meaningful shareholder returns. The company is falling behind in the critical cash margin/barrel metric. It's time for Exxon to break up its operations and monetize low margin assets. It should make a strategic analysis of its 25 billion barrels of reserves and sell non-core resources, using the proceeds to reward shareholders with dividends #1, and stock buybacks #2.
Exxon is not likely to make these changes without outside pressure. Since the company is too big for a Carl Icahn or Bill Ackman to save the day, its up to big institutional investors to apply it. And it will take a new CEO to be receptive to change. Otherwise, the next five years is quite likely to look like the last five. That said, Exxon is a very profitable company with excellent program management skills and a huge asset base. Were the company to break up, slim down, and sell a portion of its non-core assets and huge resource base, investors could once again see Exxon outperform its peers and the S&P500. Just like in the days of old.
Disclosure: I am long COP, CVX, PSX, XOM. I wrote this article myself, and it expresses my own opinions. I am not receiving compensation for it (other than from Seeking Alpha). I have no business relationship with any company whose stock is mentioned in this article.
Additional disclosure: I am an engineer, not a CFA. The information and data presented in this article were obtained from company documents and/or sources believed to be reliable, but has not been independently verified. Therefore, the author cannot guarantee its accuracy. Please do your own research and contact a qualified investment advisor. I am not responsible for investment decisions you make. Thanks for reading and good luck!