(Editors' Note: This article covers micro-cap stocks. Please be aware of the risks associated with these stocks.)
On Tuesday, August 6 the Environmental Protection Agency [EPA] announced that it would use some flexibility when determining the volumetric mandates under the revised Renewable Fuel Standard for 2014. This decision came in response to widespread concerns from U.S. refiners that the existing mandates will require them to blend more ethanol with gasoline in future years than the U.S. transportation fuel infrastructure can handle. The arrival of this so-called "blend wall" caused Renewable Identification Number [RIN] prices to jump by 3,500% between January and July of this year, greatly increasing refiners' costs of compliance under the mandate since they are required to submit a sufficient number of RINs to the EPA at the end of the year to demonstrate that they have blended the mandated volumes of biofuel. Corn ethanol [D6] RIN prices promptly fell by 36% in response to the EPA's announcement before stabilizing on Friday (see figure). This fall followed on the heels of another big price drop that came after Congressional hearings on the subject of reforming the RFS2, and D6 RINs are now trading at a mere 46% of their July highs.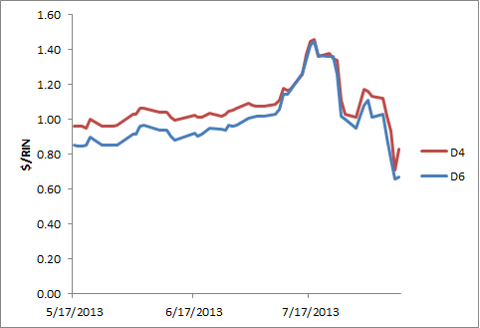 Not surprisingly, the share prices of independent corn ethanol producers such as BioFuel Energy (NASDAQ:BIOF), Green Plains Renewable Energy (NASDAQ:GPRE), Pacific Ethanol (NASDAQ:PEIX), and Rex American Resources (NYSE:REX) all underperformed the S&P 500 in the days following the EPA's announcement (see figure), although they have since recovered a bit. Biofuel producers are the primary beneficiaries of the RFS2, as the mandate creates a guaranteed market for their product. Most (although not all) independent producers saw their shares drastically outperform the S&P 500 in the first half of 2013 as RIN prices surged, so it makes sense that a falling RIN price would put pressure on their share prices.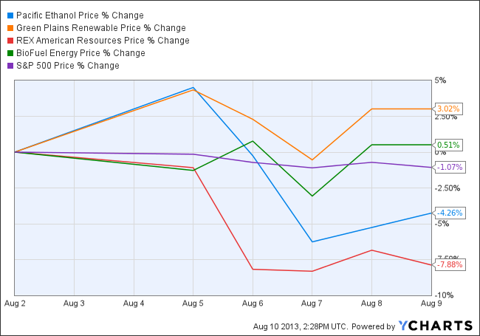 On the other hand, independent refiners such as PBF Energy (NYSE:PBF), Phillips 66 (NYSE:PSX), and Valero (NYSE:VLO), all of which attributed underperformance in the first half of 2013 to higher RIN prices, outperformed the S&P 500 on the news (see figure).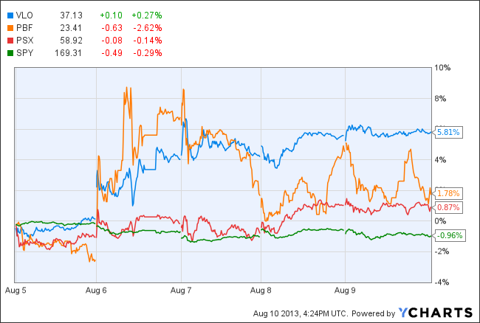 Those greedy ethanol producers
PBF Energy's Executive Chairman Thomas O'Malley was very vocal in his criticism of the RFS2 in the company's Q1 conference call, stating:
"The balance of our transportation fuels was sold in bulk to other blenders, including importantly Morgan Stanley. And they, plus the biofuel producers, we assume, pass on the [RIN] cost to the public. I should comment here for educational purposes I suppose, that last year the differential between RBOB gasoline in New York and ethanol in New York, [inaudible] prices, was about $0.60 a gallon. That is ethanol was under RBOB. The differential year-to-date between those two numbers is $0.33 which would seem to imply that the ethanol producer is collecting part of that RIN's value. And interestingly on May the 1st, and, you know, kind of a May Day thing, government running industries, the ethanol price is the same as the RBOB price, which would seem to indicate that the ethanol producer has now captured a very significant portion of the RIN's price."
Mr. O'Malley's colorful commentary aside, this statement is very important from an investor's perspective. RINs were created to incentivize both the production and blending of biofuels. Each RIN is generated when a gallon of biofuel is produced by a producer and remains attached to that gallon until it is blended with fossil fuel for retail. At this point the RIN can either be submitted to the EPA to demonstrate the blender's compliance with the RFS2 or, if the blender holds more RINs than necessary, can be sold to a third party (for example, a refiner that is required to participate with the RFS2 but does not do its own blending). RIN prices operate as a function of the biofuel's production costs, increasing as costs increase and decreasing as costs decrease. However, unless the biofuel producer actually blends its product with gasoline or diesel fuel for retail, it never has a detached RIN to sell; only the blender does. This situation therefore raises the question of how much of the RIN value actually goes to the biofuel producer rather than the blender.
Conventional wisdom holds that the blender passes at least some of the attached RIN's market value to the biofuel producer in the form of higher biofuel prices. For example, if a gallon of corn ethanol retails for $2/gal, and each attached RIN retails for $1, then the blender could pass half of the RIN's value to the biofuel producer by paying $2.50/gal for the ethanol. One result of such a trade would be a narrowing spread between the prices of ethanol and gasoline; ethanol has only 67% of the energy content (and thus market value) of gasoline on a volumetric basis, so a smaller price spread could be indicative of the biofuel producer capturing some of the RIN price in the form of a higher ethanol price. Mr. O'Malley suggested that the lack of any ethanol/gasoline price spread at all in early May was evidence that biofuel producers were implicitly capturing much of the RIN price increase. It should be noted that such a situation doesn't necessarily run contrary to the design of the RFS2; high RIN prices can encourage sufficient biofuel production to meet the volumetric mandate when the production environment is poor. That said, the corn ethanol crush spread, which drives product margins, has greatly improved YTD (see figure) and hasn't been this attractive since before the 2012 drought. Clearly, then, the 3,700% increase in D6 RIN prices was not driven by poor margins.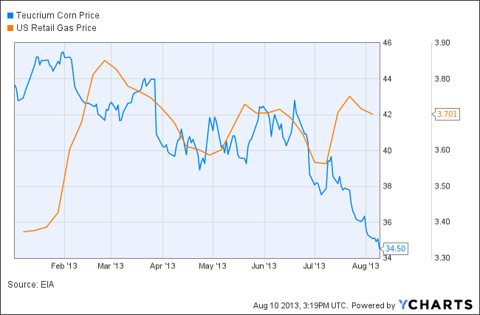 As I've mentioned in previous articles, RIN prices have most likely increased this year because it is now necessary to incentivize ethanol consumption rather than production. Consumers are broadly adverse to the use of ethanol blends in excess of 10 vol% [E10] due to concerns over possible engine damage and inferior fuel economy, so higher RINs are necessary to subsidize consumption in the form of lower ethanol prices relative to gasoline on an energy-equivalent basis. Of course, this implicit consumption subsidy only works if the RINs are being passed to consumers in the form of cheaper ethanol. As Mr. O'Malley pointed out, it's difficult to say that this is happening when ethanol is retailing for the same price as gasoline on a volumetric basis, which is the same as a 50% premium versus gasoline on an energy-equivalent basis. Futures prices for pure gasoline and pure ethanol since the beginning of 2012 suggest that Mr. O'Malley may have a point, as the ratio of ethanol to gasoline prices has clearly been trending above 67% since the beginning of 2012 (see figure). This would be expected if ethanol producers were capturing the value of higher RIN prices.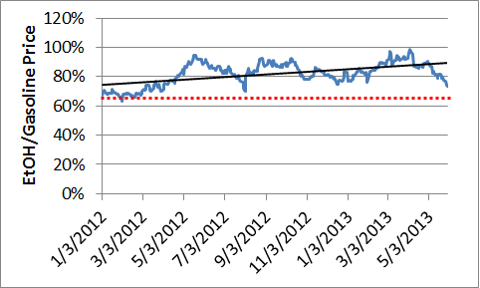 Ratio of ethanol and gasoline front-month futures prices with linear trendline (solid black line) and 67% price point (red dotted line). Sources: EIA (2012) and CARD (2012)
The bigger picture
A very different picture emerges if we expand the database to include prices going back to January 2009. The linear-trendline with a positive slope is replace by one with a negative slope (see figure), showing falling ethanol prices relative to gasoline prices over the last 4.5 years. The extreme ethanol premium that existed during the depths of the financial crisis affect this somewhat, although starting at January 2010 does not change the overall slope direction; the average ethanol/gasoline price spread since 2012 has been lower than that since 2009 or 2010. Despite the big increase in D6 RIN prices, ethanol producers are currently receiving a smaller premium for their product than in the past, suggesting that they aren't actually capturing much RIN value. After all, D6 RINs never traded above $0.04 until January 2013; while I don't have enough daily RIN price data to show this, I suspect that a correlation calculation would show a positive correlation between higher RIN prices and a lower ethanol premium (correlation does not always equal causation, of course). The historical data does call into question Mr. O'Malley's assertion that the high RIN prices represent a direct subsidy to biofuel producers from non-blending refiners.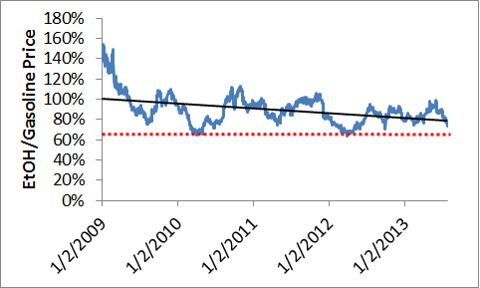 Ratio of ethanol and gasoline front-month futures prices with linear trendline (solid black line) and 67% price point (red dotted line). Sources: EIA (2012) and CARD (2012)
Implications
There are a few different ways to interpret this result. The most obvious one is that blenders are benefiting the most from higher RIN prices. Blending is not limited to just refiners obliged to do so under the RFS2, making it difficult to define blenders as a single sector. Many refiners blend to E10 at the refinery and some biofuel producers and independent retailers do their own blending to up to E85. Only the refiners are obligated to submit RINs to the EPA, however, so non-refiners who blend and refiners who blend in excess of their RFS2 requirements have possibly benefited more from higher RIN prices than non-blending independent biofuel producers.
The second interpretation is that ethanol blending would continue to occur even in the absence of the RFS2. Ethanol was first employed as a fuel oxygenate after MTBE was discovered to be causing groundwater pollution; indeed, ethanol production didn't begin its rapid increase in the U.S. until Congress withdrew limited-liability protection from refiners for using MTBE. Furthermore, blending ethanol with gasoline increases the octane rating of the resulting blended fuel, giving it a higher market value than it would otherwise have. Most blenders have set up their operations to benefit from this improved octane rating and expensive retooling would be necessary to eliminate all ethanol blends. These attributes likely explain in part why ethanol has historically sold at high premium to gasoline.
The final interpretation is that the RFS2 is operating as intended. The RFS2 was created to replace the fixed subsidy known as the "blenders' credit" with a variable subsidy in the form of RINs. The advantage of flexible subsidies is that they increase and decrease in response to changing market conditions. While the media has been focused on "RINsanity" and the "broken" nature of the RFS2, the above price data suggests that the RFS2 has been operating as designed in 2013. The arrival of the ethanol blend wall required the replacement of a production subsidy with a consumption subsidy, so RIN prices increased to reduce the price of ethanol relative to gasoline. We've seen refiners, even those such as PBF that are strongly opposed to the RFS2, increase their blending volumes as a means of mitigating RIN expenses. Furthermore, it seems that non-obligated blenders have begun to pass at least some of the RIN value to consumers in the form of cheaper ethanol, at least relative to historical prices. If this is indeed the case then the EPA's recent decision to apply the 2014 volumetric mandates "flexibly" as a means of reducing RIN costs could be counterproductive; reducing the ethanol volumetric mandate to the blend wall volume would be effectively pulling the rug out from underneath the RFS2 just as it was responding as designed to changing market conditions (i.e., the arrival of the blend wall).
It should be noted that the final interpretation, if true, does not mean that biofuel producers have not benefited from the RFS2. By establishing a growing mandate, the RFS2 has created a larger market for producers than would otherwise exist. This clearly benefits producers when product margins are favorable by making it relatively easy for them to increase both their revenues and net incomes. It should not be taken for granted that this year's action in RIN prices has benefited producers, however, as there is little evidence to suggest that higher RINs have translated into higher ethanol prices relative to gasoline.
Conclusion
Surging D6 RIN prices in 2013 and the arrival of the ethanol blend wall have prompted calls for the RFS2 to be reformed and the volumetric mandates for 2014 and beyond to be reduced. While the ethanol price premium relative to gasoline has indeed trended upward over the last 18 months, it is currently low relative to the historical premium. This calls into question allegations from refiners that biofuel producers are capturing higher RIN prices for themselves. Instead, it provides some evidence for the theory that non-obligated blenders are increasing ethanol blends and incentivizing extra consumption by using higher RIN values to discount ethanol relative to gasoline. While the data is not conclusive, this suggests that the recent "RINsanity" could actually be due to the RFS2 operating as designed, in which case modifications to the volumetric mandate would run counter to the purposes of the RFS2.
Disclosure: I have no positions in any stocks mentioned, and no plans to initiate any positions within the next 72 hours. I wrote this article myself, and it expresses my own opinions. I am not receiving compensation for it (other than from Seeking Alpha). I have no business relationship with any company whose stock is mentioned in this article.