Looking at some raw data of Nuance Communications (NASDAQ:NUAN), the initial reaction is to take a pass on this company. These indicators include: weak quarterly earnings reported over the past two quarters, dropped non-GAAP earnings, declining operating margins, and lower cash flow from operations.
Yet, a closer and careful analysis of Nuance Communications reveals a different story: revenue was still higher last quarter and the company has a healthy balance of cash in its book. Nuance is a company in transition. By sacrificing short-term profits, Nuance wants to be positioned to generate recurring revenue in the long term. This will be accomplished in two ways: raising cloud-based offerings and boosting development. There are many more reasons to look at Nuance as a company to grow. By early 2014 and beyond, investors will reap the benefits of buying shares in this company.
There are 3 reasons to be bullish on Nuance.
1) Share buyback
Nuance used its excess cash to buy back its common stock. In the third quarter (for the three months ended June 30, 2013), the company bought back $103 million worth of shares.
2) Transition from license to on-demand revenue
Transitioning away from licensing revenue will hurt near-term revenues. The long-term benefit will be increasing the recurrence and the longevity of recurring revenue. In the last quarter, mobile cloud transitions grew 80%, while connected devices grew by 100%. Hosting revenue is still just 32% of total sales, but this is up from 30% last year. Despite the impressive growth in mobile, investors should be cautioned that the rebound will not be substantial next quarter. It will not be until fiscal 2014 when growth will be meaningful to the earnings reported on quarterly results.
3) Transition to Natural Language Processing
On its condensed consolidated statement of operations, Nuance reported a sharp increase in research and development costs. Costs rose from $56.1 million last year to $73.1 million, a 30% increase. This is owed to Nuance developing natural language processing ("NLP") and reasoning based systems. Previously, the company offered only voice-recognition solutions for customers. Since NLP solutions are in high demand in the mobile market, this move will pay off in the future.
Risks
As with any company transitioning away from core offerings, the risk for Nuance is no different. Nuance will face higher deferred revenue moving forward. In Q3, deferred revenue was $266.1 million on June 30, 2013, up from $206.6 million as at September 30, 2012.
A steady increase in on-demand revenue is not assured. Last quarter, it dropped due to weakness in the healthcare segment and issues in some international markets.
Costs in research and development could escalate uncontrollably as Nuance expands its product line. Nuance has an aggressive development plan, but investors should not expect the company to allow costs to run wild. The firm has a plan to increase staffing in R&D. This will allow the company to execute on its growth plans while maintaining costs.
Alternative Investments
Investors interested in mobile device suppliers could consider Synaptics (NASDAQ:SYNA) or OmniVision (NASDAQ:OVTI).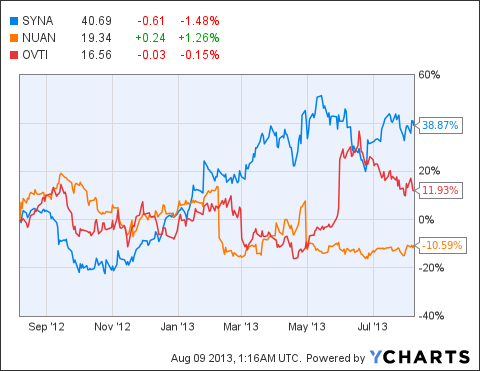 These companies benefit from the enormous growth in smartphone products made by Apple (NASDAQ:AAPL), Samsung (OTC:SSNLF), or Nokia (NYSE:NOK). These suppliers also have a price to sales ratio that is lower than that of Nuance:
NAME

PRICE ($)

MKT CAP

AVG VOL

PRICE/
SALES

Synaptics

40.69

1.35B

945,827

2.07

Nuance Communications

19.33

6.14B

4,489,670

3.35

OmniVision Technologies

16.56

905.12M

1,232,640

0.64
Data Source: Yahoo Finance
OmniVision makes image sensors for numerous industries, including the mobile market. The company is scheduled to report earnings on August 29, 2013 after the market closes. According to its fact sheet, 65% of revenues came from mobile phones in the fourth quarter of fiscal 2013. More recently, Google's (NASDAQ:GOOG) Motorola selected OmniVision's OV10820 sensor for the Moto X. The sensor is 10.5MP and provides low-light image capture for the phone.
Synaptics, which makes the touch interface for devices, is trading at close to yearly highs. Synaptics was previously covered in October, 2012. At the time, shares were trading below $25. In its most recent quarter, the company reported record profits: $106 million or $3.11 per share. This is a 35% increase from last year. Unlike Nuance, Synaptics was further ahead of its product development, and was able to reap the rewards much earlier. Synaptics forecast during its conference call for smartphones to be more than a $1 billion market.
Nuance for long-term investors
Lower profit margins will scare away many investors. It might keep Nuance shares stuck in a tight trading range. Shares could be stuck between $18 and $20 based on the trading pattern so far in 2013. Margin pressure should be expected as a consequence of gaining recurring revenue for on-demand. As the market for Nuance expands in fiscal 2014, the margin will improve.
Disclosure: I have no positions in any stocks mentioned, and no plans to initiate any positions within the next 72 hours. I wrote this article myself, and it expresses my own opinions. I am not receiving compensation for it (other than from Seeking Alpha). I have no business relationship with any company whose stock is mentioned in this article.