On Friday, August 9, Pembina Pipeline Corp. (NYSE:PBA) announced a monthly dividend increase of C$0.005/share, bringing its upcoming dividend payout to C$0.14/share. It should be noted that this boost represents a 3.7% increase from its prior dividend of $0.135/share, which was paid on August 15. In the wake of PBA's dividend increase, I wanted to not only examine the company's recent performance but take a look at several catalysts behind my decision to establish a long-term position in the company.
Performance and Trend Status
Based on Friday's closing price, shares of PBA are trading 2.20% below their 20-day simple moving average, 1.67% below their 50-day simple moving average, and 3.59% above their 200-day simple moving average. These numbers indicate a short-term and mid-term downtrend, and long-term uptrend for the stock, which generally translates into a near-term selling mode and longer-term buying mode for most traders. Shares of PBA, which currently possess a market cap of $9.45 billion, a P/E ratio of 31.00, a forward P/E ratio of 29.23, and a forward yield of 5.12% ($1.68) settled Friday's trading session at a price of $30.69/share.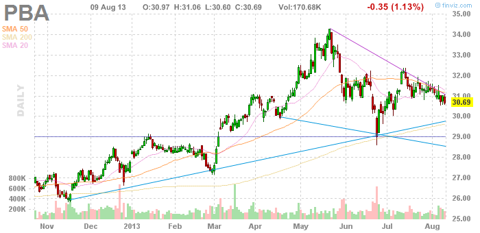 A Strong Q2 Is Led By a Significant Increase in EBITDA As Well As a Number of Notable Projects
On Friday, August 9th, Pembina Pipeline Corp. reported the results of what I believe to be a very solid second quarter. The company's Q2 EPS of $0.30/share on revenue of $1.175 billion beat Street estimates by an impressive margin of $0.06/share, which I consider to be pretty impressive considering its EPS surpassed last year's mark by a margin of $0.02/share ($0.30/share vs. $0.28/share).
Some of the contributing factors behind Pembina's stellar quarter included but were not limited to a 40% increase in the company's consolidated operating margin and a 47% increase in adjusted EBITDA for the quarter when compared to the same year-ago period. It should also be noted that the company's Adjusted EBITDA for the six month period ending June 30, 2013 was $395.3 million compared to the $237.3 million for the same period in 2012 and the 67% increase in adjusted EBITDA was also due to the impressive performance contributed by all four of Pembina's businesses.
What caused Pembina's adjusted EBITDA to improve by such a large margin? Simply put, the company's increase in adjusted EBITDA for both the quarter and first half of the year was due to improved results from operating activities in each of Pembina's four businesses (Midstream, Conventional Pipelines, Oil Sands & Heavy Oil and Gas Services). From two of Pembina's most recent projects, we can get a better sense of what the company is doing in an effort to enhance its current strategy for growth.
Cornerstone Oil Sands Pipeline Project
On June 27th, it was announced that Pembina Pipeline Corp. had entered into an Engineering Support Agreement with the KKD Oil Sands Partnership (which was formed as the direct result of an agreement between Statoil Canada and PTTEP Canada where Statoil serves as the managing partner). Under the terms of the agreement between Pembina and KOSP, both firms have jointly agreed to spend up to approximately $35 million to conduct preliminary engineering work and begin associated stakeholder consultation in support of KOSP's transportation needs.
At the conclusion of the work contemplated under the ESA, Pembina expects to be in a position to file the necessary applications to proceed with constructing the Cornerstone Pipeline. In my opinion, the successful integration and subsequent execution of the ESA will be one of the key stepping stones Pembina will need in an effort to construct and bring the Cornerstone Pipeline online by its target date of mid-2017. Based on the company's target date of mid-2017, Pembina has just 36 months to get all of its proverbial ducks in a row, especially if it intends on further expanding the pipeline throughout 2018 and 2019.

According to Bob Michaleski, Pembina's Chief Executive Officer:

"This agreement marks an important step forward in Pembina's oil sands and heavy oil transportation business as we continue to increase our access to diluent sources, both in the Edmonton, Alberta area via our Midstream business and through expansions of our Gas Services assets and Conventional Pipeline systems. This, combined with our ongoing major pipeline system construction experience, puts us in a strong position to support KOSP's oil sands development. The ESA allows us to lay the groundwork for a substantial infrastructure expansion, which, should it proceed, will provide Pembina with an exciting new oil sands platform that will generate long-term shareholder value."
Although I strongly believe the company's Cornerstone project will contribute quite nicely to shareholder value, another one of Pembina's ancillary projects (better known as the Saturn and Saturn II initiatives) will also contribute quite nicely to the company's overall growth.
The Saturn and Saturn II Facilities
With current expectations estimating the project to be online by the end of the year, Pembina is in the final stages of constructing a 200 million cubic feet per day (mmcf/d) enhanced natural gas liquids extraction facility (the Saturn Facility) and associated NGL and gas gathering pipelines in the Berland area of west central Alberta, which it will own and operate. Once construction is complete, the Saturn Facility has the potential to extract up to an average of 13,500 barrels per day of liquids. If you think those production estimates are promising, the expectations of the company's plans to build a second facility (dubbed Saturn II) are even more impressive.
On March 5, 2013, Pembina announced that it has entered into agreements with a third-party producer to proceed with Saturn II at a capital cost of approximately $170 million. According to Pembina's website:
"The agreement with the third-party is a firm-service contract for 130 million cubic feet per day for a term of 10 years. Based on 100% capacity, Saturn II is expected to extract approximately 13,000 bpd of NGL which will be transported on the same pipeline lateral Pembina is currently constructing for Saturn I."
If production expectations of 130 million cubic feet per day can met and/or exceeded at any time during the 10-year lease period, such transportation will have a considerable impact on the company's future earnings growth.
Conclusion
For those of you who may be interested in establishing a position in Pembina Pipeline Corp., I'd keep an eye on three catalysts over the next 12-24 months. I'd start out by keeping an eye on the company's dividend behavior, as its most recent increase could be a sign of things to come, especially since shares carry a forward yield of 5.12% ($1.68). The second and third catalysts I'd pay close attention to concern the overall production output at the Saturn and soon to be constructed Saturn II facilities.
If Pembina can construct both facilities and bring them online at or ahead of schedule, overall production and transportation activities could have a much larger impact on overall growth than initially expected. In my opinion, both facilities will be online ahead of schedule and as a result, Pembina should experience better-than-expected growth over at least the next 12-24 months, if not the next few years.
Disclosure: I have no positions in any stocks mentioned, but may initiate a long position in PBA over the next 72 hours. I wrote this article myself, and it expresses my own opinions. I am not receiving compensation for it (other than from Seeking Alpha). I have no business relationship with any company whose stock is mentioned in this article.