The Eurozone crisis has received little coverage recently and it would seem like it is all in the past. Investors, politicians and media alike appear to think that the situation can only get better now, and the stock market in Europe recently has told them they're right. However, many hurdles still remain and a prudent investor should not forget that. I think there is a clear downside risk this Fall.
Let's take a look at a few indicators.
GDP growth
While GDP is expected to grow a little faster in some economies, most countries will still be in recession, but with a GDP declining less than in 2012. However, it wouldn't be the first time if actual GDP rates were in fact lower than the current estimates. In fact, according to a recent survey, Eurozone GDP will shrink 0.6 percent in 2013 (a 0.4 percent drop was previously estimated). For 2014, the estimate is now for a growth of 0.9%, revised downward from 1.6%. Others, meanwhile, say that Q2 will already show a GDP growth of 0.2% for the Eurozone. We'll know for sure this week.
The euro is close to a multi-month high against the dollar; if it stays at that level, Eurozone exports might suffer this quarter, adding further pressure on the GDP.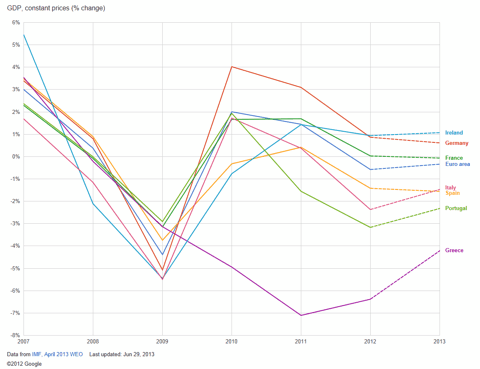 Click to enlarge
Source: International Monetary Fund
Debt-to-GDP ratio
It is important to keep in mind that, although some countries experience economic growth, their debt-to-GDP ratios keep rising.
Germany is one of the few exceptions, with a debt-to-GDP ratio retreating a little to 81.2% (but still quite higher than the 67% in 2008). The declining debt-to-GDP ratio in Germany and a handful other countries will not be enough to offset the trend in the Eurozone, though, where overall the debt-to-GDP ratio was 92.2% in 2013Q1 and will keep climbing.
There are no big surprises here: the worst offenders will be the PIIGS.
Greece's level of debt as a % of GDP went down from 170% in 2011 to 160.5%, but is expected to shoot up once again this year, to a whopping 180%.
Italy's debt-to-GDP ratio will continue going up to surpass 130% this year, while Portugal's will stay above 120%. Ireland's reached 125%; it is the first time it crossed the 120% threshold, which is considered the maximum sustainable level of debt compared to the GDP.
In Spain, it will also be sharply higher at more than 90%. While it is far below the levels seen in other nations, let's not forget that a bigger problem in Spain is its real-estate bust and its banks' huge exposure to bad loans.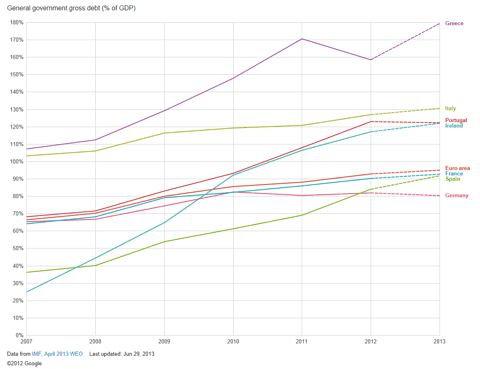 Click to enlarge
Source: International Monetary Fund
Unemployment
Also worth remembering is the sky-high unemployment rates in both Spain (26.3% in June, down from 26.5% in April) and Greece (26.9% in April). It is also dangerously high in Portugal, at 17.5% in June (down from 17.8% in April). It remains to be seen if the lower rates in those countries aren't simply due to seasonal effects, as they attract many tourists in the summer.
The unemployment rate is rising, slowly but steadily, in France (11% in June, its highest level since 1998 and close to its all-time high). Due to the size of the French economy, this is quite worrying.
For the entire Eurozone, it has been constant for the last few months at 12.1% (an all-time high), according to the ECB. The OECD expects the unemployment rate to reach 12.3% by the end of 2014 in the Eurozone; 28% in Spain and Greece, 18.6% in Portugal and more than 11% in France.
As for the good news on that front, the unemployment rate is steady at 5.4% in Germany and it should be under 5% by the end of 2014.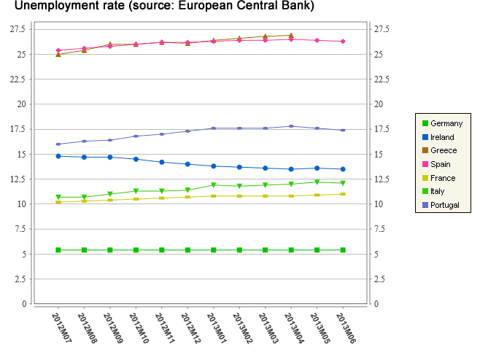 Click to enlarge
Source: European Central Bank
Bailouts
The ECB and IMF keep kicking the can down the road with regards to Greece's reforms, by giving them money on the basis of Greece's commitment to reduce its spending. The problem is, for years, Greece has been "committed", even passing laws to make way for certain spending cuts. While it is true that they have made improvements, the reality is that some of the cuts they promised to make long ago never really happened. With the ECB and IMF continuing to accept promises and giving away money, Greece won't take all the necessary steps: they always get the dough in the end, so why change?
It is also of concern that banks in some PIIGS countries still rely too much on loans from the ECB. Just a few days ago, for instance, it was reported that Portuguese banks' cumulative borrowing from the European Central Bank rose 1.5 percent to 50.1 billion euros ($66.33 billion) in July (it peaked at 60.1 billion euros in June 2012).
Politics
In Germany, Angela Merkel and her government have in recent weeks repeatedly ruled out a further write-down of Greek debt. According to the polls, she'll be elected to a third term in the September 22 federal election. It might thus complicate things further if when Greece needs another bailout and/or its creditors have to take another "haircut".
On the other side of the Atlantic, the United States will have its own political drama with the budget ceiling negotiations. The Fed could also start tapering its massive ($85 billion a month) Treasuries and mortgage-backed asset purchase program at any time, depending on the state of the economy. It seems probable that the tapering will start this fall, maybe as soon as September. If that happens and budget negotiations drag, the US stocks will go down, investors will be nervous and the European markets will likely suffer from the ripple effects.
Conclusion
Despite the obvious optimism of many players, from politicians to ECB members to investors, there is clear evidence that the situation in Europe is far from stable. Ignoring the problems will not make them disappear and, while there are some signs that the very worst is over, we will at best see modest improvements in some economic indicators in the near-term future.
In my opinion, one of the biggest concerns is the very high unemployment rates in many nations. It's difficult for an economy to grow (and for the debt-to-GDP to fall) when a large part of the workforce is without work. Add to the lack of growth, the burden of unemployment benefits on the governments' budgets and the anger of the population, which in turn creates political instability, and you have a perfect recipe for prolonged crisis.
With many European indices near multi-year highs, there is a real risk an important correction will take place in the coming months, unless there are very good economic news, which doesn't seem very likely. This correction could be amplified by disagreements between Germany and other countries regarding the terms of further Eurozone bailouts or debt write-downs.
It is impossible to time when or how much of a correction will happen, but after the recent run, it would be wise to take some profits and have cash on hand, in order to be able to reenter the market after that pullback. Personally, I am now almost 30% in cash and have a small double short position on the DAX in Frankfurt (I will add to it or start another short position on the CAC40 or Euro Stoxx if those indices keep going higher this month and in early September).
Disclosure: I have no positions in any stocks mentioned, and no plans to initiate any positions within the next 72 hours. I wrote this article myself, and it expresses my own opinions. I am not receiving compensation for it (other than from Seeking Alpha). I have no business relationship with any company whose stock is mentioned in this article.
Additional disclosure: I am double short DAX 30 in Frankfurt (DE:DES2)