It doesn't look good for home builder share prices in the near-term. Recent action in the iShares Dow Jones US Home Construction (NYSEARCA:ITB) fund indicates weakness in the sector and these stocks are starting to break down.
Boosted by record low mortgage rates and $85 billion per month in stimulus money printing by the Federal Reserve's Quantitative Easing program, home builders have seen a huge run up from their October 2011 lows.
The bulk of the ITB fund holdings consist of major U.S. home builders (Pulte (NYSE:PHM), Lennar (NYSE:LEN), KB Homes (NYSE:KBH), D.R. Horton (NYSE:DHI)) as well as other construction-related businesses (Home Depot (NYSE:HD) and Lowe's (NYSE:LOW)). The fund sat just below $9.00 per share back in the fall of 2011. Since that time, shares have seen a tremendous rally up to nearly $22.00 per share today.
You can see this action in the chart below (click to enlarge images):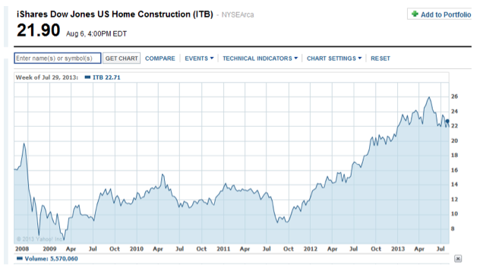 However, given the recent swift increase in 10-year US Treasury yields, mortgage rates jumped nearly 100 basis points from their April 2013 lows of about 3.5% to around 4.5% in July. This was due mostly to a recent statement by the Federal Reserve that they might consider tapering their bond purchases in the near future due to the economy "starting to show signs of improvement."
This rise in borrowing costs seems to have made investors nervous and caused bond prices to tumble as yields jumped higher. But the real story to watch is the share price of the home builders. They are poised to feel the brunt of this market fear.
Given the huge run-up in share prices for these builders over the past two years, the sector is surely due for at least a short-term pull-back. How severe will this decline be?
Let's take a look at another chart.
The following chart shows the ITB fund with its 50-day and 200-day moving averages, along with the MACD, a momentum indicator.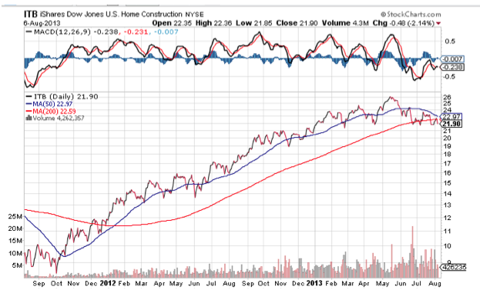 As you can see in the above chart, the 50-day moving average (blue line) is about to touch and cross down through the 200-day moving average (red line), which is typically a bearish move for a stock.
Additionally, the MACD momentum indicator (above the chart) has shown negative divergence over the past six months, which indicates a slowdown in buying as the bears (sellers) begin to take over. You can see that the share price has started to plateau over the past month, which signals a reversal could be in the cards.
These signs alone certainly forecast a pullback in the near-term as the market is running out of buyers to prop up the share price.
However, the recent rise in interest rates most likely played a large part in this slowdown, since borrowing costs for potential home owners are now higher. This makes the exact same home more expensive than it was just three months ago.
A full percentage point increase in mortgage rates is a massive move in such a short period of time. Plus, that increase has a real effect on the purchasing power of a home buyer. Literally, there were buyers that had a contract to purchase a home in May, looking to close by the end of June, that had to back out of the transaction or attempt to renegotiate terms with the lender, as their borrowing costs jumped up so quickly (this is why getting a rate lock from your lender for as long of a time period as you can is so important).
Unfortunately for the home builders, this rate hike occurred in the face of the "busy" time of the year, in the late spring / early summer, which generally gives way to the most transactions taking place as families look to relocate during the summer while their children are out of school.
This decrease in affordability for buyers has taken the wind out of the sails of many builders which thought the cheap money would continue flowing from the Fed, to the market, and into their pockets.
The bad news for the builders is that this puts a damper on a would-be purchaser's choices, since higher borrowing costs will limit their selection of homes they can afford. While for some, it could mean they cannot afford to purchase a home at all.
The next big negative hit to the sector occurred on Tuesday August 6th when President Obama came out and called for more prudent mortgage lending standards in the U.S., demanding that the "private sector" take on more of the risk in underwriting and insuring home loans.
Additionally, the President went on to emphasize the need to wind-down and even eliminate the quasi-government sponsored entities (GSEs) Fannie Mae and Freddie Mac, which back a significant portion of the mortgage market.
Obama's message is completely legitimate and sensible. However, in reality, this will wreak havoc on the mortgage market, on real estate prices, and most of all, on the share price of home builders.
Imagine a world where every home buyer would have to make a 20% down payment and qualify for a home loan under realistic credit terms - this describes a well-functioning, safe and steady real estate market.
Believe it or not, this is actually how the home lending process operated for generations. In fact, many home loans were for only 10 years or less, and down payments could be as high as 50%. People actually bought what they could afford instead of going into massive debt, financing a home for 30 years of which they would barely stay for 5 years, on average.
But in today's debt-laden home loan market, buyers often put down 5% (or less) and lever up to purchase a property that is well beyond their means. This is still happening, even after the massive bubble we just saw burst in 2008. In fact, the government is backstopping a huge chunk of the mortgages being taken out today.
Did the market learn nothing?
So, my only question is, how can you possibly unwind this social ideology that it's OK to borrow hundreds of thousands of dollars and put little-to-nothing down upfront to own a home in the U.S. today? The answer, sadly, is that you probably cannot do this in a reasonable manner.
So, the stark reality is that the President's comments are merely just that - talk.
There would be far too much pain if Fannie Mae and Freddie Mac were actually removed from the market, as mortgage rates would spike, homes would become much less affordable for would-be buyers and home values would certainly have to fall in order for prices to come in line with what the average buyer could afford.
However, this would mean that many large banks and other institutions holding mortgages on their books, collateralized by these assets, would get crushed as the value of the underlying property declines and it marked-to-market. That is why this action by the President is most likely just chatter to make opponents to current economic and fiscal policy think that something positive is actually taking place (that is assuming inflation doesn't kick-in and drive up asset prices anyway).
Back to the home builders…
The real concern here is that even if this is just "talk" from the President, the mere thought of taking Fannie and Freddie out of the mix could cause investors to panic, and dump shares of these stocks over the next few months-especially the highly leveraged ones (as risk-adverse investors exit the market) and those that have seen the largest share price increase (as investors take profits off the table).
Although nothing is actually happening right this moment to shut down Fannie and Freddie or for the Fed to truly start tapering its bond purchases, the Fed has since back-pedaled from their prior statement and indicated that they will re-evaluate the situation in the future, but will not stop their $85 billion per month bond / mortgage backed security purchasing program. Just the thought of doing so might be the catalyst needed to kick-off the overdue downturn in home builder's shares.
So, just how bad will it get? It's hard to tell, but it certainly doesn't look good. We could easily see a 10% to 15% decline over the next few months as we head into the "slow" part of the year for home purchases and investors head for the high ground after a huge run up in price over the past two years.
It's time to be cautious. Trade accordingly.
Disclosure: I have no positions in any stocks mentioned, and no plans to initiate any positions within the next 72 hours. I wrote this article myself, and it expresses my own opinions. I am not receiving compensation for it. I have no business relationship with any company whose stock is mentioned in this article.