Monday, we speculated that perhaps Dell (NASDAQ:DELL) had awarded Perot Systems (NYSE:PER) with too hefty a valuation given shrinking revenue and its dependence on healthcare and government contracts (Did Dell Overpay for Perot Systems). CNBC's Jim Cramer is in agreement with our assessment and this poor execution of an acquisition has landed Dell in the Sell Block.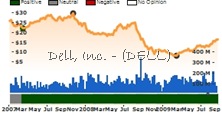 The most obvious basis for comparison would be the tie-up of Hewlett-Packard (NYSE:HPQ) and EDS. In this deal, HP bought one of the biggest players in IT services for about $13 billion, and in so doing has successfully diversified itself away from hardware such as laptops, printers, etc. Furthermore, HP is now more geographically diversified with about 62% of sales coming from outside of the US. Now, HP could actually be considered a weak dollar play.
Meanwhile, Dell dragged its feet and is now left in a position of weakness and playing catch up with HPQ and IBM (NYSE:IBM). Cramer wondered why management was not more imaginative to buy someone like Palm (PALM) which fits his mobile internet tsunami investment theme. Instead, they paid a greater valuation for Perot than was achieved prior to the technology bubble for a now shrinking company, furthermore Perot will not allow them to greatly diversify away from hardware in the short term (should claim about 85% of revenue).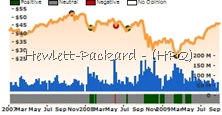 The deal has left Cramer with a bad taste in his mouth, and he is bullish on HPQ and bearish on Dell going forward. At Ockham, although we agree with Cramer's take on the deal, our valuation methodology sees Dell as Undervalued at the current price. As for Hewlett-Packard, the company has advanced steadily about 75% since hitting its 52-week lows. So, although the company is strong fundamentally, the price has risen to the point that we would consider it Fairly Valued.