AVX Corporation (NYSE:AVX) manufactures and supplies passive electronics components. A passive component is one that does not require energy to perform its function such as capacitors, resistors, filters and a host of devices that store, filter or regulate energy. It operates globally with 21 manufacturing facilities in 11 countries and research and development locations in 6. AVX is a subsidiary of Japan-based Kyocera (NYSE:KYO), owner of 72% of its outstanding stock.
AVX supplies components to a host of industries as displayed in the chart published in its 2013 annual report.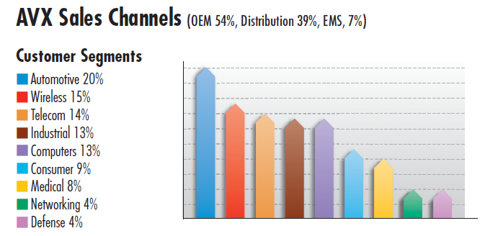 Click to enlarge
Its primary customers are original equipment manufacturers, independent distributors, and service providers. AVX sells five product families: ceramic, tantalum, advanced, Kyocera-produced and interconnect. It reports in three segments: Passive Components, KED (Kyocera Electronic Devices) Resale and Interconnect. Even though AVX and its predecessors has been in the passive electronics business since the 1920's, it is not at all passive regarding its commitment to technology leadership. On June 25, seven AVX products were highlighted on the Electronic Design 2013 Top 101 Components list.
AVX has no long-term debt. Its cash and cash equivalents balance is just over $1.06 billion. The cash helps solidify AVX's ability to pay its healthy $0.35 annual dividend. Analysts have projected 12% long-term EPS growth. But, the financial performance of the past two years has not been ideal. AVX's revenues have been impacted by weaker global demand, customers managing inventories more tightly and pricing pressures. With only 12% growth, AVX will return to its 2011 level in fiscal year 2021 as shown in the chart below (where the growth estimate is used for 2015 and beyond).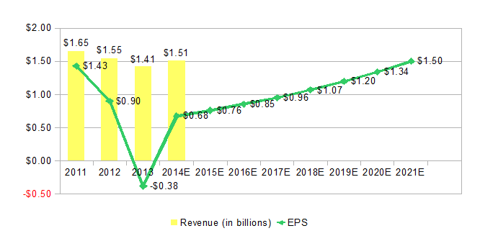 Click to enlarge
The trends powering AVX's future are:
smart phones - upgrade cycles are more frequent and market life is shorter
smart phones - larger touch screens and evolving functions
tablets - touch screen functionality
televisions - higher definition and additional features beyond traditional televisions
automobiles - increased computerization
medical - remote patient monitoring and implantables
aerospace - reliability and performance
IT - accelerating data speed and migration to cloud-based computing
alternate energy - harvesting solar, wind or mechanical energy.
But, plugging the drains on AVX profit may be more essential than powering the trends.
AVX relies on tantalum, platinum, palladium, silver, nickel, gold and copper in its manufacturing processes. Most are available from a host of suppliers but some are not. According to the U.S. Geological Survey 2013 Minerals Yearbook, the volumes imported vary per mineral:
tantalum - 100%;
platinum - 91%;
silver - 57%;
palladium - 54%;
nickel - 49%;
copper 35%.
Tantalum, as an example, is supplied by areas where insurgents and illegally armed groups could benefit from the sale of minerals. The Dodd-Frank Act requires a publicly-traded company disclose the minerals used in its products and be able to assure they are not sourced from such areas. AVX joined Motorola in July 2011 to commence a project called "Solutions for Hope". The goal is to source conflict-free tantalum from the Democratic Republic of Congo ("DRC"). Since December 2011, AVX can assure its tantalum powder and wire is only sourced from "conflict-free" smelters. AVX buys the ore from the DRC regional government licensed mine area concession holder and transports the ore to a smelter in the Conflict-Free Smelter program. The smelter converts the ore to capacitor grade powder and wire and ships the products to AVX.
Besides the ethical issues involved with sourcing minerals, AVX is also vulnerable to their price fluctuations. The following chart compares price fluctuations for the past five years in the 7 minerals AVX uses to the percentage of revenue that is cost of goods sold. The mineral prices used to compute the percentage change were the average prices for the year. The cost of goods sold and revenue used are the fiscal year-end amounts from March 31st of each year.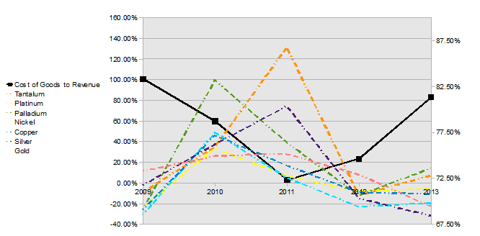 Click to enlarge
AVX uses productivity improvement, cost savings initiatives and price increases to offset raw material price increases. AVX has expanded manufacturing into China, El Salvador, Malaysia, Mexico, and the Czech Republic to reduce production costs.
Another disconcerting drain on AVX profit involves environmental responsibilities and remediation. AVX has been identified by governmental agencies as a potentially responsible party related to prior contamination. In October 2012, AVX reached a final settlement agreement with the EPA and other agencies concerning the ongoing clean-up of Massachusett's New Bedford Harbor. Effective August 1, 2012, AVX paid $366.25 million in the settlement. The offense dates back to 1940 through 1970 when Aerovox, an AVX predecessor, released PCBs into the harbor. One location in the area had the highest concentration of PCBs ever documented in a marine environment. The following slide from a recent EPA update depicted the impact when the Massachusetts Department of Health closed the area to fishing for all fish and shellfish.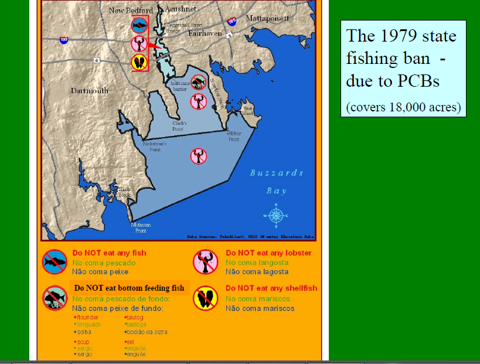 Click to enlarge
In 2010, AVX was named a defendant in a suit concerning a former city dump in New Bedford. AVX is one of nine companies named in the suit. A high school, middle school, and athletic fields as well as neighborhoods now occupy the site. An EPA update on March 2012 reported the agency had spent $5.1 million to date on removal and clean-up activity. The Toxics Action Center listed the site as a repeat offender in the New England's Dirty Dozen, a roster of the most notorious pollution threats in the region.
AVX assumed the demolition of a 450,000 square foot building in New Bedford formerly occupied by Aerovox. The company has also disclosed that the city of New Bedford has demanded $11 million funds related to contamination at the city's railyard.
In May 2011, AVX purchased a Myrtle Beach, South Carolina site, a 21.5 acre plot of land across from its manufacturing facilities. The site was contaminated by TCE (trichloroethylene), a degreaser, in the groundwater. There are claims AVX knew about the contamination thirty years prior in 1981. In February 2013, AVX lost an appeal that the U.S. Air Force should also be responsible for the contamination. The property is not considered hazardous by federal regulators because it is not used for drinking water. Experts disagree on the amount of time it will take for AVX to clean up the site to meet EPA regulations.
On August 2, 2013, a jury awarded a condominium developer $750,000 in damages for a failed project near a former AVX plant. The alleged TCE groundwater contamination resulted in a loss of financing for the project. A third class action suit is pending regarding fallen property values in a nearby Myrtle Beach neighborhood. AVX reported in its 2013 annual report it had $0.3 million set aside to address these second and third suits.
A 2011 EPA update on AVX's Olean, New York site should be available at some point in 2013. According to the update, even though 5,055 tons of contaminated soil was removed in 2000, significant contamination still remains. A feasibility study to determine a remedy was to be completed within a two year time frame.
It's not always judicious to invest strictly by the numbers. With no debt, over $1 billion in cash, a growing dividend and a steady long-term growth projection, AVX looks like it could be a consistent performer in a portfolio. Solidly rooted in an industry with a stable and expanding future, AVX realizes the importance of manufacturing products with consistent and reliable performance. But, investors may or may not agree with AVX judgments that could be classified as citizenship, ethical or moral decisions.
AVX showcased how it values its global citizenship when it initiated Solutions for Hope. The following excerpts from its press release speak volumes:
"This program provides hope to the small, artisanal miners and communities who rely on this work to support them and their families. These miners are suffering from the unintended consequences of a de facto embargo within the non-conflicted regions of Katanga as a result of the Dodd-Frank Act in the USA.

AVX hopes that others involved in the production and use of tantalum products will follow this example and initiate verifiable programs for the resumption in supply of conflict-free minerals from the small, artisanal miners of the Congo, and facilitate a better life for their children."
Speaking of children, this is the same company defending the lawsuit regarding a contaminated former disposal site in New Bedford that now hosts schools and athletic fields. In its 2013 annual report, AVX expressed its intended approach to the domestic contamination issues in Myrtle Beach.
"We intend to defend vigorously the claims that have been asserted in these two lawsuits."
The Damage Assessment, Remediation & Restoration Program of the National Oceanic and Atmospheric Administration explains the economic impact to the New Bedford Harbor, the area AVX knew was contaminated for 30 years:
"The economic impact was severe, due to long-term fishing closures, lost beach use, diminished property values, and reduced opportunities for coastal development."
Perhaps an argument could be made that the importance of tantalum accounts for the difference in approach. Yet, AVX's Tantalum Components segment contributes just 23.3% of total revenue. The segment's revenues have declined an average of greater than 11% the past two years. Perhaps an argument could be made related to the importance of international markets for the difference in approach. Indeed, even though 40% of AVX's properties and plants are located in the Americas region, only 27.6% of sales are generated in the Americas. Perhaps it's not worth an argument at all. Perhaps investors judge for themselves whether they should expect consistent and reliable performance from a company relative to both its products and its judgment.
Disclosure: I have no positions in any stocks mentioned, and no plans to initiate any positions within the next 72 hours. I wrote this article myself, and it expresses my own opinions. I am not receiving compensation for it (other than from Seeking Alpha). I have no business relationship with any company whose stock is mentioned in this article.