"3-D Vision"- Organovo Holdings, Inc. (NYSEMKT:ONVO) Completes $46.6 Million Public Offering, Looks to "Print" Further Gains.
We last reported on Organovo Holdings Inc. back on July 14th. Organovo Holdings Inc. specializes in producing lifelike tissues for research and testing purposes. The company has successfully created the World's first human organ with a 3D printer and hopes to engineer other organs and tissues for research and transplant use.
Organovo's bioprinting process can generate a reasonable proxy to human tissue in a lab that can be used in culture plates or bioreactors for medical research and therapeutic applications.
Recently, investors have seen the stock jump from $3.87 to $6.01 in a single week and although volatility can be expected, thanks to the lack of differentiation from other 3D printing companies such as 3D Systems (NYSE:DDD) and Stratasys (NASDAQ:SSYS), long term Organovo presents as much an opportunity in Biological 3D printing as 3D Systems and Stratasys presents in Mechanical 3-D printing.
Rapid Rise of 3-D
The notion of large-scale 3-D printing was science fiction until last year when 3D Systems and Stratasys made it possible. Printers capable of cranking out everything from aircraft parts to prosthetics, from complex medical devices to even missing parts for a toy is no longer relegated to the movies. Sure, the printers are slow, cumbersome and expensive; then again, so were personal computers, mobile phones and automobiles when they first came into everyday use.
Stratasys shares have gone through the roof, posting just over 700% in the last year, even making Organovo (up 111%) and 3D Systems (up 77%) look like laggards.
The success of these three companies have spawned interest in other companies with 3-D printing capabilities, though a major difference still stands out; Not only have 3D Systems and Stratasys generated revenue, their goals are relatively simple compared to the unfulfilled ambitions of Organovo.
Although Organovo isn't generating any kind of meaningful revenue, (ONVO produced a mere $0.2 million in revenue during the first three months of 2013 and half of that was the result of grants) key developments have taken place recently that have garnished continued coverage of the story and a catalyst for further gains.
Recent Developments- New $46.6 Million Dollar Public Offering
On August 7th Organovo announced the completion of a $46.6 Million financing in conjunction with Lazard Capital Markets LLC and Oppenheimer & Co. Inc. acting as joint book-runners for the offering and JMP Securities LLC and Maxim Group LLC served as co-managers for the offering. According to the SEC 8-k disclosure the shares were sold at the public offering price of $4.50 per share and the Organovo estimates gross proceeds from the Offering will be approximately $46.6 million and net proceeds will be approximately $43.3 million, after deducting underwriting fees and other expenses incurred by Organovo.
With a leading research report on the industry estimating that the 3-D printing market reaching over $5 billion by 2020, this only adds to the possible avenues for not only Organovo but also for other companies such as TeVido BioDevices, a smaller early-stage growth company that builds customized grafts and implants for breast cancer patients.
According to an interview with The Guardian Newspaper Linda Griffith, Director of the Center of Gynepathology Research at the Massachusetts Institute of Technology, no current design has produced the detailed resolution needed for the complex machinery and cells that constitute tissues and organs and if one is to be produced, it will be a slow and expensive proposition.
"If you 3D print a dress, or a gun, it is pretty easy to tell right away if it works," she said. "The assays to tell whether bioprinting works are really, really time consuming and expensive."
Technical Analysis By Harry Boxer (TheTechTrader.com):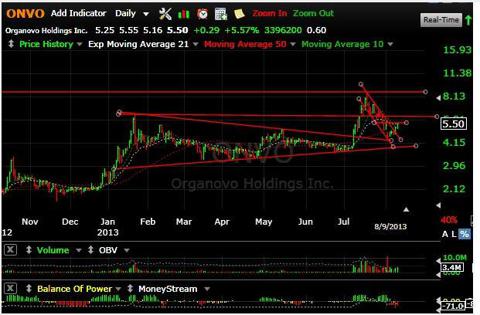 Organovo Holdings After a very strong move of over 100% in just 8 sessions from $ 3.96 to $8.50 in July, ONVO then pulled back sharply, exacerbated by a secondary announcement. However, we now feel it has retraced more than enough to make it attractive again for another potentially big move in the coming weeks and months. The 12 session pullback found support near the $4.40-$4.50 zone and it appears it may have started a new up leg last week with a bounce back to 5.55 .We think this may just be the beginning of a more substantial up leg to first retest the $6.50-$6.60 resistance zone then likely a move to retest the July 18th spike high at $8.50. If it's able to take that out, the all-time high from June 2012 at $10.90 would be the next goal.
What The Future Holds
However in answering the question "How far away is the creation of tissue that can be used in a medical procedure?" Michael Renard, Organovo's executive vice president said that "In the next 10 years it is possible that supplemental tissues, ones that aid in regeneration, will progress through design, clinical and regulatory testing, making it to the clinic as therapies."
"Examples may include nerve grafts, patches to assist a heart condition, blood vessel segments, or cartilage for a degenerating joint. But more advanced replacement tissues will most likely be in 20 years or more," Mr. Renard went on to state.
However with an oversubscribed public offering, plenty of public attention and one of the more fascinating stories in biotechnology if not the market as a whole, it is a fair assessment that Organovo will flourish over the long haul, especially if further partnerships are cultivated and from that, further revenue can be generated.
Needless to say, Organovo can do for 3-D printing what Microsoft (NASDAQ:MSFT) did for PCs and Ford (NYSE:F) did for the automobile; make a long-sought after dream a reality.
Disclosure: I have no positions in any stocks mentioned, but may initiate a long position in ONVO over the next 72 hours. I wrote this article myself, and it expresses my own opinions. I am not receiving compensation for it (other than from Seeking Alpha). I have no business relationship with any company whose stock is mentioned in this article. I was assisted by my associate Anthony Orbanic.
DISCLAIMER
THE FOCUSED STOCK TRADER
The Focused Stock Trader is not registered as an investment adviser nor as a broker/dealer with either the U. S. Securities & Exchange Commission or any state securities regulatory authority. Users of this website are advised that all information presented on this website is solely for informational purposes, is not intended to be used as a personalized investment recommendation, and is not attuned to any specific portfolio or to any user's particular investment needs or objectives. Furthermore, such information is not to be construed as an offer to sell or the solicitation of an offer to buy, nor is it to be construed as a recommendation to buy, hold or sell (short or otherwise) any security.
All users of this website must determine for themselves what specific investments to make or not make and are urged to consult with their own independent financial advisors with respect to any investment decision. All opinions, analyses and information included on this website are based on sources believed to be reliable and written in good faith, but should be independently verified, and no representation or warranty of any kind, express or implied, is made, including but not limited to any representation or warranty concerning accuracy, completeness, correctness, timeliness or appropriateness.
In addition, we undertake no responsibility to notify such opinions, analyses or information or to keep such opinions, analyses or information current. Owners, employees and writers of and for The Focused Trader a division of TFST Publishing LLC may have long or short positions or may buy or sell shares in securities that may be discussed on this website.