US equities pared early losses yesterday but still closed down modestly -- but it could have been a lot worse. As was the case on Friday, the market struggled for inspiration. This seems to have weighed a little on crude (down $2 overnight), perhaps together with a report from the International Energy Agency which noted that global electricity output is likely to fall this year for the first time since 1945.
For train spotters note that the Dow is just a few points short of a record point gain for any one quarter – the current record is 1,339 points set in the fourth quarter of 1998. The Dow is up 1,332 points for the quarter right now with seven trading sessions remaining.
Stocks on the move today in early trading Stateside include US Steel (NYSE:X) after an upgrade from Bank of America, which said that the company may return to profitability in 2010 and basic resources/mining stocks like Newmont and ConocoPhillips as gold, copper and oil prices rose. Macy's (NYSE:M) is also likely to be in demand following an upgrade to a "buy" at Citibank. But be wary of regional banking names today which may see some selling after influential banking analyst Mike Mayo said that US banks will need more capital to cover credit losses. AIG (NYSE:AIG) is the star performer thus far on the back of a statement by the Chairman of the House Oversight & Government Reform Committee Edolphus Towns (I kid you not), who said he'd give "serious consideration" to a proposal to water down the terms of AIG's $182.5 taxpayer bailout!
Stocks early upward march upward was (temporarily) halted by the second tier US data as both the Richmond Fed's manufacturing survey and the FHFA house price index came in shy of expectations.
Today's Market Moving Stories
Can the emerging world lead the global economy out of the crisis? Upward growth revisions in Asian growth forecasts from the Asian Development Bank (ADB) overnight will certainly feed those hopes. It now sees 2010 growth in the region at 6.4% (revised from 6%). The ADB sees a V-shape recovery, although it notes continued weakness in external demand and warns that withdrawing stimulus too quickly could cause a double dip.
And judging by some of the overnight comments there is no sign of that the Anglo Saxon punch bowl being taken away anytime soon. White House economic adviser Summers said "we will not make the mistake of prematurely declaring victory and withdrawing all public support" while UK PM Brown said "the stimulus that we have still got to give the world economy is greater than the stimulus we have already had".
The Kiwi dollar surged to a 13-month high after dairy exporter Fonterra announced a 12% boost to its forecast payout to farmer shareholders, pointing to strong demand and a recovery in dairy prices. Fonterra, which provides a quarter of the country's exports and accounts for around 40% of the world's dairy trade, has announced a 12% boost to its forecast payout to its 10,500 shareholder-farmers. Reuters notes that this will boost GDP by 0.4% points on a one-off basis. Maybe some long awaited good news for the Irish dairy sector stocks e.g. Glanbia?
Chinese commodity imports fell across the board in August. The impact of record Chinese imports in 2009 has been most notable for the base metals but purchases have been broad and diverse, with China also importing record amounts of coal, iron ore and crude oil. July's trade data showed the first signs of an easing in commodity imports. August trade data affirmed the trend. Iron ore imports declined by 14% mom, net crude oil imports eased by 7% mom, net refined nickel imports slumped by 59% mom, net coal imports eased by 22% mom and were down by 34% from their June peak, and net refined copper imports fell by 25% mom and were down by 43% from their record in June. As stockpile buying abates and the availability of cheap credit diminishes, expect Chinese commodity imports to continue to decline in the coming months.
Spain's property market is still in free fall. If you think I'm gloomy, you might want to read Edward Hugh's piece on Spain this morning, according to which there are three million unsold properties (this in a country with a population of 40m). This number is absolutely mindboggling, an indicator of how much worse the situation is going to get. The report also has an estimate of unemployment reaching 25% by the end of next year, which according to Hugh, might even be an optimistic estimate if the Spanish government runs out of cash to finance the stimulus.
The FDIC is thinking about replenishing its reduced deposit insurance fund by possibly accepting loans directly from the banks. Banks would be issued bonds by Treasury with an interest rate set by Treasury. This would be as an alternative to using a Treasury credit line or imposing a special fee on banks as has been done previously to increase fund level. The fund needs to get back up to its 'normal run rate' of $45-50bn in short order from current $10bn. With more failures expected this will need to be done fairly soon. Replenishment of the fund is an earnings headwind to US banks much like the FSCS levy has been to UK banks though. If they go down the loan route then the banks will be much happier.
The growing problem of "strategic defaults". A study shows that people who abruptly and intentionally abandon their mortgages often have high credit scores, in stark contrast with most financially distressed borrowers.
This kind of story is likely to ignite a bit of friction between Brown and Merkel – "Magna plans to cut 1,830 jobs from its Vauxhall operations in the UK".
Michael O'Leary's dream = your nightmare. New aircraft design puts passengers face-to-face in rows for budget travel.
With the second year anniversary of the 2007 market top coming up in a few weeks, here is a video which points out that the S&P 500 index's date with destiny is also marked by two major technical forces.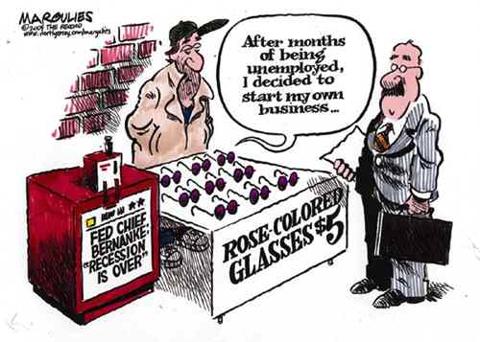 Equity News
The six month long bull run resumes in a tale of ships as Samsung and STMicroelectronics surged over 3% as chip prices climbed to the highest level in more than a year (Citibank also raised their price target on Samsung).
Cruise line operator Carnival (NYSE:CCL) put on over 4% on a Bank of America recommendation who also raised their 12 month price estimate on Marks & Spenser's which lifted that stock 2%.
Mining and basic resources stocks were also stronger today as gold snapped its three day losing streak with leadership coming from the usual suspects BHP Billiton (NYSE:BHP), Lomin, Vedanta, Fresnillo (OTCPK:FNLPF) and Rio Tinto (RTP). The latter agreed to sell its Alcan Composites unit to Schweiter Technologies for $349 million to help reduce debt.
Even the much maligned airline sector is looking perky today with Air France / KLM jumping over 5% after cutting capacity for the winter season and Cheuvreux lifted its share-price estimates for European airlines by about 40% overall, citing higher economic growth and rising passenger traffic forecasts for 2010. This helped to drag Lufthansa up over 4% in sympathy.
The FT reports that Cadbury (CBY) yesterday approached the Takeover Panel to ask it to issue a "put up or shut up notice" to Kraft (KFT), which would oblige them to either make a formal bid or walk away for six months (unless another bidder emerges). So far Kraft has only made an indicative cash and shares offer which was initially valued at 745p. I suspect that Kraft will not walk away, although it could just formalise its existing offer as an opening shot. I think that there is a better than even chance (say 60%) that it will be successful in acquiring Cadbury, although it does have limited flexibility to raise the cash element of its bid (say by 100p to 150p) and still remain investment grade without third party intervention.
Bank of America (BoA) has taken steps to reduce its US government reliance. It has terminated the asset guarantee agreement on $118bn of assets (around 3/4s were Merrill assets) put in place last December as a sweetener from the government in connection with Merrill acquisition. But it will cost them $425m for the honour, which is expensive especially as there was no formal contract signed for the insurance. BoA has also received permission to exit TLPG. Small positive for BoA showing a definite keenness to be in the healthy US bank club and remove the government stranglehold.
French hotels chain Accor has confirmed that it has done a sale and leaseback of 158 hotels to a consortium of French institutional investors raising €272m. Accor (OTCPK:ACRFF) has signed an initial 12 year lease, renewable at their option, with variable rentals with no minimum which average 20% of turnover. Based on 2008, the variable rent would have been €21.3m, suggesting a yield of 7.8%, albeit rent will presumably be lower in 2009. The Company indicated it would have a positive impact of €5m on pre tax profit in 2009, and adjusted debt will be €187m. However one presumes that this is flattered by the transaction happening late in the year, thereby receiving the full proceeds but only paying a couple of months rent?
And Finally… Mr Clydesdale Banker

Disclosures = None