Perhaps one of General Electric's (NYSE:GE) most popular industrial segments is GE Aviation, and rightfully so. In the most recent Q2 2013 results, Aviation posted the strongest operating profit margin in the entire company, coming in at 20.1%, much higher than the 15.3% overall, while generating 21% of GE Industrial's revenues and 27% of GE Industrial's profits. Even more astounding is if we include GECC as well, Aviation was responsible for 18.5% of total profit for the entire company. There was also $5.8 B in new orders in the quarter, adding to a gargantuan $100B+ backlog. This segment is definitely a polished "gem", despite what some uninformed investors think- But what are the driving forces for this segment, and what new innovations are due to take off down the runway?
GE has several engine designs currently being manufactured today by CFM International. This 50/50 joint venture between GE and SNECMA, a division of Safran [France] was first formed to build and support the CFM56 series of jet engines. Founded in 1974, CFM International has provided more than 23,000 engines for more than 500 customers worldwide. Both GE and Safran produce components and assemble the engines, but recently CFM has moved on to better models which are gaining traction in the market.
The latest innovative design by CFM is called the LEAP, (Leading Edge Aviation Propulsion)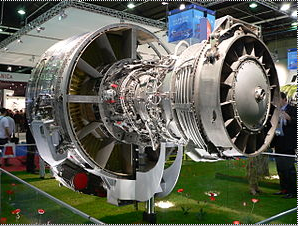 as it has taken "leaps in engine innovation regarding both fuel and cost efficiency". Launched in 2011, the engines have fan blades made almost entirely of composite material, are designed to last 30% longer than competing engines before needing maintenance, use less fuel and consequently will save over $millions per year in fuel costs compared to competing engines, like Pratt & Whitney's PW1100G for example.
There are 3 versions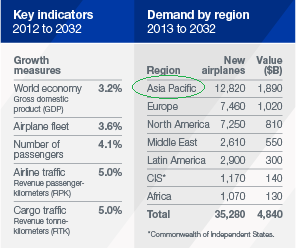 of the engine that will power next-gen single-aisle planes like the Airbus 320neo, BA 737 MAX, and COMAC C919. The single-aisle market will experience robust growth over the next 20 years. In fact, Boeing (NYSE:BA) estimates that the world's aircraft fleet will double in size by 2032. It's estimated the bulk of this growth will come from Asian countries like China, since they demand cheaper means of air travel for their citizens. The Asia Pacific region is estimated to account for nearly 30% of the world's planes through 2032.
For just Q3 2013, GE has already logged $Billions in orders for CFM's LEAP engines, including a $8.6 B booking from AirAsia, Asia's largest budget carrier by fleet size. The engines are to be used in their Airbus A320 fleet, and includes the LEAP-1A model for 64 fuel-efficient A320neo jets. The deal includes a 20-year agreement that CFM will guarantee maintenance costs on a dollar per engine flight hour basis.
Recently, CFM announced it has booked $35 B in LEAP orders in total, including a recent $1.56 B order from TUI Travel PLC for 60 Boeing 737 MAX 8 and MAX 9 aircraft with 120 LEAP-1B model installed engines. TUI is scheduled to begin taking delivery of the aircraft in 2018 and has rights to 60 more LEAP-powered BA 737's.
The strong market for the LEAP product line is apparently suprising: "When we launched this program with Boeing in 2011, we knew it would be very successful," said Jean-Paul Ebanga, president and CEO of CFM international. "But even we could not have believed we would sell nearly 3,000 engines in less than two years." Perhaps Jean's astonishment is actually genuine considering the LEAP 1B model is only in design freeze stage, and is ready for a full engine to test in mid-2014. There's also plans to start ground testing the Airbus A320neo model in September 2013, another model with a solid backlog still in pre-production phase.
According to Boeing's projections, the world will need 35,280 new airplanes, valued at $4.8 Trillion by 2032. Even if these estimates are off a tad, there is no denying the immense demand for planes and thus more efficient engines as well. GE is the leader in aviation turbine engines, leading by a strong product mix appealing to multiple customers, including Boeing, Airbus, and Asian-based airlines; proven by AirAsia's recent order.
GE Aviation is always innovating for this impressive market, as they're currently developing the GE9X, their newest breed of the original GE90 engine-which was first developed for Boeing in 1990. GE Aviation is targeting a growing market thirsty for innovation, and with a $110B Backlog (nearly 50% of GE's total), they're hitting the bullseye. GE Aviation's flight is just lifting off, destination: BA's 2032 estimate of $ 4.8 T.
Disclosure: I am long GE. I wrote this article myself, and it expresses my own opinions. I am not receiving compensation for it (other than from Seeking Alpha). I have no business relationship with any company whose stock is mentioned in this article.