As someone who covers a lot of short ideas on this site, one of the most important items I follow is short interest data. One must always be aware of the short interest in a stock. A large short base could spark a short squeeze on good news, while low short interest could spark a huge drop on bad news. Every couple of weeks, we get an update from Nasdaq on short interest data, and I report on what I am seeing. Today, I'm here to discuss the end of July numbers. I'll discuss five names that short sellers are going after, whether just recently or over the longer term.
Zynga (NASDAQ:ZNGA):
Short interest in the social media and gaming name rose by more than 11 million shares in late July. That doesn't seen much when you consider a float of 571 million shares and an outstanding share count of 793 million or so. But it was a short interest increase of more than 36% from the previous update. Also, Zynga short interest is at its highest point since the end of May 2012. That was the first short interest update after the IPO of Facebook (NASDAQ:FB). The move in Zynga short interest is definitely significant, as you can see below.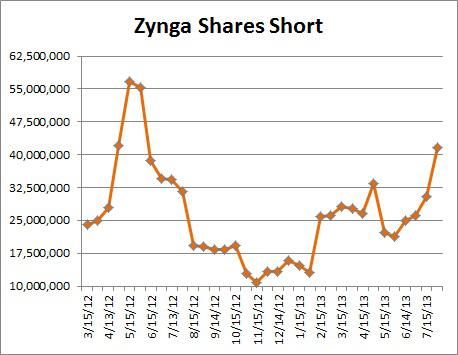 Zynga shares took a tumble after the company's weak Q3 guidance and decision to not pursue a license for real money gaming in the US. Shares dropped from $3.50 to $3.00 and have not recovered since. This name has been one of the most disappointing social media names, and they continue to disappoint. It will be interesting to see if short interest continues to rise at the next update.
Deckers Outdoor (NASDAQ:DECK):
The footwear retailer known most for its line of UGG boots saw its largest increase in short interest during 2013. More than 800,000 additional shares were shorted in the final few weeks of July. While short interest is well below the yearly high, this was the first real increase in short interest in quite some time as you can see below. There actually were two increases in short interest in recent months, but both were rises of less than 3,000 shares total, a tiny amount. This move was much more significant.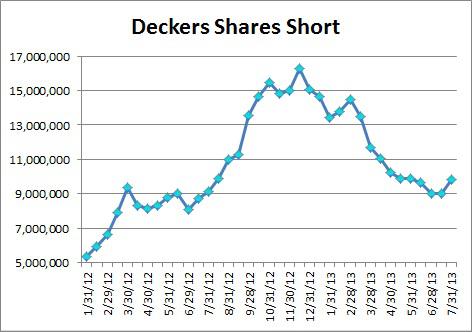 Short interest appears to have risen after the company's poor Q2 revenue number. Even though the company had a huge beat on the bottom line, Q2 sales were well below expectations. The company did increase its 2013 revenue and earnings guidance slightly. However, if you actually do the math, earnings guidance for Q3 and Q4 was actually lowered, given the substantial beat in Q2. The company also did not buy back any shares in Q2, which was disappointing given share prices were much lower earlier in the quarter.
Tesla Motors (NASDAQ:TSLA):
I put Tesla on this list for a couple of reasons. First, this was only the second significant rise in short interest over the last five months, a rise of 7%. This is the second time that Tesla's short interest has tried to break below 18 million, but both times it has failed and jumped back towards the 20 million mark. The chart below shows Tesla's short interest in recent months.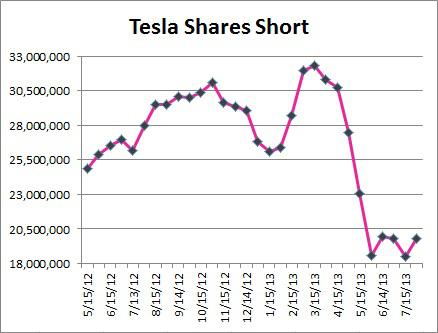 The second reason Tesla makes the list is because the stock made another new high after its sparkling second quarter earnings report. Shares rallied to a new high just under $159 and have gone from under $40 to over $150 in just five months. This has been one of the biggest rallies in the market this year, and part of it has to do with the above seen drop in short interest. It will be interesting to see if more shorts covered after the latest report, or if short interest has jumped even more with shares even higher now.
Amazon (NASDAQ:AMZN):
Amazon makes this list because short interest topped 7.5 million at the end of July. This is only the second time that's happened in 2013, and short interest is at its second highest point this year. Amazon's short interest is up almost 22% from its yearly low. You can see Amazon's short interest history over the past year in the chart below.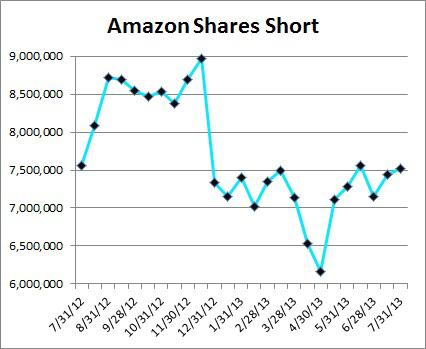 It will be interesting to see if short interest moves higher as Amazon's stock stays elevated despite the company's numbers continuing to worsen. Amazon missed on the top and bottom line for Q2, including an unexpected quarterly loss, and provided guidance that was worse than expected again. Despite this, and a weakening balance sheet, Amazon's stock rallied to a new all-time high, and remains around the $300 level. Many investors criticize Amazon for its ridiculous valuation, and even on a price to sales basis, Amazon is looking a bit overpriced given the continued quarterly disappointments.
Intel (NASDAQ:INTC):
Intel's short interest saw a rise of 160 thousand shares in the last few weeks of July, a very small amount given the short interest count of more than 243 million currently. So why is Intel on my list for significant increases in short interest? Well, as you can see in the chart below, this marked another new high in short interest for the chip giant. Over the past 12 months, short interest in Intel is up 66%. Since the April 13th, 2012 update, it is up 174.27%. I would say that's significant, wouldn't you?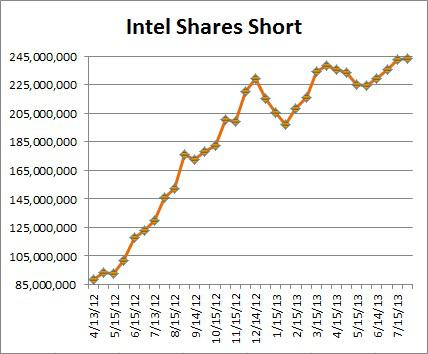 There was an increase in bearishness around Intel after its weak Q2 report, low Q3 guidance, and yearly forecast cut. Although I had warned investors that a cut was coming, it was still seen as a disappointment in the marketplace. It seems that even more investors got worried after the company did not increase its quarterly dividend. It could just be a matter of calendar timing, but that remains to be seen. One thing is certain. Intel's short interest has continued to new highs, and the stock is at lows not seen since April.
Final Thoughts:
All five of these names have seen significant rises in short interest. Zynga's short interest has hit a high point not seen since right after Facebook went public. Deckers saw its largest rise in short interest this year after a quarterly revenue miss. Tesla saw a sharp rise in short interest, but that might reverse after the latest quarterly beat. Amazon's short interest is at its second highest point this year, and quarterly results were disappointing once again. Intel's short interest hit another new high after a weak quarterly report, and the lack of dividend raise might frustrate even more investors. Will any of these names make the list next time around? Come back in a couple of weeks to find out.
Disclosure: I have no positions in any stocks mentioned, and no plans to initiate any positions within the next 72 hours. I wrote this article myself, and it expresses my own opinions. I am not receiving compensation for it (other than from Seeking Alpha). I have no business relationship with any company whose stock is mentioned in this article.
Additional disclosure: Investors are always reminded that before making any investment, you should do your own proper due diligence on any name directly or indirectly mentioned in this article. Investors should also consider seeking advice from a broker or financial adviser before making any investment decisions. Any material in this article should be considered general information, and not relied on as a formal investment recommendation.