As the clock ticks down to a double whammy of a possible pullback in the Federal Reserve's bond purchases and/or another drama-filled countdown to a U.S. government shutdown, the U.S. dollar (NYSEARCA:UUP) has weakened from there-year highs to recent lows. If what has been happening since April is a steady widening of the most recent trading range, then the U.S. dollar will soon retest its "QE3 reference price" before bouncing. If all that is happening is directionless wandering while the market waits for a definitive catalyst, then a bounce could just as well happen in the next week or so as the low from June gets tested. Either way, I think it makes sense to prepare for a bounce.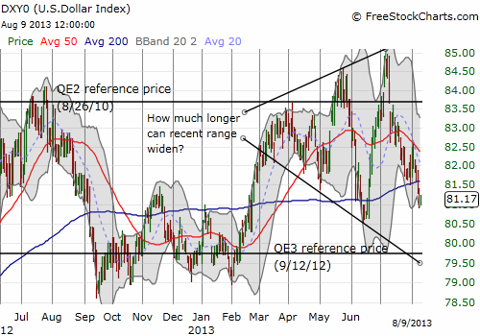 The recent range widens but still within the context of bracketing QE2 and QE3 levels
Source: FreeStockCharts.com
I tried to come up with a core, fundamental rationale for the dollar's movements or for why it should soon bounce. Such justifications eluded me. Sure, the U.S. dollar's decline since hitting a three-year high can be largely blamed on relief over Fed Chairman Ben Bernanke affirming yet again that the Fed intends to stay accomodative in light of a weak job market. Yet, one could easily say that the rally going into that reaffirmation was well overdone in the first place based on unjustified fears of the launch of a Fed tightening cycle. Net-net, the impact still leaves the U.S. dollar index with no real trend.
I prefer to think of today's foreign exchange market in general as being dominated by a lot of trendless forces. It does not pay to overstay your welcome being long any given currency with most central banks interested in driving their currencies lower. The Australian dollar (NYSEARCA:FXA) is currently delivering the main trend amongst major currencies, but its ongoing devaluation looks like it has come to an end for now. At some point, I expect the devaluation of the Japanese yen to resume, perhaps that will happen once the U.S. dollar index regains its upward bias. Time will tell. The other implication for my expectation is that I have closed out most of my long British pound (NYSEARCA:FXB) positioning as I await better prices (I hope to soon get to a piece summarizing my interpretation of the latest Inflation Report soon).
The most intriguing aspect of the U.S. dollar's behavior is its relationship, or lack thereof, to the stock market and interest rates.
The stock market (NYSEARCA:SPY) has been surprisingly strong given the double whammy threats looming over the horizon. I continue to see "money-printing" identified as a primary driver of higher stock prices. Yet, QE3 failed to lower long-term rates. Ever since QE3, long-term rates essentially stopped declining and have of course soared as the reality of a milder stimulus messes with the market's consciousness. Perhaps QE3 prevented rates from increasing earlier; it is hard to tell.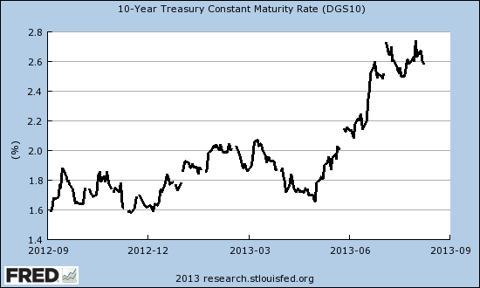 QE3 failed to lower 10-year rates further. Now they are soaring.
Source: St. Louis Federal Reserve
The stabilization rates post-QE3 coincided with the end of the dollar's sharp decline going into the QE3 announcement. Money printing has not driven the currency lower (perhaps it would have been much higher without QE3; again, hard to tell). As the chart above shows, the dollar index never went much lower before bouncing sharply earlier this year. So while the U.S. dollar has not followed rates higher from week-to-week, it is possible that the end of declines in rates and the dollar are directly related. Once we add in persistently high unemployment, it seems that QE3 has done very little. No wonder the Fed can openly talk about an imminent end to bond purchases. The Fed's resolve will get sorely tested though if it turns out that QE3 was preventing rates from going a whole lot higher.
So, all things considered, I think it makes sense to bias long the U.S. dollar at these lower levels (mainly against the euro and the Japanese yen). If the dollar reconnects to some fundamental driver, it will likely be strengthening in the face of higher rates that will be interpreted as signs of a strong economy. The Economist just published a piece demonstrating that G10 currencies tend to trade on nominal, as opposed to real, rates. These currency rates are set by central banks. So, a Treasury rate-based rally will have limited legs without the Fed finally getting forced to hike; something not likely to happen anytime soon. The top of the trading range should hold. (The WSJ's Moneybeat provides a rationale for the U.S. dollar to soar against the Swiss Franc (NYSEARCA:FXF) based on widening spreads between the rates of Swiss and American 10-year government bonds in "Expect a Wake-Up Call for World's Sleepiest Currency").
Perhaps the dollar could go higher as a "safety" currency if the U.S. budget battles look to turn particularly ugly for the global economy. If despite all these possibilities the U.S. dollar index manages to break below the lows of its range, it will then be time to go back to the storyboard…
Be careful out there!
Disclosure: I have no positions in any stocks mentioned, and no plans to initiate any positions within the next 72 hours. I wrote this article myself, and it expresses my own opinions. I am not receiving compensation for it (other than from Seeking Alpha). I have no business relationship with any company whose stock is mentioned in this article.
Additional disclosure: In forex, I am long U.S. dollar, net long Australian dollar, long British pound.