With things looking up in China for the moment and earnings continuing to come in strongly the overall economic environment seems to be improving. Oddly enough last week was one of the worst weeks in some time in the market but not something which we are going to let bother us too much, for good news is good news. Also attracting our attention is the fact that mergers and acquisitions seem to be picking up along with chatter of more and more targets for private equity players to try to pick off.
The health of the economy seems to be improving and as that happens equity prices should continue to rise. It might not be straight up, as we are due for a pullback, but the general direction appears to be higher at this time.
Chart of the Day:
The US Dollar Index is perking up now, but still in a downtrend. It needs to stay at this level or head lower in order to help commodity plays and multinational corporations with their earnings and revenues, so this is a key level to watch. Can the support be broken? The overseas strength might be enough to do just that.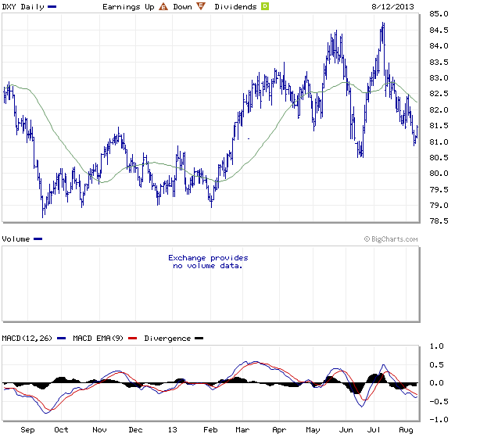 Click to enlarge
Source: BigCharts
We have economic news due out today, and it is as follows:
Treasury Budget (2:00 p.m. ET): -$96.0 Billion
Asian markets finished mixed today:
All Ordinaries -- up 1.10%
Shanghai Composite -- up 2.39%
Nikkei 225 -- down 0.70%
NZSE 50 -- down 0.25%
Seoul Composite -- up 0.22%
In Europe, markets are lower this morning:
CAC 40 -- down 0.20%
DAX -- down 0.75%
FTSE 100 -- down 0.43%
OSE -- down 0.25%
Technology
On Friday, shares of BlackBerry (NASDAQ:BBRY) were higher by nearly 6% after it was reported that the company was not against going private. Shares finished the session at $9.76/share with volume hitting 51.3 million shares as investors cheered the move, but we think that the enthusiasm was a bit overdone as there currently is no bid out there and there are few leveraged buyout firms which have the expertise to take over a technology company in a tech sector which requires state of the art gadgets to make money. Private equity firms work best in situations where the target company deals with a commoditized product or service that is in some way differentiated, but proprietary technology is not their specialty. A venture capital firm might have some of the required expertise, but then again they usually work with small companies developing a business plan to add scale to a niche or early mover idea. We thought the notion of a buyout was absurd when we heard this story Friday and after the weekend we find it just as absurd.
One tech name which had a good day on Friday was Zillow (NASDAQ:Z) which saw shares rise $5.11 (5.74%) to close at $94.10/share on volume of 1.8 million shares. The company has one of the more impressive charts out there right now and it is benefiting from its exposure to the housing market. As readers know, we are bullish all things home related and Zillow's business model sees increased revenues in good times. The stock looks richly priced, however it could come out of this with further upside if the Fed can keep a lid on rates and the housing inventory can approach more normalized levels where buyers have more sellers to choose from. The secondary home sale market is still lacking right now due to the number of Americans underwater, but as the economy continues to improve that should change.
The housing recovery has fueled the Zillow rally, but the move could continue if the supply of homes increases. That is something we expect to happen over the next 12-24 months.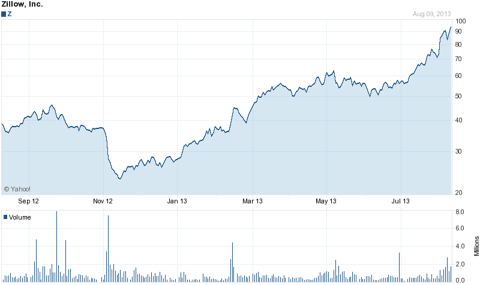 Click to enlarge
Source: Yahoo Finance
Telecommunications
We recently wrote about America Movil's (NYSE:AMX) decision to allow a rival to purchase from KPN a German subsidiary. For those who do not know, KPN is about 30% owned by Carlos Slim's America Movil and they were going to allow KPN to sell the German subsidiary to the parent company of one of their (America Movil's) chief competitors. At the time the deal was announced it seemed that everyone was on the same page but with the news that America Movil is looking to buy the rest of KPN we now know that America Movil kept their silence in order to torpedo this deal. Whereas the previous deal did not make sense from a strategic point, unless it was to weaken a competitor's balance sheet and direct their attention elsewhere, this deal does make sense as it keeps prime assets out of said competitor's hands. This is the type of move we have come to expect from Carlos Slim, and now America Movil has forced a competitor to either buy all of KPN, pay more for the German unit, or walk away...and in all three instances it sure appears that America Movil comes out a winner.
Retail
We have never liked soap operas or anything resembling a soap opera. The events surrounding J.C. Penney (NYSE:JCP) are beginning to feel like a soap opera and the situation is quickly deteriorating into something worse. It appears that the Board of Directors are now in open warfare among each other, with most of the board sticking together to figure out how to deal with Bill Ackman while Mr. Ackman figures out what he wants to do with the company (and maybe the board). Shares have been volatile as this has played out over the past week or so and the media coverage has been intense. Right now we think J.C. Penney is probably set moving through the end of the year as far as inventory being ordered and sales planned but the sooner they can get a new CEO the sooner they can get a new perspective on the inventory and vision for the next year moving forward. They do not need anything as dramatic as Ron Johnson's vision, but they do need to be able to come up with a competitive vision that will enable them to go head-to-head with other competitors who are doing much better than them right now.
Biotechnology
Since 2011 this has been a pretty depressing story, and one only needs to look at the chart to see how sad it has been.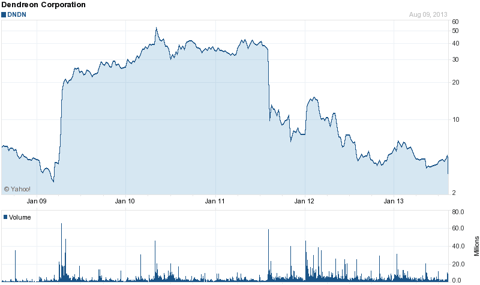 Click to enlarge
Source: Yahoo Finance
This weekend we thought about the situation over at Dendreon (NASDAQ:DNDN) and how it relates to the rest of the biotech sector, both past and present. Investors saw shares of Dendreon fall $1.20 (26.14%) to close at $3.39/share on volume of 28.6 million shares after the company reported another disappointing quarter. The new CEO was supposed to be the answer to all that ailed the company, but in reality the problem remains with the company's main drug, Provenge. Sales continue to lag and one of the questions investors now must ask themselves is whether Provenge is a potential blockbuster drug or if it is simply one of those mirages which pop up from time to time within the biotech industry. Our view is that so long as the drug is in Dendreon's hands it is a mirage, but if it were to end up in the portfolio of a bigger name in the sector then the possibility that it performed better would increase dramatically. The only problem with the idea of that is that a buyer would have to emerge, and even at these low prices buyers have not kicking the tires.
Disclosure: I have no positions in any stocks mentioned, and no plans to initiate any positions within the next 72 hours. I wrote this article myself, and it expresses my own opinions. I am not receiving compensation for it (other than from Seeking Alpha). I have no business relationship with any company whose stock is mentioned in this article.