Last Thursday, Dendreon (NASDAQ:DNDN) reported its fiscal second quarter results. The biotech name behind the prostate cancer treatment Provenge has been one of the most debated names in recent years, seeing many sharp rises and large falls. Lately, Dendreon has struggled as Provenge sales have continued to disappoint, putting the future of this company in question. Last week's report disappointed again. Today, I'll examine why I think Dendreon's window of opportunity may have closed, and why one firm put a $0 price target on the name. Even after Friday's 26% fall, there still may exist a short opportunity in this biotech name.
Second Quarter Results:
Dendreon was looking for a rebound after its horrific first quarter. The company stated that it was hurt by competition from Zytiga and Xtandi. Zytiga is a product from Johnson & Johnson (NYSE:JNJ) while Xtandi is from Medivation (NASDAQ:MDVN). Dendreon stated that Q2 revenues would be in the "mid $70s" (million), but analysts were looking for nearly $85 million in Q2 revenues at the Q1 report. The guidance disappointment wasn't that shocking given the roughly $12.5 million miss in Q1. Given that Q2 guidance, I thought that anything below $74 million would be disappointing, while anything above $76 million would be welcomed.
Throughout the quarter, Dendreon analysts got more and more skeptical, and rightly so. Going into Thursday's report, analysts were looking for revenues of $75.61 million and a loss of $0.42 per share. Dendreon did not meet either of those estimates. The company reported Q2 revenues of $73.315 million, and a loss of $0.45 per share. Again, the company reiterated the tough competitive environment.
One positive was that Dendreon increased its gross margins by approximately 443 basis points to 40.26%. As the company has closed its NJ facility as part of its large restructuring, gross margins have improved significantly. In last year's Q2, gross margins were just 22.83%. For a while now, Dendreon's goal was to get gross margins above 50% by the third quarter of 2013, the quarter we are currently in. However, on the conference call, they disappointed investors by stating that goal would not be met, providing the following statement:
We are investigating opportunities to further reduce our COGS while maintaining our service level. Following the closure of our New Jersey facility and it's taken longer to hire staff for Atlanta operations than we had expected. This combined with lower than expected revenue level has delayed realization of some of the operational efficiencies we were expecting in Q3. As such we do not expect the COGS below 50% in the third quarter but instead expect it to be consistent with this quarter.
I could understand if they said that the goal would not be met but were still expecting some improvement in Q3. However, the fact that they don't expect any improvement is extremely disappointing. They are now talking about a near 1000 basis point gross margin miss, which on say $75 or $80 million in revenues is around a $7 million to $8 million miss for gross profit.
On the bottom line, Dendreon lost nearly $69 million, or $0.45 per share. That number did show significant improvement from last year's Q2, which saw a quarterly loss of $96 million, or $0.65 per share. However, it is important to realize that the diluted share count rose by nearly 2.5% over the past year. When a company is losing money, an increasing share count spreads out the loss more over the additional shares. Dilution will be something I'll be discussing in more detail later on.
Balance Sheet Much Weaker:
As those who have read my articles know, the biggest worry I have about Dendreon is its balance sheet. As the company continues to lose money, it continues to burn through a significant amount of cash. The company has stated that they expect to be cash flow positive in the US when they hit $100 million in quarterly revenues. Originally, there was hope for that level to be hit sometime in 2013, maybe Q3 or Q4. But the way Dendreon's revenues have been faring, it is reasonable to question now whether they may even hit $100 million in the first half of 2014. In the table below, I've calculated some key financial ratios and balance sheet values for Dendreon. Dollar values in thousands.

Dendreon almost seemed to celebrate the fact that they only burned through $56.7 million of cash and investments during Q2, compared to the $93 million burned in Q1. The company has a plan to reduce its cost structure, so they believe spending will come down going forward, which means cash burn should improve. It remains to be seen.
However, it is fair to seriously question this company's financial future. The cash and investments pile is down to $280 million, and being that we are nearly halfway through Q3, it's probably well below that. You may also notice that working capital and the current ratio took a serious hit. That is because the $27.685 million in notes due in 2014 are now classified as a current liability, due within 12 months. I added a new category to the bottom of the balance sheet statistics, and that is the ratio of these notes to the cash pile balance. Why is this so important? Well, two years ago, these notes represented just 4.11% of the available cash pile. Dendreon seemed to have adequate resources to pay back this debt. At the end of the latest quarter, it represented almost 10% of the cash pile, and it is definitely over that level now. By the time these notes are actually due, the 2014 notes could represent 15%, 20%, or more of the cash pile.
Why do I make such a big deal about these notes? Well, at the end of Q2, Dendreon actually had a negative equity balance of more than $100 million. The company had almost $577 million in assets, but $677 million of total liabilities. In fact, the 2014 and 2016 notes alone represented $573 million of liabilities. By the end of Q3, Dendreon will probably have more debt than total assets, and that doesn't include the rest of their liabilities. This company is in terrible financial shape.
The 2014 notes can be converted to equity, but the potential conversion prices make it seem unlikely. I don't see how Dendreon can really refinance these notes either. Who wants to lend to a company who already has $100 million more in liabilities than assets, with that number expected to get worse? If Dendreon is able to refinance, it seems that the interest rate would be astronomical. To me, Dendreon has two options. The first is to use their available cash pile, which will take a significant hit and make most of the financial ratios worse. The second option is to announce an equity offering.
I've been discussing the possibility of an equity offering for some time now, and it appears even more likely after the latest quarter's results. With a market cap of just $516 million as of Friday's close, a raise of even $50 million could dilute current shareholders by nearly 10%. Given how Dendreon's balance sheet continues to get worse, the company could need $75 million, $100 million, or more. Unless share prices really start to rebound, investors seem likely to face a lot of dilution.
Guidance, or lack thereof:
When it comes to guidance, Dendreon has not been a company to provide a lot of details for upcoming quarters. After Q1, Dendreon was still hoping that they could grow Provenge sales year over year. However, the company provided the following statement on the conference call, which really was not a surprise.
However, based upon the normal trends, we are currently seeing in July and early August, we do not believe that we will see enough of a sales lift in the second half of the year to overcome the sales results of the first half and therefore, we'll not be able to meet our goal of growing PROVENGE year-over-year.
Going into the Q2 report, analysts were looking for a 2.2% yearly decline in total revenues, and I wasn't personally holding too much hope. Dendreon basically confirmed what we were expecting. However, the company did refuse to give specific quarterly numbers for either Q3 or Q4. They were asked for some insights several times on the call, but they would not divulge any details. This to me is the more concerning part, because it makes me wonder. Are sales really that bad to where they don't want to give guidance, or does the company just not have a clue as to where things are heading? Either way, the lack of transparency is never good, and it is just another knock against a company that is really struggling.
Reduced expectations:
As you might expect, Dendreon analysts have been cutting their estimates again thanks to the poor Q2 report and questionable yearly guidance. The following table shows Dendreon estimates for 2013 going back to June of last year. This table shows the promise that Provenge was expected to have, but how that promise has continually dwindled.

Since the Q2 report, the average analyst revenue estimate for Q3 has come down from $81.71 million to $78.47 million, and Q4 estimates now stand at $84.73 million. Dendreon analysts do not believe a $100 million revenue quarter is coming this year. In fact, these analysts are really starting to question whether a $100 million revenue quarter will come in 2014. Since Dendreon reported its Q1 report in May, the average revenue estimate for 2014 has come down from $429.69 million to $371.24 million.
Three remaining lifelines:
There are only three positives left for Dendreon shares in my opinion. The first is the company's push into Europe. Dendreon is trying to get Provenge into Europe, and they are expecting a final decision in the second half of the year. Zytiga has already been approved, so Dendreon is hoping Provenge can be a potential new therapeutic option. However, it remains to be seen how quickly Dendreon could get Provenge going in Europe if it is approved. Questions remain over a potential partner, along with what countries they would enter, etc. Any potential revenue benefits could be several quarters off, and there just is not enough known at this point to say that positive news out of Europe could tremendously change this company in the short term. Shareholders could still face massive dilution.
The second possibility is that Dendreon gets bought out. Would one of the major pharma names be interested in Provenge? It's possible, although the potential for a deal would have been greater six months, perhaps even a year ago. If you thought that Dendreon could fetch say $10 or $15 then, are you maybe hoping for $5 now?
The third possibility is a tremendous short squeeze. At the end of July, more than 50 million shares were short, roughly one-third of Dendreon shares. Should this name ever come up with some positive news, a huge short squeeze would be possible. The chart below shows a recent history of Dendreon short interest. As you can see, short interest is elevated. Dendreon traded more than 28 million shares on Friday, and I expect volume to remain heavy for the next few days. The question will be what happens at the next short interest update. Do a lot of shorts cover because shares are at new lows, or do more shorts pile in given the future of this company is in more doubt?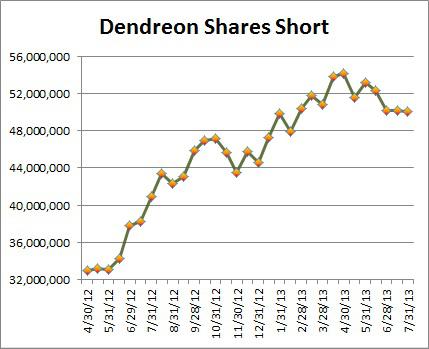 Final Thoughts:
Dendreon shares plummeted after the company's Q2 report, and investors should not be surprised. The supposed blockbuster Provenge continues to disappoint, and the company continues to lose large sums of money and blow through millions in cash each week. Dendreon needs to wake up in the second half of 2013, because the latest news is another disappointment. Dendreon is nowhere close to its $100 million quarterly revenue goal, but they are getting closer to needing more capital, and that means huge equity dilution. Dendreon's window of opportunity might not be completely shut yet, but the hole is getting smaller and smaller and this company is doing nothing to prove that the current trend will reverse.
It's hard to recommend shorting any name immediately after a 26% fall to a new 52-week low, but Dendreon has to remain a short candidate. First we thought a $100 million revenue quarter was possible in 2013, and that won't even be close. Then it was a year over year increase in Provenge sales that was coming, and now that won't happen. Finally, the restructuring plan was supposed to get gross margins over 50% in Q3, and those hopes have been dashed. I've continually recommended that investors short Dendreon on pops, and that strategy has worked with Dendreon now at a 52-week low. Dendreon is one of the strongest short candidates out there, and it will remain that way until this company does something to prove otherwise.
Disclosure: I have no positions in any stocks mentioned, and no plans to initiate any positions within the next 72 hours. I wrote this article myself, and it expresses my own opinions. I am not receiving compensation for it (other than from Seeking Alpha). I have no business relationship with any company whose stock is mentioned in this article.
Additional disclosure: Investors are always reminded that before making any investment, you should do your own proper due diligence on any name directly or indirectly mentioned in this article. Investors should also consider seeking advice from a broker or financial adviser before making any investment decisions. Any material in this article should be considered general information, and not relied on as a formal investment recommendation.