With oil prices holding at elevated levels, it can be difficult to find direct exposure to the energy space at cheap valuations. Because of this, it makes sense to look at the energy companies themselves as a means for buying into the sustained momentum that is seen in energy markets. One of the best values in the space can be found in Chesapeake Energy (NYSE:CHK), as there were several encouraging signals to be found in the company's second quarter earnings report. Chesapeake is the second biggest natural gas producer in the US, but recent developments show that the company is looking to diversify into areas of the market (particularly in oil production itself) that should continue to be better in terms of profitability potential, given the asset valuation environment we are seeing now.
Second quarter revenues increased by nearly 40% to $4.7 billion, a substantial improvement from the $3.4 billion posted at this time last year. Analyst estimates were calling for revenues of $3.2 billion. Net incomes (adjusted, after-tax) came in at 51 cents per share (at $334 million), which was a massive improvement from the 6 cents per share $3 million increase seen last year. These figures were also 10 cents per share better than market estimates. The positives here have been driven mostly by big reductions in costs, a balance sheet improvements, and a clear focus on diversifying its production mix into more profitable areas of the market (particularly in liquids). For the quarter, liquids accounted for roughly 25%, where last year these production areas made up slightly more than 20% of production output. Chesapeake's position in the natural gas sector is stable and well-positioned, but these latest efforts to continue moving into more diversified areas will be a key driver of growth going forward.
Comparative Valuations
Chesapeake's second quarter earnings report shows that a period of transition is in place for the company, which is particularly encouraging given the fact that the company, in the past, has garnered a reputation of overspending. The report shows expenses for drilling and completion costs were lower by a massive 35%, with costs of $1.6 billion for the period. Total leasehold and capital expenditures were much better at $245 million (an improvement of 75%). At the same time, clear progress was made in terms of debt and liquidity levels as well. Growth in oil production was seen at 45%, helped largely by progress in the company's Eagle Ford drill site, which produced an average of 57,000 barrels per day during the quarter. Operating cash flow from Chesapeake's core assets saw yearly increases of more than 50%, and given the balance sheet positives seen after recent asset sales, previous liquidity risks have been largely removed.
If all of these factors were not enough to suggest strong upside in Chesapeake, comparative valuations certainly seal the deal. Forward P/E in the stock remains lower than 10, which is highly attractive given the 27 forward P/E that marks the industry average. The S&P 500 has a whole is still seen with a forward P/E of nearly 17, so the attraction here is broad based. With a price-to-sales ratio of 0.9, Chesapeake compares well with the sector average of 5.4. All in, Chesapeake's latest numbers show constant improvements in cost cutting and stabilizing moves in to new product lines that offer enhanced profitability. With a stock dividend of $0.35 (a 1.80% yield), Chesapeake offers an excellent risk to reward scenario for investors looking for exposure in energy markets.
CHK Chart Perspective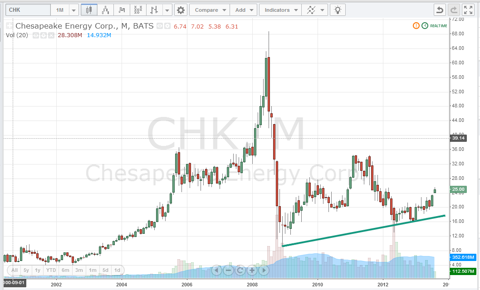 Click to enlarge
(Click to enlarge)
Long term charts in CHK are starting to look highly constructive, after posting a strong series of higher lows after finding major long term support in the $10 dollar region. Risk to reward ratios here for long positions are excellent, with no real resistance seen into the $35 region. This area is now the medium term target as long as the uptrend from late 2008 remains intact.
Disclosure: I have no positions in any stocks mentioned, and no plans to initiate any positions within the next 72 hours. I wrote this article myself, and it expresses my own opinions. I am not receiving compensation for it (other than from Seeking Alpha). I have no business relationship with any company whose stock is mentioned in this article.