'Surprise Decline' in Industrial Production
France was held to have entered an upswing. These days, an upswing is when the contraction in economic data decelerates, so one must take the breathless assertions to this effect (mostly made by French government politicians) with a grain of salt. Only about a month ago, shortly after last holdout Fitch stripped France of its top credit rating as well, French president Hollande, a.k.a. 'the welfare state incarnate', tried to drag his countrymen out of their pessimistic mood by pointing to a smattering of improving data and where such data were lacking, improving forecasts by the staff of assorted central planning agencies. Yes, in France too, the grass is always greener in the famed 'second half'. It is actually worth revisiting his words:
French President Francois Hollande said Europe's second-largest economy was recovering and tried to fight deepening pessimism in an interview on Sunday, two days after ratings agency Fitch stripped the country of its last top-notch credit rating.

He urged the French to be more positive, highlighting a slight rebound in industrial output data, a bump in consumer spending and an improved forecast from France's central bank for growth in the second quarter.

"We must not succumb to self-criticism," Hollande told France 2 TV in a 30-minute live Bastille Day interview in the garden of the Elysee presidential palace. "For years we have been the most pessimistic country in Europe, in the world even. There are countries at war that are more optimistic than we are."

Commentators have underscored the mismatch between France's economic reality and the pessimism of its people, such as in a New York Times op-ed this week titled "France's Glorious Malaise". "The recovery is here… The second half (of 2013) will be better than the first," Hollande said.

Nevertheless, France's gross domestic product has been flat and unemployment is at a 14-year high, weighing on Hollande's approval rating despite his efforts to fix the economy with tax credits for businesses and subsidized jobs.
(emphasis added)
Given that France is Europe's second-largest economy, it is well on its way to becoming its biggest basket case. In spite of the acceleration in euro area money supply growth we recently highlighted, last week's release of industrial production data for June was a big disappointment, contracting even faster than in May instead of growing slightly as had been widely expected. Year-on-year comparisons remained in positive territory, mainly because last year's numbers were so atrociously bad.
French industrial production dropped sharply and unexpectedly in June as output dropped across most sectors, figures from statistics bureau Insee showed Friday.

Industrial production in the euro zone's second largest economy fell 1.4% in June from May, while economists polled by Dow Jones Newswires had expected a 0.1% rise in industrial output in June. Output in manufacturing alone contracted 0.4%.

The drop in overall industrial production in June follows a 0.3% contraction in May. The poor figures contrast with the government's recent optimism about the strength of the economy after a recession at the turn of the year. President Francois Hollande said in a television interview in July that "recovery is here," and his ministers have repeatedly said they expect a return to growth in the second quarter.

Still, industrial production for the whole of the second quarter recorded a 1.4% increase from the first quarter and a 0.2% increased compared with the second quarter of 2012.
(emphasis added)
This presumably means that proof that socialism works will have indeed to wait a bit longer ('fixing the economy with subsidized jobs' may not be the right way of going about it, but Hollande and his colleagues do seemingly believe that economic growth is somehow produced by the State). Since no second-half data have been released yet, there's still time. Of course, given the pace of year-on-year monetary inflation in the euro area (+8% in terms of narrow money TMS), improving 'macro data' wouldn't really prove much, except that there is more measurable 'activity' in monetary terms. If you give proverbial Keynesian ditch diggers bigger shovels, their ditch digging productivity will undoubtedly improve a little, but that would still not show that their activities make any economic sense.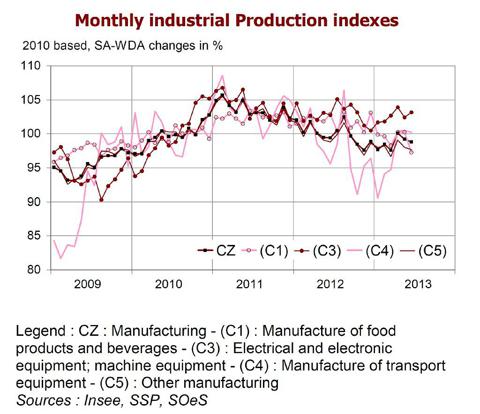 Click to enlarge
French industrial production, via Insee (the complete report can be seen here in pdf form)
Considering the above deliberations, the weakness in France's production data is especially concerning. If this trend continues, it may well indicate that the country's pool of real funding is no longer expanding and that the economy therefore doesn't even react to an increase in monetary inflation anymore. We hasten to add that a a month or two of data could be the result of temporary factors, but on the other hand, France's economy has been in trouble for some time now.
Living in a Bubble
In June there was an interesting article in German magazine 'Der Spiegel' about France's decline. Readers should be aware that 'Der Spiegel' is actually slightly left-leaning from an editorial perspective, but reports on economic matters oddly enough frequently exhibit grains of reasonably correct analysis. For instance, the article cited here surprises us with the assertion that
France's plight was initially apparent in the economy, which has been stagnating for five years, because French state capitalism no longer works.
One may retort that it never really has 'worked', but it is refreshing to see that the authors correctly point out what type of economic system France has adopted, namely state capitalism. However, what we found especially illuminating is a passage in which the article describes how distant from reality France's political elite tends to be.
Shortly after moving into his new official residence, Hollande warned his staff that in a palace it is easy to feel protected, and he insisted that he did not want to be "locked in." But that is precisely what is happening, as evidenced by the documentary film "Le Pouvoir" (The Power), which recently debuted in French theaters and whose creators accompanied Hollande during the brutal first eight months of his presidency.

They paint an image of a likeable man who seems to spend a lot of time rewriting speeches prepared by his staff. As you watch him in the movie, you start to wonder: Does he do all the important things when no one's watching or does he really spends most of his time on the unimportant? However, the main subject of the film is not the president, but rather the reality bubble in the country's top echelons. Not just Hollande, but also most of his cabinet ministers, still reside in Parisian city palaces that predate the French Revolution, and perhaps that's a problem.

A justice minister who spends her days in the Hôtel de Bourvallais on Place Vendôme, next door to the Hotel Ritz, a culture minister who goes to work at the magnificent Palais Royal, a prime minister whose offices are in the grand Hôtel Matignon and a president who resides at the Elysee Palace, they all need a great deal of inner strength to avoid losing their connection to reality. It's a difficult proposition, because Paris's settings of power convey the message that France is big, rich and beautiful.

But the mood hanging over the country is depressed. France is in the midst of the biggest crisis of the Fifth Republic. It feels as if the French model had reached an end stage, not just in terms of the economy, but also in politics and society.
(emphasis added)
As the report rightly points out, Hollande's party has achieved solid majorities in the last election nearly everywhere, from the national parliament to the regional level. If serious reform were high on the agenda, it could be tackled anytime.
Stuck in the Glorious Past
Instead France's political elites like to revel in the country's illustrious past, seemingly oblivious to the growing contrast with the far more challenging present.
France has an illustrious past, of which it is justifiably proud, but its historic success also prevents it from clearly recognizing the need for reforms. The omnipotent, bloated central government, which also controls the economy, should have been reformed long ago. The privileges of the Paris political elite are so outdated that they have become intolerable, and many bribery and corruption scandals are undermining an already fragile political legitimacy.

It cannot be accidental that France's leading politicians increasingly refer to their country as the "grande nation." Since the election campaign, President Hollande has hardly missed an opportunity to invoke the nation's greatness. With some dialectical malice, one could see this as evidence that France's greatness is now becoming a relic, but it certainly reflects the self-hypnosis of a nation whose stature is in the process of shrinking.
(emphasis added)
The problem with all this is of course that France represents a big portion of the euro area's 'core'. If its economic decline intensifies, this will have implications for the stability of the common currency area. No one can bail France out (of course, no-one can bail out Italy either, and Italy's problems are arguably even greater).
Problems and Solutions
We continually read in the European press that many economists in Europe opine that the ECB should become 'more creative' in tackling the still simmering crisis. There exists a standard narrative that boils down to 'Germany should consume more and allow higher inflation', with the wherewithal for the latter provided by the central bank. It seems hardly possible to misdiagnose the problems more thoroughly and propose more nonsensical 'solutions'.
A brief description of the basic problem besetting many European countries (among which France is an especially egregious example) would be that there exists a severe mismatch between wealth creation and wealth consumption. The former is severely hampered by regulations and taxes, the latter is furthered by loose monetary policy and an enormous burden of government. In France government spending amounts to a staggering 57% of GDP. There can be no genuine economic recovery under such circumstances. Germany is almost saintly by comparison, with government spending amounting to 'only' 44% of GDP, but even that proportion represents an immense burden on the economy.
And yet, it is precisely this area in which no government in Europe is willing to take the necessary steps, unless it has gone bankrupt and is forced to act by the bailout conditions set by lenders. Even in those cases the demand to shrink the State is resisted at every opportunity (see the extremely sluggish process of shrinking public employment and selling state-owned assets attending the bailout of Greece).
Europe seems hell-bent on proving Mises right, who frequently pointed out that there 'is no such thing as a mixed mixed economy, a system standing midway between capitalism and socialism'. We are in fact convinced that he will be proved right and that this type of system will in the long run turn out to be unworkable. It was certainly possible to erect such a system and keep it going for a considerable span of time, as it is more resilient than full-blown socialism was, but ultimately it will either be reformed or end in bankruptcy and economic decay. France is among the countries that appear on the cusp of delivering empirical confirmation.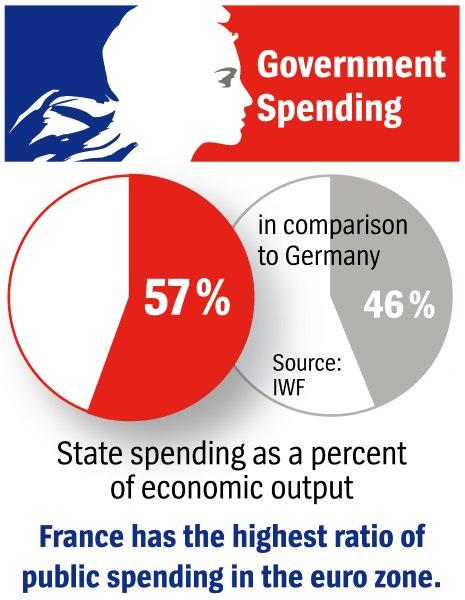 Public spending in France compared with Germany, via Der Spiegel. No government in the euro area spends more as a proportion of economic output.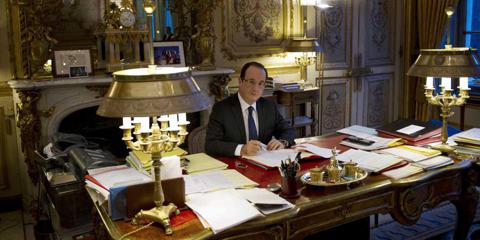 Click to enlarge
President Hollande in his office. "The nice "Grandpa" in the Elysee Palace, who lacks the gumption to address the country's serious structural problems." And yet, the French president has more power than any other Western head of state.
(Photo credit: Bertrand Langlois / Maxppp)