It appears that the week shall open to the upside for commodity investors as both gold and silver are rallying in premarket trading. Also catching our eye this morning is natural gas, which is bouncing higher after a lot of recent weakness. It is not all that long ago that natural gas was trading at $4/MMbtu and since then it has lost nearly 20% of its value.
We are still sifting through the tremendous amount of data, which was released with the latest round of earnings and trying to organize some charts and tables for readers as well as for our own use in these articles. Following companies which are growing so fast across so many different plays creates some headaches, but we think that there is some good stuff, which we will be able to derive from what we are putting together and hope to be able to use some of this in the next few weeks.
Chart of the Day
The September contract for natural gas is trying to rally off of lows. We shall see if it is able to, but with the numbers we have gotten from aggregating data from various plays across the country, one thing is clear; natural gas production is increasing, and at a healthy rate.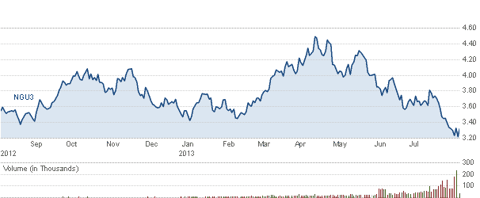 Click to enlarge
Source: CNBC
Commodity prices this morning are as follows:
Gold: $1341.30/ounce, up by $29.10/ounce
Silver: $21.25/ounce, up by $0.843/ounce
Oil: $105.41/barrel, down by $0.56/barrel
RBOB Gas: $2.8924/gallon, down by $0.0158/gallon
Natural Gas: $3.328/MMbtu, up by $0.098/MMbtu
Copper: $3.31/pound, up by $0.0035/pound
Platinum: $1507.90/ounce, up by $7.30/ounce
Rare Earths
Molycorp (MCP) saw weakness on Friday as shares fell $0.72 (9.72%) to close at $6.69/share on volume of 16.2 million shares after a mixed quarter. The rare earths business is certainly appearing tougher than many thought and a good portion of the difficulty there has to be that the first few mines that have opened are LREE (light rare earth elements) and not HREE (heavy rare earth elements). Molycorp continues to build out the rare earth supply chain but the main hole in its supply chain thus far is its lack of HREE production. We have refrained from being bullish of this name again except for trading purposes, and think that the reforms...or rather lack thereof...in China has been a big drag on the sector. Look for the sector to underperform the rest of the commodity space as the supply is worked out.
The share price has now broken through the levels where traders should have had tight stops on the shares, so recent losses hopefully were avoided.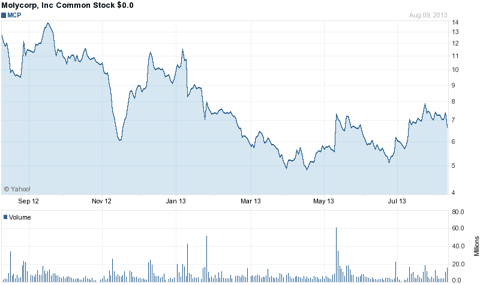 Click to enlarge
Source: Yahoo Finance
Coal
The rally in coal names continued on Friday as two beaten down names led the rally. Walter Energy (NYSE:WLT) and Cliffs Natural Resources (NYSE:CLF) saw their shares rise by 13.75% and 10.63%, respectively. Based off of the price action at the end of last week it sure appears to us that this latest round of buying is another round of day traders and value buyers coming in trying to call a bottom for the industry as a whole. Some stocks have already rebounded solidly off of their lows, Cliffs being a perfect example, but many names were trading at or very near fresh lows in the middle of last week. We have gone on the record saying that coal stocks are not where we want to be right now, seeing much better opportunities elsewhere both on an underlying business standpoint and from a company performance perspective. For those who are buying these names here, we still would urge buying the blue chip names and being quite sure not to be purchasing these names on margin. That is far too risky in this sector at this time.
Gold
Investors use the metals equities to play the physical metals with leverage in a safe way. As they fall, losses are greater, as they rise, gains are greater. Below is an example of this with Barrick Gold's chart versus that of the SPDR Gold Shares.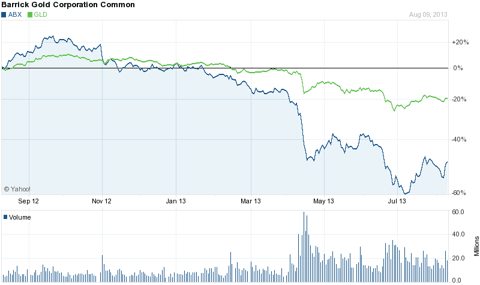 Click to enlarge
Source: Yahoo Finance
It appears that gold shares will open higher this morning as the futures are pointing higher and commodities in general, as it pertains to the metals, are higher. Readers will remember we wanted to be long the physical metals, with an emphasis on the white precious metals, rather than being long the miners in these volatile times. On a day such as this both are up, but the miners shall do much better on a percentage basis than the physical metals, but that is what one gets when taking the safer road. Watch for big days in the miners such as Barrick Gold (NYSE:ABX) and Silver Wheaton (NYSE:SLW) as those two metals are the strongest performers in pre-market trading.
Disclosure: I have no positions in any stocks mentioned, and no plans to initiate any positions within the next 72 hours. I wrote this article myself, and it expresses my own opinions. I am not receiving compensation for it (other than from Seeking Alpha). I have no business relationship with any company whose stock is mentioned in this article.
Additional disclosure: I do own physical gold and silver.