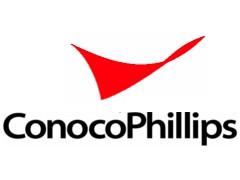 At their last quarterly earnings report, Wall Street finally saw light at the end of the tunnel for ConocoPhillips (NYSE:COP). Management made good on its promise to grow production by 3-5%, hitting it right in the middle at 4% organic production growth. Margins continued expanding, too. These factors combined to deliver normalized earnings income growth of 17%. To those who have been following Conoco with attention to the long term, this is really no surprise at all.
Since spinning off their refining assets into Phillips66 (NYSE:PSX), ConocoPhillips has focused on the following four long-term, transformative objectives:
Sell off disparate, far-flung assets in less favorable political climates.
Concentrate on those in more stable places with higher margins and nicer tax regimes.
Develop and grow production in these favorable areas and
Ultimately use those results as a base from which to grow dividends on and already industry-leading yield.
These goals, while stated openly and spoken about in detail by management, have been met with skepticism and worry by Wall St. Many have feared the funding gap caused by these expensive moves to new assets, and have hence stayed away. For over a year the stock failed to gain momentum. Now, however, results are coming in as Conoco this quarter outshined both Exxon and Chevron. Those who have been with Conoco are now reaping the reward.
This article will give a condensed rundown of Conoco's quarterly results, look at the progress of the company's big initiatives and then finally go over valuations with a focus on dividends and income.
ConocoPhillips explores for and produces crude oil, natural gas, natural gas liquids, liquefied natural gas and bitumen. Their production assets are in North America, Europe, Asia and Australia. Its concentration is on growing North American shale, oil sands, North Sea development projects and a few others. They explore in a number of places around the world. ConocoPhillips' market cap is $81.7 billion.
Falling Into Place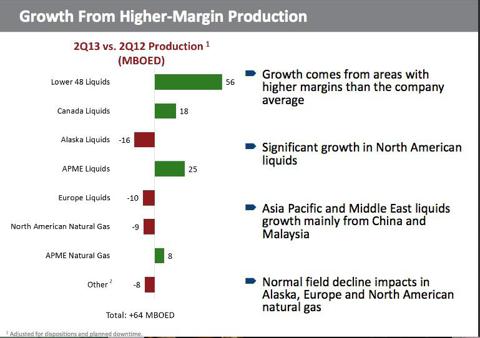 Click to enlargeProduction growth for ConocoPhillips is going very much according to schedule. Year-on-year organic production was up four percent this quarter and the majority of it was from the lower 48 states, which is dominated by higher margin liquids, meaning oil, condensate and natural gas liquids. The Canadian oil sands contributed, as did Malaysia and China. While Conoco is focused mostly on North America, you can see they have some valuable growth assets overseas as well.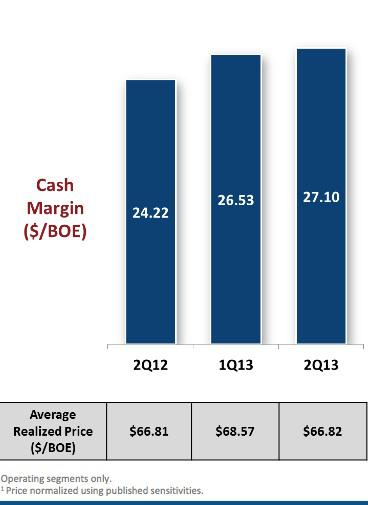 Margin increase is a huge part of the company's plans for success. Conoco's goal is to be a leaner company than it was in it's previous incarnation as an integrated "supermajor." Much of this margin expansion comes from focusing incremental production on oil and natural gas liquids, which now fetch much higher margins and rates of return versus a "barrel equivalent" of dry natural gas. In addition, they have dispossessed assets in politically dicey areas and places which have high costs of doing business, especially with "red tape" and taxes. This means they have worked to sell assets in Nigeria, Algeria and Kazakhstan. Those assets are now sold. At the same time, they've loaded up on North Sea growth projects, deepwater Malaysia, which has particularly low taxes, Canadian oil sands and especially United States shale assets.
The Pruning
Management is now working on the divestment of some smaller, non-core assets in Southwest Louisiana and is "pruning" some holdings in the Canadian oil sands. While they like their oil sands assets, management feels they are a little overweight in them and proceeds are needed to build a larger exploratory drilling inventory for growth past 2017.
Exploration
ConocoPhillips is currently at a "high level" of exploration activity. Conoco explores globally and in both conventional and unconventional assets. Their number one focus is deepwater Gulf of Mexico. This year they have made a 1 billion+ barrel discovery in the Shenandoah block, where they own a partial interest shared with Anadarko (NYSE:APC) and some others. I believe similar discoveries will be forthcoming. The frigid Bering Sea is also an area of focus for Conoco. They will begin exploratory drilling there in 2014. Deepwater Angola is another interesting prospect, an area many believe to be an analog to deepwater Brazil, which has yielded numerous huge pre-salt discoveries.
Finally we have Conoco's unconventional exploration inventory. This includes places you might not guess, such as Poland and Columbia. Both the Duvernay and Montney shales in the Yukon Territory have been contested acreage to get ahold of and drill. Conoco has positions there, too. In the lower 48 states, the Permian and Niobrara will be explored extensively next year. Many others, including unconventional juggernaut EOG Resources (NYSE:EOG), believe the Wolfcamp Shale portion of the Permian Basin will yield great results. Conoco is there.
Funding Gap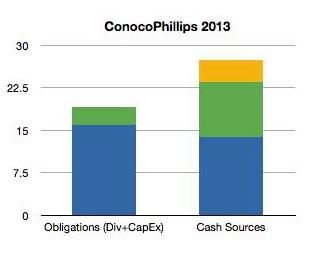 Because they have been spending large amounts of capital on developments to reposition the company, and at the same time selling assets already on-line, Conoco's capital expenditures have exceeded Operating Cash Flow. This means the company has a funding gap this year. This graphic explains things. In blue on the left is capital expenditures, which should total $16.6 billion. On the right in blue is Operating Cash Flow. Assuming operating cash flow ends up the same as 2012 (it is shaping up to be a little more), the funding gap can only be covered by asset sales of $9.5 billion (in green on the right). Those assets have already been sold. The company also has $4 billion in short-term cash (in yellow). Management expects their turnaround will add $6 billion to cash flow, ultimately close that funding gap and thereby begin generate Free Cash Flow.
Dividend Growth

Click to enlarge
As a result of their operational results, Conoco has recently raised its already industry-leading dividend from 66 cents to 69, another 4.4%. This is in spite of the funding gap. Conventionally, I would have liked for them to wait until the company has Free Cash Flow before adding to the dividend, but I'm OK with this move. Here's why: Even with the dividend per share hike, share buybacks continue to reduce share count and cancel out the additional cash flow needed for dividend increases. In addition, Conoco has exceeded expectations for the quarter, and this "turnaround" is getting toward its later innings. Maybe it is indeed time for a dividend hike.
Has The Ship Already Sailed?

Click to enlarge
Shareholders who have been long Conoco since the 2012 spinoff and before have benefited the most. Conoco shares are no doubt up a lot recently. But I don't think it's over. Conoco's 4.13% dividend still leads its peers by a good bit. Conoco is a buy until the yield hits 3.6% or thereabouts.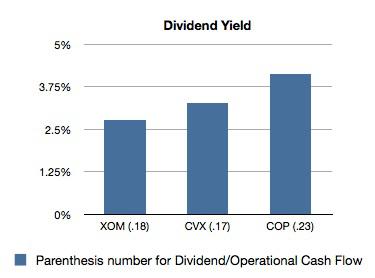 Even then the dividend would be higher than Exxon (NYSE:XOM) or Chevron (NYSE:CVX), but we probably need some yield premium to compensate for lower return on equity and capital versus those other two. My price target, then, is about $76.67. The stock is currently at $66.83. This means an upside of another 14.7%.
Conclusion
ConocoPhillips is becoming a lean, cash-generating machine. By disposing burdensome, low-margin assets, setting up shop in friendlier environments and focusing on growth through capital developments, Conoco has reinvented itself. While the stock is up quite a bit since the spinoff, it does still has a lot of upside. The dividend will pay you to wait until then. Give ConocoPhillips a shot.
Additional Sources:
"ConocoPhillips 2013" Chart by author, data from 2013 Analyst Meeting and Morningstar.
Disclosure: I have no positions in any stocks mentioned, and no plans to initiate any positions within the next 72 hours. I wrote this article myself, and it expresses my own opinions. I am not receiving compensation for it (other than from Seeking Alpha). I have no business relationship with any company whose stock is mentioned in this article.