One of the more successful investing strategies we've followed this year is what I'll call, for lack of anything snappier, the Buy-Banks-The-World-Thinks-Are-At-Death's-Door approach. It works exactly the way you'd think: Find a bank that is a) loaded down with bad loans (preferably in Arizona, California, Florida or Nevada, for maximum investment terror), b) losing money, c) likely to keep on losing money in coming quarters, d) perceived to be short of capital, and e) likely to raise capital.
Then, once you find such a bank, estimate losses over this cycle and, if you're comfortable with your numbers and the institution's financial strength, buy the stock aggressively.
What's that? The merits of the B-B-T-W-T-A-A-D-D approach aren't immediately apparent? Well, I suppose not. The risk of owning a money-losing business that's sitting on a pile of deteriorating assets is obvious, I guess. Then again, companies in a pickle like that tend to trade at seriously discounted valuations.
And guess what? A lot of those banks will work through their problems and come through the credit cycle just fine. Those are the ones that can make you some serious money.
All of which is a long introduction to a name that fits our death's-door strategy pretty well: Synovus Financial (NYSE:SNV). The company is based in Columbus, Georgia and, like many banks in Georgia, has run into trouble as a result of construction loans it made, mainly in Georgia and Florida, during the boom years.
Now that the boom has busted, so has Synovus's $35-billion balance sheet. At the end of the second quarter, nonperformers amounted to nearly 5.5% of total loans. Provision for loan losses ballooned to $632 million during the quarter, up from $290 million in the first quarter and just $94 million in the second quarter of 2008.
The company lost 42 cents per share in 2008 and, according Street estimates, will lose $3.30 per share in 2009. Then in 2010, it's supposed to lose another 75 cents per share.
And Synovus's stock price? It's fallen from a peak of $14 in early 2007, to around $2.50 in March, to $3.90 recently. That $3.90, by the way, is equal to 62% of Synovus's book value. So Synovus seems to be at death's door, in other words. Just our kind of stock.
But the company's outlook isn't nearly as bleak as the market seems to think. In the runup to an equity offering last week (about more of which in a minute) the company made it pretty clear that it's in the process of getting its credit issues under control, and that its underlying profitability is strong. In particular Synovus says that its ongoing program of aggressive problem loan disposition is on track, and that the run-rate on new non-performers continues to improve.
Meanwhile, pre-tax, pre-credit cost earnings continue to rise.
Allow me to dwell on that last point, in particular, since it might provide a sense of where Synovus's stock price could be headed. Regarding core earnings power, Synovus provides a range of estimates (assuming 35 basis points of normalized credit costs and ex the TARP dividend) at various levels of pretax, pre-credit cost earnings to risk-weighted assets. The company's base case is at roughly 2%, which equates to 72 cents share in earnings.
In any event, here's a range of estimates of earnings power, using the company's estimates: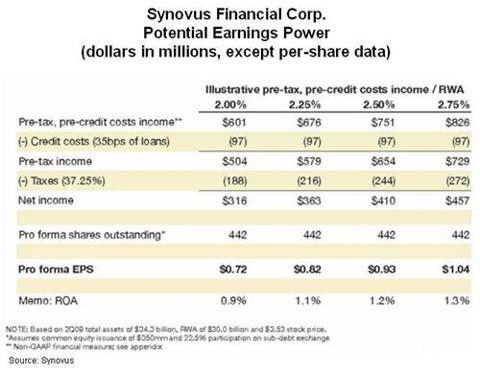 So depending on your assumptions, Synovus has earnings power of anywhere from 70 cents to over $1.00, once its credit problems pass. The stock, remember, trades at $3.90.
As to overall credit, the company seems to be managing its problems well. As noted, it is aggressively engaged in liquidating its problem assets. In the second quarter, Synovus disposed of $404 million of problem loans, at 59% of book value and 45% of unpaid principal balance. (Remaining non-performers came to $1.5 billion at June 30.) And while the company won't call a peak in overall credit migration, it does feel that migration into non-performers peaked the first quarter.
More generally, Synovus is looking for cumulative net chargeoffs of 8.8%. My own model puts cumulative losses at 10% over 2009-2010. But even my numbers wouldn't be a catastrophe for the company. Assuming a loan loss reserve equal to 3% of loans (enough to cover 85% of fourth quarter, 2010 annualized NCOs) Synovus's tangible book value would trough at $3.50 per share and its Tier 1 common equity would never go never go below 5.75%.
And even assuming the company's disclosed extreme stress scenario, the Tier 1 common remains above 5.5%.
Now, about that deal. Last week, week the company bolstered its balance sheet with the completion of a $600 million equity offering. It goes a long way in assuring that Synovus will be able to manage through the credit downturn no matter how severe things get.
In particular, the offering will give the company more than enough capital to handle even the government's 100% stress scenario. (Not that the stress case is even remotely likely, by the way. In its comments leading up to the deal, the company gave no real indication that credit has deviated materially from its expectations going into the quarter.)
Pro forma for the offering, tangible book value should be around $5.45, while normalized earnings will be in the 70-cent to 75-cent range, which in turn puts the stock at roughly 6 times normalized earnings and 80% of TBV. Plus, the deal should put to rest any lingering capital concerns.
Why did Synovus choose to raise capital at this particular moment? It gave five reasons: 1) The deal pushes the company's capital ratios above peer averages (its TCE/TA goes to 7.8% versus peers at 6.7%); 2) it gives additional cushion versus adverse credit scenario; 3) regulatory capital ratios are likely going higher anyway; 4) it provides offensive capital; and 5) it will better position Synovus to eventually repay TARP.
It's hard to quibble with any of that. The company managed to keep dilution to a minimum. By my numbers, the final impact will be roughly 220 bps on RWA. Here's how key capital ratios will look:
Synovus Financial Corp

Key Financial Ratios

Current and Pro Forma, Following Equity Offering

(percent)

Current

Pro Forma

Tangible Common Equity/Total Assets

5.9

7.8

Tier One Common

6.4

8.6

Tier One Common

9.5

11.7

Total Risk-Based Capital

12.8

14.0
Synovus's credit issues seem manageable, we believe, even as it now seems to have enough capital to withstand even an extremely severe economic scenario. In our view, the company will almost certainly emerge from the credit mess with strong earnings power—yet it seems to be priced as if it might not even survive. Based on current valutaions, we believe the stock offers plenty of reward.
Disclosure: We have a position in Synovus.