Introduction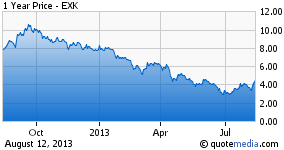 In this article I'll have a look at Endeavour Silver's (NYSE:EXK) second quarter results. In an earlier article I was afraid the company would be free cash flow negative at a silver price of $20/oz. I'll now have a look at the financial results to see if the company indeed had a net cash outflow, and what consequence this had on its balance sheet.
The financial results
Production-wise, the company had a good quarter as its silver production increased by 48% to 1.5Moz and its gold production increased by an astonishing 159% to almost 20,000 ounces. This was obviously caused by the El Cubo Mine, which the company acquired halfway last year. It's important to note the Bolanitos mine had an extraordinary quarter, milling on average 2,300 tonnes per day. This throughput will drop considerably towards 1,600 tonnes per day, as the company treated its additional ore at the Las Torres plant, which has been returned to its owner at the end of last month. If the grade remains stable, this will result in a 35% reduction or approximately 250,000 ounces from this quarter on. Fortunately the newly refurbished El Cubo mill will be able to treat additional Bolanitos ore, so the final production reduction will remain limited at approximately 100-125,000 ounces per quarter.
Endeavour silver recorded a revenue of $71.3M, which is an excellent 76% increase compared to Q2 2012. Even though the revenue increased by 76%, the direct operating costs increased more than twice as fast and increased by 181% to $44.7M. This resulted in mine operating earnings of $6.4M, a 67% reduction from last year's $19.5M.
As the company spent $5M in exploration and $3.8M in General and Administrative costs which were partially offset by a $7.7M profit on contingent and derivative liabilities, the company had a net loss of $4.6M.
The company generated an operational cash flow of $19.7M and spent $31.6M on property plant and equipment (mainly at the El Cubo project). As Endeavour drew down another $6M from its revolving credit facility, the net cash outflow was limited to just $5.9M, which is better than I expected, thanks to this credit facility drawdown.
The Balance sheet
Looking at the balance sheet, Endeavour Silver now has a working capital of $16.9M, down from last year's $45.6M. This was caused because a larger part of the revolving credit facility became payable within the year. I don't think this is a huge problem as I'm pretty sure the company will be able to extend the maturity date of this credit facility. Without this revolving credit facility effect, the working capital would actually have increased by $1.3M.
Outlook
I'm really glad the company will now aggressively cut its expenses. Now the El Cubo plant is almost complete, the capex spending will only be between $6.5-7.5M and the G&A expenses will decline from $6.9M in H1 to just $5.5-6.5M in H2. But what's more important is that the company is really scaling down its exploration efforts. For H2 2013, Endeavour Silver expects to spend only between $1.5-2.5M in exploration, which is a steep decline from the $9.2M it spent in the first half of the year. Whilst I'm happy the company is reducing its spending pattern by $9M in the second half, which means an annual saving of $18M on an annual basis, or approximately $3.6 per produced ounce. This would be an excellent achievement, but I'm afraid this lower spending pattern will not allow the company to replace the mined silver with new ounces in the ground. Fortunately both projects have a decent reserve and resource estimate, so the company can defer further exploration costs for a few years, if necessary.
Investment Thesis
Endeavour Silver made important steps to remain cash flow positive in the second half of this year, as its capital expenditures will slow down and the company is slamming the brakes on exploration expenditures. Using a cash cost for H2 of $12/oz (allowing for lower gold credits and a lower output at the Bolanitos mine), I expect the company to have an operational cash flow of $16.1M using a $19/oz silver price and an output of 2.3Moz (compared to . This will cover the company's planned capex, exploration costs and G&A costs, but the situation will be very tight to remain net free cash flow neutral. So my previous thesis when I said Endeavour Silver will need a $20/oz silver price to be cash flow positive remains standing.
The company plans to raise its cutoff grades at El Cubo in order to process higher grade ore which would increase the output and lower the costs. I'm eager to see the results of Endeavour's cost control plans and hope CEO Brad Cooke can surprise me positively.
Disclosure: I have no positions in any stocks mentioned, and no plans to initiate any positions within the next 72 hours. I wrote this article myself, and it expresses my own opinions. I am not receiving compensation for it (other than from Seeking Alpha). I have no business relationship with any company whose stock is mentioned in this article.