International Business Machines (NYSE:IBM) is down over $10 since its most recent earnings release. It seems the analyst community is unimpressed with the company's recent performance. This article will examine the criteria that Warren Buffett, IBM largest shareholder, laid out for purchasing a stake in the company.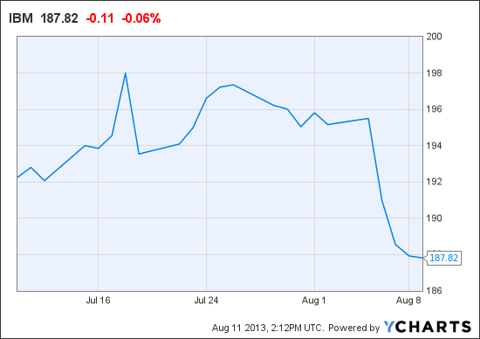 | | | | | | | |
| --- | --- | --- | --- | --- | --- | --- |
| Year | 2007 | 2008 | 2009 | 2010 | 2011 | 2012 |
| Revenue in millions | $98,786 | $103,630 | $95,758 | $99,870 | $106,916 | $104,507 |
| Earnings | $7.18 | $8.93 | $10.01 | $11.51 | $13.06 | $14.37 |
| Dividend per shares | $1.50 | $1.90 | $2.15 | $2.50 | $2.90 | $3.30 |
| Shares outstanding in millions | 1,3852 | 1,339 | 1,305 | 1,228 | 1,163.2 | 1,117.4 |
| Net profit margin | 10.5% | 11.9% | 14.0% | 14.9% | 14.8% | 15.9% |
| Return on Equity | 36.6% | 91.6% | 59% | 64% | 78.4% | 88% |
IBM has successfully transformed itself from a lower margin hardware company to a service company. The impact of this strategic decision can be clearly seen in the net profit number which is up over 50% since 2007. Buffett sees IT consulting and services as a wide moat due to the fact that most companies would be loath to switch IT providers. The following quote from Warren Buffett should sum up his attitude toward buying IBM. "I never attempt to make money on the stock market. I buy on the assumption that they could close the stock market the next day and not reopen it for the next five years."
IBM during its most recent earnings report raised earnings per share estimates to $16.90 per share, 20 cents ahead of what they expected to earn for the year. Interestingly, Wall Street was unimpressed as IBM has traded down since the report as we can see from the above chart. The most recent earnings report also shows net margins expanding further as (non-GAAP) net income margins, excluding workforce rebalancing, came in at just over 17 percent. IBM is managing expenses quite well in this tough IT spending environment. As we can see from the chart below Oracle (ORCL) and Accenture (ACN), two of IBM's competitors, are also facing industry headwinds as their stocks also haven't performed well.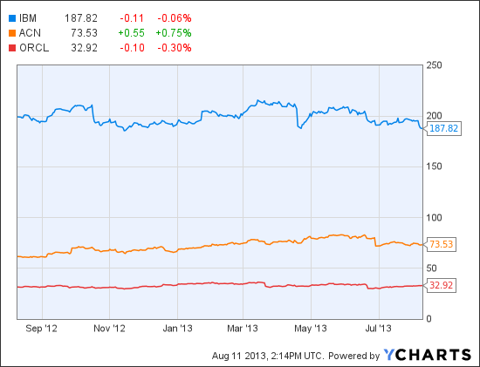 The two keys to the IBM investment in Buffett's mind is the ability for IBM to continue to grow sales and earnings and a close second is the company's ability to repurchase a large amount of shares at an advantageous price. In his 2011 annual report to shareholders, Buffett mentions that he hoped for IBM's share price to languish for an extended period of time. The reason for this is quite obvious - as the company treads water the quarterly buyback of shares will methodically shrink the float outstanding. With a far smaller float, each share remaining will be entitled to a far higher price of the company's future earnings stream. Let's examine if IBM is continuing to retire shares outstanding. As of June 30th, IBM has 1.10 billion shares outstanding as compared to 1.16 billion in the second quarter of 2012. Gobbling up 60 million shares in a year is certainly an aggressive buyback and the company is fulfilling its goals in my view.
IBM has stated its two main goals for 2015 is to attain $20 in non-GAAP earnings per share and to spend $50 billion in share repurchases. The $20 in EPS works out to roughly an 8.79% compounded annual growth rate over the next two years which isn't an unreasonable goal. In my opinion the final number will be higher due to IBM's aggressive buybacks. The 2015 road map was issued in 2010 when earnings were $11.52 per share. Management was anticipating CAGR of 11.66% so the lower amount currently needed should be easier to attain, making the goal very realistic. I believe the following Buffett quote sums up IBM: "It's better to buy a wonderful company at a fair price than a fair company at a wonderful price."
Buffett purchased his original stake in IBM at $159 per share and has made subsequent purchases at $167-$173 and again at the $185-$197 range. At its current quote Buffet was willing to purchase shares in the past. This augurs well for current investors and fits in well with the narrative of his wish that shares languish for an extended period of time. For the retail investor who is investing their own money the current price offers a compelling opportunity. It is extremely rare to be given an opportunity to invest in the same company that Buffett has accumulated such a significant position in. IBM is currently the fourth largest holding in Berkshire Hathaway with Buffett himself mentioning that it was his pick and not his new advisors.
In summary, IBM offers a compelling opportunity at its current level. The following two Buffet quotes sum up why in my opinion the shares make an excellent addition for the conservative long-term shareholder. "If a business does well, the stock eventually follows" and "the first rule is not to lose. The second rule is not to forget the first rule." Thank you for reading and I look forward to your comments.
Disclosure: I am long IBM, ORCL. I wrote this article myself, and it expresses my own opinions. I am not receiving compensation for it (other than from Seeking Alpha). I have no business relationship with any company whose stock is mentioned in this article.
Additional disclosure: Thank you for reading the article. Investors are always reminded that before making any investment, you should do your own proper due diligence on any name directly or indirectly mentioned in this article. Investors should also consider seeking advice from a broker or financial adviser before making any investment decisions. Any material in this article should be considered general information, and not relied on as a formal investment recommendation.