Insurance companies are still disliked by the majority of investors as book value discounts continue to persist. Since we are making a concentrated bet on a U.S. expansion over the next 2-3 years, especially in the financial and insurance sector, we purchased a lesser covered property and casualty insurance company, that despite its run-up in price over the last year, continues to be materially undervalued. Both fundamentals and the valuation of the company merit a long investment in Hartford Financial Services Group (NYSE:HIG). HIG's stock price is also likely to be supported by favorite tailwinds for the industry. Since we made a large investment in American International Group (NYSE:AIG), we manage correlation risk by capping HIG's portfolio weight at 5%.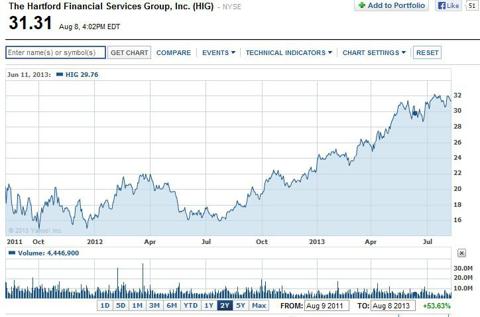 Click to enlarge
Investment Thesis
HIG is a U.S. P&C company with a 200-year track record of performance and growth. HIG specializes in property and casualty insurance, group benefits and mutual funds. Though HIG's stock price has performed well over the last year (+86%), we believe the stock can run up higher based on the following value drivers.
Key points supporting our long thesis
Strong underlying operational performance with attractive growth in the higher-margin consumer markets segment
Low combined ratios in the commercial and consumer business
Strong industry pricing momentum with potential to increase written premiums
Improving retention rates
Increasing return on equity, core earnings and dividends
Share repurchases
Attractive valuation
We believe that a business that faces such attractive business and pricing qualities should not trade at a 25% discount to book value.
Operational performance
The combined ratio in the commercial segment in 2Q13 stood at 98.4% (a ratio of below 100% indicates the company made an underwriting profit by taking in more in premiums than it paid out for claims and operating expenses) and the combined ratio excluding (non-recurring) catastrophes at 93.1% indicating improved pricing and claims management. Written premiums were up 1% y-o-y. Average renewal pricing continued to stay at 8% in standard commercial with potential to improve.
The only thing we don't like about the commercial business is HIG's specialty line of business, which exhibits a 4% decline in written premiums compared to 2Q12 and a minus of 12% compared to 1Q13. Moreover, a combined ratio of 113.8% (105.7% ex-cats) is unsustainable and should give management incentive to adjust pricing and underwriting discipline or re-position its service offering. Since specialty only accounts for about 14% of group written premiums we like to see improvements here, but do not overemphasize the segments' performance from a valuation perspective.
In consumer markets Hartford exhibits strong results as well. Compared to 2Q12 written premiums are up 2% (+10% compared to 1Q13) while the combined ratio ex-cats decreased from 91.3% to 88.9%. Since lower combined ratios translate into higher margin products, the demonstrated focus on decreasing the combined ratio is a distinct positive for HIG shareholders.
Financial performance
Improving pricing power and retention rates, a concentration on reducing the combined ratio as well as the expansion of insurance volume through account growth have led to an increase in core earnings of 18% compared to 2Q12: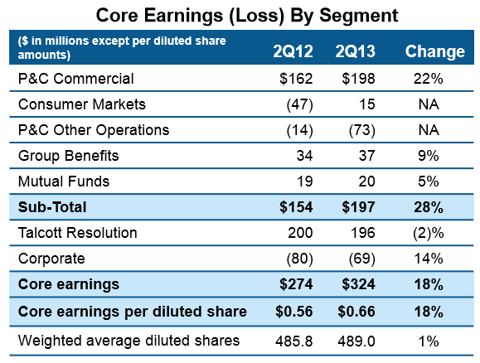 Click to enlarge
The increase in underlying earnings is also reflected in a higher RoE compared to stockholders equity with steady improvement over 1Q13 and particularly 2Q12: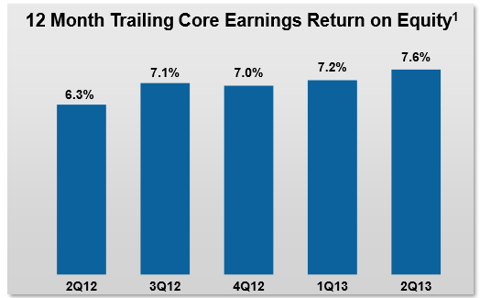 Click to enlarge
The increase in earnings has led the company to increase its quarterly dividend by 50% from $0.10 to $0.15 a share bringing the annualized dividend yield up to 2% with potential for dividend increases in the future.
3Q13 guidance suggests a 6-13% increase in EPS driven by share repurchases and higher core earnings (guidance indicates core earnings of $345-370 million compared to $324 in 2Q13). To supplement strong underlying business performance and to take advantage of HIG's low stock price, the company plans to repurchase stock in the amount of $200 million, which is equivalent to 1.4% of its market capitalization.
Valuation
With a forward P/E ratio of 8.7 the company remains cheap, especially considering its strong operational performance in the commercial and consumer P&C business. The dividend increase can be understood as managements' confidence in the sustainability of its earnings potential. We believe a company with such progress regarding operational metrics can reasonably trade at a multiple of 12x forward earnings.
Analysts estimate HIG to earn $3.60 in FY14, which equates to a target price of $43.20 and, hence, would give the stock an upside potential of around 40% not including dividends and their reinvestment. With a current 25% discount from book value (industry average currently stands at 1x BV), HIG remains cheap from this perspective as well.
In addition, compared to other publicly traded insurance companies such as American International Group, Berkshire Hathaway (NYSE:BRK.A), Prudential (NYSE:PRU) and Metlife (NYSE:MET), the stock remains under-followed and under-covered, which always is a powerful value indicator for us.
Risks
The main risks with respect to HIG will relate to its underwriting discipline, its ability to achieve combined ratios below 100% and continued core earnings growth. Secondly, higher than forecasted cat losses can always negatively effect operational performance in any given year.
Disclosure: I am long HIG, AIG. I wrote this article myself, and it expresses my own opinions. I am not receiving compensation for it (other than from Seeking Alpha). I have no business relationship with any company whose stock is mentioned in this article.