Deere (NYSE:DE), the iconic international tractor brand, reports their fiscal q3 '13, on Wednesday morning, August 14th, before the opening bell.
Analyst consensus (per ThomsonReuters), is looking for EPS of $2.17 on $9.28 billion in revenue for expected y/y growth of 10% and -3% respectively.
DE's operating margin is usually in the 10% - 13% range.
Last quarter, fiscal q2 '13, revenues grew 3% y/y, operating income rose 9%, and EPS rose 6%. North and South America continue to be strong, while Europe was weak. DE actually guided to lower farm cash receipts of $5 billion, to $388 bl, so not a big percentage slowdown. The story has been the same for a while, as Ag and Farm (particularly North America) continue to be very strong, while C&F (Construction and Forestry) remains weak.
DE has lagged the SP 500 badly this year, down 5% versus the SP 500's 18% - 19% romp. DE is up just 1% - 2% in the last year, versus the 23% return for the SP 500.
Growth slowing:
Y/Y growth rates of revenues, op inc and EPS at DE
 

Rev gro

y/y

Op Inc gro

y/y

EPS gro

y/y

7/13 (est)
-3%
 
10% (est)
4/13
3%
9%
6%
1/13
10%
18%
27%
10/12
14%
6%
8%
7/12
15%
13%
17%
4/12
12%
19%
23%
1/12
11%
7%
8%
10/11
20%
45%
51%
7/11
42%
112%
17%
4/11
25%
36%
34%
1/11
27%
105%
111%
10/10
4%
74%
365%
Source: internal spreadsheet from earnings reports
There is a lot of negative sentiment around the stock right now, as Brazil's economy is under the microscope (and Brazil is a big market for DE), and now the "high horsepower" market is under question. PiperJaffray put out a research note on August 1st saying that - based on surveys of other Ag equipment dealers - they are growing more cautious on the high horsepower market, and of the OEM's, DE has the most significant exposure to North America high horsepower machines.
Valuation: not very compelling
DE, at $82 per share is currently trading at 10(x) the expected fiscal 2013 EPS estimate of $8.53 for expected mid-teens growth, but analyst consensus is looking for just $8.34 and $8.12 in EPS for 2014 and 2015, or yea-over-year declines.
Revenue growth is expected at 6% this year, but is forecast to be -1% in 2014 and +2% in 2015.
On a cash-flow basis, DE is trading at 24(x) TTM cash-flow, and hasn't generated positive free-cash-flow in 5 - 6 quarters.
While our internal valuation model puts an intrinsic valuation model on DE, in the mid $90's, Morningstar's DCF model values DE closer to $87.
We like to average the two intrinsic value estimates, so with a fair value average estimate around $91, an $82 stock price doesn't discount the risk enough to warrant a position at this point.
Here is a quick summary of DE's valuation metrics:
DE's valuation metric summary

| | | |
| --- | --- | --- |
| 2013 EPS (est) | $8.53 |   |
| 2014 EPS (est) | $8.34 |   |
| 2013 P.E | 9(x) |   |
| 2014 P.E | 10(x) |   |
| 2013 exp EPS gro | 12% |   |
| 2014 exp EPS gro | -3% |   |
| Price-to-book | 4.47(x) |   |
| Price-to-cash flow | 24(x) |   |
| Price-to-free-cash-flow | (68)x |   |
| Price-to-sales | 1.05(x) |   |
| EV to cash-flow | 20(x) |   |
| Dividend yld | 2.75% |   |
So what changes our mind on the stock ?
With Wednesday's earnings report, we will be listening for guidance on Europe, as well as any change in what is happening with Brazil.
The 2014 EPS estimate has been steadily declining, from $8.94 in August, 2012 to $8.59 currently. Not dramatic yet, but as long as the slow drip continues, we think the stock has a tough time making headway in this market.
Technicals: the most interesting aspect to DE's story currently is the chart, and shows that with a trade below $80, and possibly to the mid $70's that price level would represent a good risk-reward for patient investors.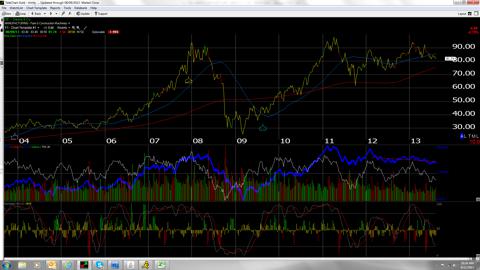 Click to enlarge
The fact that DE remains above long-term support but is now getting very "oversold" on this weekly chart, means that the stock is on our radar as a stock that could be in the early stages of bottoming, but warrants more time.
Conclusion:
DE is an iconic US brand today whose fortunes are tied dramatically to the fortunes of the US farm business, corn prices, Agriculture subsidies, and livestock prices.
While Europe and Brazil are important it is still the solvency of the US farmer and their willingness to spend and invest in farm equipment that drives DE's long term fundamentals.
Construction & Forestry, which was 14% of DE's total revenues last quarter, but just 4% of operating income, has been a soft business of late, particularly margins. However DE Credit (the financial services arm) is much improved and could offset some of the CF weakness.
The US farmer is in good shape today, but I also wonder how much of an impact the sequester has on farm subsidies, and transfer payments.
The 52 week low for DE, is $72. We'd start buying the stock (depending on what takes it below $80) near $75 - $77.
If the return of global growth is real and if there is a recovery in Europe, China, Japan and continued GDP growth in the USA, DE will benefit.
Disclosure: I have no positions in any stocks mentioned, and no plans to initiate any positions within the next 72 hours. I wrote this article myself, and it expresses my own opinions. I am not receiving compensation for it (other than from Seeking Alpha). I have no business relationship with any company whose stock is mentioned in this article.