After a quarter of extreme turbulence and with a short sellers' bullseye on its back, Linn Energy LLC (LINE) just reported its 2013 second quarter results on August 8. To continue with the metaphor, Linn Energy did not completely avoid getting hit but suffered just a minor graze and the company should be able to continue paying what is now a 11.5% monthly dividend.
Note: limited partnership companies such as Linn Energy have units and pay distributions. The words stock, shares and dividends may be used here with the understanding that the rules of LP units apply including the tax consequences of investing in LP units.
Different Kind of Conference Call
The earnings report conference call was notable for the items not discussed. From the start Linn management made it clear that questions concerning the SEC inquiry or the status of the Berry Petroleum (BRY) proposed merger would not be answered and the topics would not be discussed. So we have no new news on those items of high interest for investors.
What was discussed during the conference call was drilling for oil and gas and the company's success - or lack of - in its endeavors as an exploration and production energy company. I admit that over the last few years I have been focused on the growth through acquisition steps taken by Linn Energy and have spent little time looking at how well Linn was performing as an energy production company.
The Linn Energy management acknowledged that the 2012 first half production results fell short of the earlier guidance and expectations. Here are the given reasons for the lower than expected production levels:
The company's highly touted drilling operations in the Hogshooter interval in the Granite Wash area of the Texas panhandle did not live up to expectations. During the conference call it was noted that the Hogshooter results were a primary reason why the company had failed to meet production forecasts. Drilling rigs from the play have been moved to another area of the Hogshooter located in Oklahoma.
Ethane rejection due to low prices for natural gas hydrocarbon further reduced revenue from natural gas production. Ethane rejection occurs when the price for this petrochemical feedstock as a liquid is less than its value when left in the natural gas stream and burned as fuel.
The midstream infrastructure in several areas where Linn Energy produces is not sufficient to handle all of the natural gas coming from wells. Thus less gas gets to market than can be produced at the wellhead.
Early in 2013, Linn Energy provided production guidance of 810 to 840 million cubic feet equivalent per day and the actual results were 796 MMcfe/d for the first quarter and an even lower 780 MMcfe/d in the second quarter. Those production levels resulted in the distributable cash flow to dividend ratio falling to 0.89 for the half-year, compared to the much more comfortable for all of 2012.
Production Rebound Forecast
Even after a recent sale of some production assets, Linn Energy expects production to increase to 820 MMcfe/d in the 2013 third quarter and 850 MMcfe/d in Q4. If the midpoints for production levels and realized prices are met, dividend coverage will be up to 0.95 in the fourth quarter. During the conference call management made it a point to report that production in July averaged 815 MMcfe/d.
Linn Energy has hedged 100% of the company's expected natural gas production out through 2017. Oil is fully hedged through 2016. One point to remember is that natural gas liquids production is not hedged, which is another reason for the DCF shortfall so far this year since NGL prices were 8% lower for the 2013 Q2 compared to a year earlier. Higher NGL values could be a significant cash flow positive compared to the more predictable natural gas and crude oil revenues.
Earn a Double Digit Yield While Waiting for Some Answers
The market walys not happy with the second quarter results and the LINE share price dropped by 8% during the last two trading days of the week following the earnings announcement. At Friday's $25 per share close, LINE now yields 11.6%. The Linn Energy unit holding company LinnCO LLC (LNCO) yields 10.6%.
I do not see any circumstances where the monthly dividend rate would be reduced during the remainder of the year. At this point investors are being paid a double digit yield while waiting for news first on the SEC inquiry, which I think will end up being a non-issue, and fate of the Berry merger, which I give a 50/50 change of closing by the end of 2013. My belief on this issue is strictly a gut feeling, since no one is saying anything about the merger.
Linn Energy has a strong asset base, and with slightly better results from its drilling efforts the dividend will be secure for 2014 as well. Positive news on the merger would cause the share price to jump back above $30, potential into the mid-$30s. However, right now I think it is best to view LINE and LNCO as high yield investments with a very low probability of a dividend reduction, but without current expectations of any dividend increases.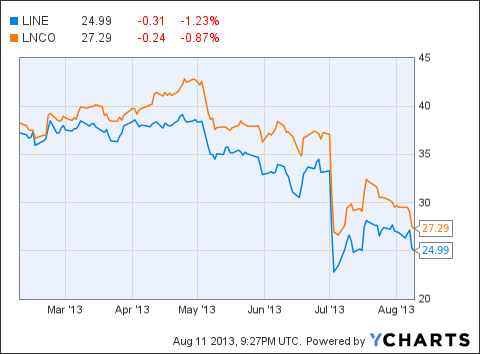 Disclosure: I am long LINE. I wrote this article myself, and it expresses my own opinions. I am not receiving compensation for it (other than from Seeking Alpha). I have no business relationship with any company whose stock is mentioned in this article.