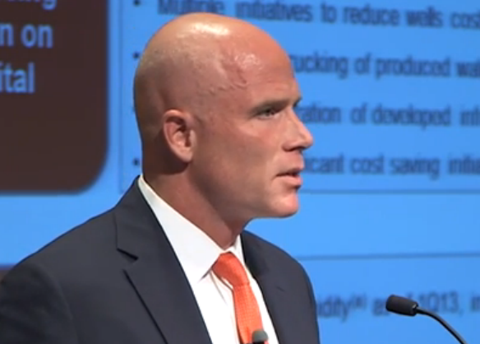 In the Q2 2013 earnings presentation, the new President and CEO of Sandridge Energy Inc (NYSE:SD), James Bennett, asked investors an interesting question:
What makes Sandridge Energy an attractive investment?
In a knee jerk reaction, I answered to myself:
You're not Tom Ward!
Then I began to actually listen to Mr. Bennett summarize the apparent turnaround underway at the struggling E&P company:
Production grew +105% quarter over quarter, and 60% is estimated for FY 2013 vs FY 2012.
Reduced G&A spending by 25% to $150 M.
$2 B of liquidity including undrawn $775 M credit facility.
2.3x leverage ratio is the lowest in company history.
90% of 2013's oil production hedged at $98 per barrel.
$2 B in debt, which does not mature until 2020.
Lowering Cap. Expenses ~30% from $2.15 B to $1.45 B.
Lowering Expenses and Drilling Costs:
The statistics presented that impressed me most of all was the lowering of G&A spending by 25% and capital expenditures by 30%. Despite spending $700 M less in 2013, 425 wells will still be drilled - that's 25 more than the 400 drilled in 2012, or a 5% increase. That's right, spend 25% less and get 5% more.
Perhaps TPG-Axon's plan's to reconfigure the company's wasteful spending habits are finally becoming a reality. TPG once estimated about one-third of SD's overhead expenses was for the compensation of top ranking executives and board members. Obviously, the sale of several company private jets, which were abused by former CEO Tom Ward and other executives, surely helped make these efficiencies much easier to achieve.
To my disappointment, the well mannered Mr. Bennett didn't quite "pin the tail" on Ward. However, he did explain how SD is targeting more prolific areas for drilling. These areas not only offer more reliable returns, but more importantly better allow for improved utilization of existing salt water disposal wells and electrical infrastructure, which will cut drilling costs substantially. In addition, layout and design of new disposal wells is also improving, as salt water well spending will be reduced 32%.
Trucking in water costs about $2.50/barrel, which makes most wells in the Mississippian uneconomical without this type of water source/disposal. Currently, less than 1% of water volumes are derived from trucks, saving SD precious capital.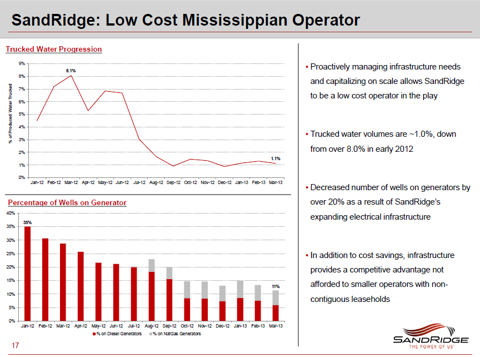 In addition, less than 11% of wells are utilizing a generator, with only half of those using expensive diesel fuel. To give you an idea of the benefit, a well using a diesel generator costs about $100k/month. I feel these cost savings in water and electric are forward indicators of lowered drilling costs and improved well profitability, and therefore will be indicated in future results, since much of this infrastructure is reusable.
Improving Spud to Spud Times:
For those unfamiliar with the term, spud to spud is a measure of well completion time, which is essentially measured from when the drill bit first hits the ground in one well to when the rig begins drilling the next well. SD has improved spud time by 16% from Q1 '12 to Q1 '13, while costs have decreased.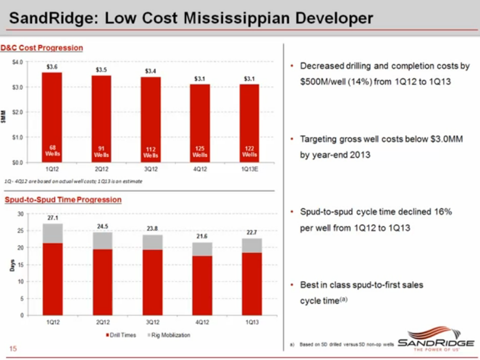 Typically, when spud times decrease, costs often increase. However this hasn't been the case. Spud time decreased to 22.7 days while drilling and completion costs have decreased 14%. The company is also utilizing several wells per pad saving ~$100,000/well.
Also, very fast offshore-type rotary steerable technology is being utilized on some wells to improve spud times when needed. The design recently drilled a dozen wells where spud to rig release was about 11 days.
Organic Growth:
Bennett explained his focus on oil growth as the company guided for 19% of organic growth in oil production and 13% total production. It was made clear that despite 60% growth in 2013, a long-term growth rate of 30% is easily sustainable in the Mississippian. These numbers exclude any asset sales.
James Bennett has served as CFO of SandRidge since 2011 and was promoted to president in March 2013. Prior to SandRidge he was managing director for White Deer Energy, a private equity fund focused on oil and gas development. From 2006 to 2009, Bennett was employed by GSO Capital Partners where he served in various capacities in its energy division, including managing director.
I have owned shares for quite a while and I'm in the red, despite an extensive covered call trading strategy, which has helped somewhat. Call me stubborn, but I think Sandridge may finally be finding a trough, especially as TPG-Axon's estimates of a more efficient SD are finally coming to fruition. Some "experts" seem to agree, as they feel there is true value in SD's Mississippian Lime. Costs should continue to be reigned in as drilling techniques are improved and existing infrastructure is harnessed. SD is finally a buy.
Disclosure: I am long SD. I wrote this article myself, and it expresses my own opinions. I am not receiving compensation for it (other than from Seeking Alpha). I have no business relationship with any company whose stock is mentioned in this article.