Nu Skin Enterprises Inc. (NYSE:NUS) is sitting on a demographic sweet spot that should guarantee significant expansion of its revenue stream for years to come, based on the significant aging of the world population and what seems to be an ever-increasing global focus on "retaining one's youth." The 25-year-old company primarily develops and produces a line of skin-care products and nutritional supplements which it offers in 48 worldwide markets through a 750,000 strong direct sales force and in China through 45 retail stores.
The company's stated goal, as of 2008, was to become the "world's leading anti-aging company by addressing the sources of aging, not just the signs and symptoms." With that in mind, the company is currently releasing a new line of "ageLOC" products that are designed to reduce the number of facial skin free radicals. According to a Nu Skin sponsored study conducted by Stanford University, ageLOC serums and creams reduced the appearance of fine lines, wrinkles, crows feet and other signs of aging in a study group of 55-year-olds, making them appear seven years younger.
This study's results, along with the popularity of their existing line of products with the 50-year-old and older population, bodes well for the company as the number of people age 50 and older will dramatically increase in the coming years, especially in some of the key markets in which Nu Skin has built a strong presence.
According to the United Nation's Population Division, the growth rate of the world's older (60-plus) population is already significantly higher than that of the total population growth rate (1.9 percent versus 1.2 percent, respectively), but by as early as the year 2025 the growth rate of those over 60 will be 3.5 times that of the rate of total population growth. Or, put another way, the global population of those over 60 is expected to more than double and surpass 1 billion by 2030, and reach nearly 2 billion by 2050.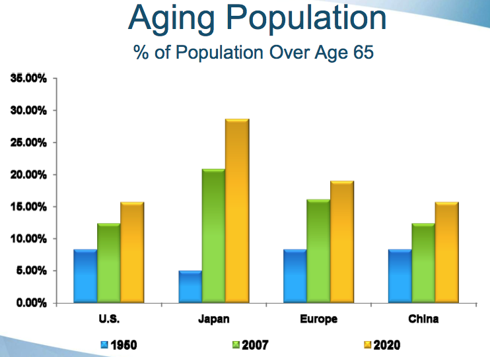 Source: United Nation's Population Division

This represents a hefty increase in the number of potential customers passing through Nu Skin's core demographic base, an increase that is already well into acceleration mode. According to Nu Skin, the anti-aging industry is expected to grow 76 percent in the U.S., 73 percent in Japan and 82 percent in the Asia Pacific region within the next five years.
Despite the worldwide recession and declines in discretionary spending, the company appears to be on track to earn record revenues in 2009, and should easily top 2008 revenues of more than $1.25 billion. In 2008 the company saw 24 percent year-over-year growth in its "Skincare" products, 180 percent growth in its "Galvanic Spa" facial care products, 70 percent growth in its "Tru Face Essence" products, but recorded a 4 percent decrease in its "Pharmanex" line of nutritional products. Since 2001 the company has achieved a 5 percent compound annual growth rate (CAGR) in total revenues, 10 percent CAGR in Korean sales, 15 percent CAGR in U.S. sales, and a 25 percent CAGR in European sales. In its most recent earnings announcement in late July the company's second-quarter profit rose 7 percent year-over-year, beating analyst expectations, and the company increased its guidance for expected third-quarter and full year earnings.
The company attributes some of its success to its emphasis on direct sales, and considers direct selling a "hedge against consumer spending contractions" during tough economic times. According to the Direct Selling Association, during the 2001-2002 recession direct sales were up $2 billion in 2002 from the prior year, "far outpacing the average increase between 1990 and 2006 of $1.2 billion." Nu Skin also credits its sales force for robust results, noting that they are paid the "highest percentage of revenue in distributor commissions of all direct selling companies listed on the New York Stock Exchange."
With a current share price of about $18, a trailing 12-month price to earnings ratio of 17.63, and a price to sales ratio of 0.91, the company seems to be more attractive than its biggest rival, Avon Products Inc. (NYSE:AVP), with a current sales price of about $32.50, and a P/E of 21.20 and P/S of 1.35. We believe Nu Skin is undervalued given its growth prospects and that its current discount to Avon (see table below) is unwarranted.

| | | | | | | | | |
| --- | --- | --- | --- | --- | --- | --- | --- | --- |
| Company | | $ | P/S | P/B | P/D | Yld. | P/E 12-2010 | P/E 12-2011 |
| Nu Skin | | $18.02 | 0.9 | 3.7 | 0.5 | 2.5 | 14.1 | 12.7 |
| Avon | | $32.38 | 1.4 | 16.3 | 3.1 | 2.6 | 19.6 | 15.4 |
Disclosure: No Positions, but Nu Skin is Featured in Our Model Portfolio.