Back in June, we laid out our case for the undervaluing of Occidental Petroleum (NYSE:OXY). The stock is still flat, but we're updating our price target and NAV calculation. All in all, we still see the stock is undervalued for no good reason.
The other key thesis is that there could be a break up the company, which could unlock value for the stock. So in reality, we see the stock as a deep value play with a possible near-term catalyst. As we said before...
"What gets us excited is that during our due diligence, we found that the stock is undervalued by as much as 20% irrespective of the breakup, by looking at its cash flow generating capabilities and net asset value."
Quick overview
Occidental operates via three segments, including (1) oil and gas (2) chemical and (3) midstream. Its oil and gas segment explores and develops oil, natural gas and natural gas liquids. The chemical segment (OxyChem) manufactures and markets basic chemicals and vinyls. The midstream and marketing segment gathers, processes, transports and stores oil, NGLs and natural.
Breakup value still there
The breakup would unlock the most value for the company over the short-term, which includes spinning off its California assets. The likely value of the California assets is around $13 billion to $14 billion. Or the oil/gas company could go the way of spinning out its whole international portfolio, valued around $35 billion.
Until then...
We see near 25% upside based on our NAV calculation: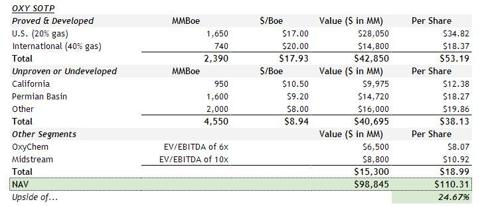 Click to enlarge
(Click to enlarge)
The latest
Part of the overhang for the stock has been a drag on domestic oil demand, which has strained the California and Permian Basin production and performance. The breakup talk is out, but investors are having a tough time digesting it because the options appear to be endless.
Cali. OXY plans to spend $1.5 billion in 2013 to develop California based assets. With this, the California assets are expected to generate some $1 billion in free cash flow this year. Analysts feel the California assets could be worth upwards of $14 billion. We think a selloff of this asset would be one of the easiest and most likely options, given the number of interested buyers. At $14 billion, that would be nearly $5 upside from the current valuation (based on our NAV).
International. The other likely scenario for breaking up OXY would be the sell of all or part of its Middle East and North Africa assets. Sales volumes in the MENA region were up 6% last quarter, and it has the Al Hosn sour gas project that will be producing in 2015.
The rest. We think OXY's chemicals and midstream operations will continue to generate enough free cash in the interim to allow the company to continue rewarding shareholders with its solid dividend. Last quarter, chemicals generated $144 in income, and the company guided for income of $170 million in 3Q. Midstream generated $48 million in income last quarter.
Recommendation
On the surface, investors and analysts are missing the bigger picture. EPS has been a mixed bag, but there still appears to be serious inherent value unaccounted for. Not to mention the company's move to generate more cash flow for investors -- namely by scaling back costs and CapEx.
We remain optimistic on the stock. The company pays a 2.9% dividend yield. Let's not forget its $3.1 billion in cash, or $3.85 per share. We believe the dividend yield and fact that the company is undervalued by as much as 20% on an NAV basis adds some downside protection to the stock.
Based on analysts' current estimates for Cali assets (around $14B) and international assets ($35B), both of these potential spinoffs or sales could unlock significant value for the stock, above where we value these assets in our NAV.
With a debt to equity ratio, the company is not being pressed or strained to make a decision, which we think is a positive, giving the company enough time to weigh all options and make the most beneficial decision for investors. Thus, it might take some time (upwards of 12 months) for the company to fully start unlocking value. All in all, good things come to those who are patient.
Disclosure: I have no positions in any stocks mentioned, and no plans to initiate any positions within the next 72 hours. I wrote this article myself, and it expresses my own opinions. I am not receiving compensation for it (other than from Seeking Alpha). I have no business relationship with any company whose stock is mentioned in this article.