Starz (NASDAQ:STRZA) is up only 5% since we put together our thoughts on why the company is a buy. We stand by our thesis. Our timeframe is upwards of 12 to 18 months. We've updated our cash flow model based on the latest earnings and note some key initiatives below. All in all, we still see significant upside to the stock.
Quick overview
Starz was recently spun out of the media giant Liberty Media and it's now transitioning from a licensed content provider to an original content creator.
Starz remains the last of the independent pure play premium TV channels. We still think Starz is cheap from a multiples and DCF standpoint, but remain optimistic that some of the major media companies will realize the undervaluing and move in to buy up the company.
Why is that?
"The key benefit for Starz is its high-margin free cash flow generating capabilities, being an asset-light business with high-margins. Starz is a great spinoff investment opportunity; one that might not be available for long."
Despite being considered the third choice in the major premium channels, being HBO and Showtime, its still holding its own in subscribers. HBO claims to have some 30 million subscribers, with Showtime at 23 million and Starz at 21.8 million; compare this to Netflix's 30 million domestic subscribers.
The subscribers are there and the company is appealing from a buyout perspective. So why are things actually looking even better for Starz, compared to the last time we took a look at the company? Costs are coming down and the company is looking to return cash to shareholders, but not via dividends, its the underrated share repurchase program that Starz plans to utilize.
Starz's top line grew in 2Q, versus contraction in the previous quarter. Revenue growth in its key network segment also grew 1% year over year. As far as costs are concerned, film costs were down nearly 10% on a y-o-y basis, and total programming costs were down 8%.
With its cost controls in place we see slight EBITDA margin expansion and think revenue growth won't be as robust as some analysts are expecting for 2014. However, the cash flow will remain robust, and one of the key drivers will be share buybacks. On a constant share basis (around 121MM shares out right now) our EPS comes much in line with analysts' expectations, but driving our bottom line (per share) growth will be the company's intent to reduce shares out. This opens a whole other valuation, where based on comparable companies and various other buyouts, the stock has significant upside with little multiple expansion. Much of that is covered in our last article.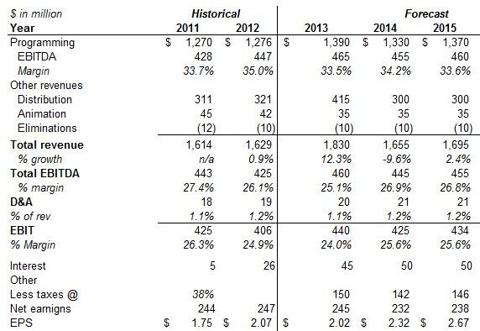 Click to enlarge

Click to enlarge
Bottom line
The business remains highly asset-light, high-margin, which makes the business model highly cash flow generative. Thus, in the bear case, assuming annual revenues decline by 5% over the next three years, EBITDA margins contract to 20% and the company trades at a 12 times P/E, the downside is to $18. Helping put that in perspective, the risk-reward is 4:1, with upside of 100% and downside of 25%.

Click to enlarge
Disclosure: I have no positions in any stocks mentioned, and no plans to initiate any positions within the next 72 hours. I wrote this article myself, and it expresses my own opinions. I am not receiving compensation for it (other than from Seeking Alpha). I have no business relationship with any company whose stock is mentioned in this article.