The Promise of HTML5
A few months ago, when I first switched from my much-beloved iPhone to a Windows-based Lumia 920, there was an initial period of adjustment. Though I was not a heavy app user (I would never have been able to switch if I had been), there were two apps which were nearly deal-breakers for me.
My dog sometimes stays at a local kennel here in Stamford, CT. They have a video feature that allows their human customers to monitor their dogs as they play in the yard during the day either on the customer's Wintel PC or Apple (NASDAQ:AAPL) Mac or on their cell phone. While they have iOS and Android versions of their mobile video app, there is, of course, no Windows Phone equivalent currently available. I did not even ask if one was coming because I did not want to hear the answer.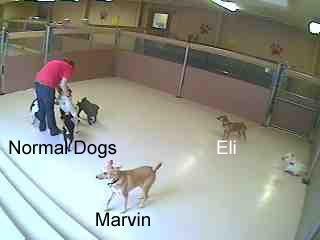 Source: Camp Bow Wow
Admittedly, I have a weakness for Five Guys hamburgers. Sometimes, I make a last minute decision to eat there for lunch. In Stamford, the Five Guys is fairly new and still packed at lunch - you cannot get out of there in less than 60 minutes. A better way to order had been by pulling my car over and bringing up the Five Guys app on my iPhone when I was 15 minutes away from the store. My order was always ready for me - I was able to bypass the line, altogether. Once again, there is no Windows Phone version of this app (not even today).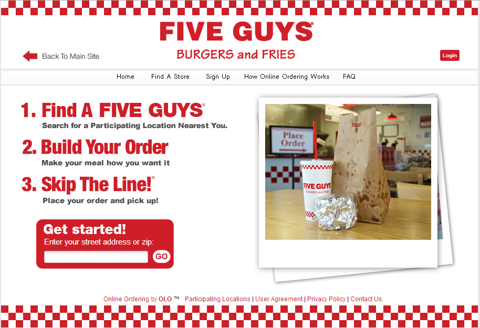 Source: Five Guys
These examples show just how much our lives have changed due to the modern mobile environment in which we live. In the end, I loved my Lumia 920 too much to give it up. I settled for watching my dog on my PC. For ordering ahead at Five Guys, I now pick up the phone.
If you have ever tried to bring up a website on your phone that is not optimized for mobile, you know how hard it is to adjust the fonts and otherwise get around. Now imagine if Five Guys, instead of building an app for each separate mobile ecosystem, instead built a mobile version that could run on any mobile browser (Safari, Chrome, Explorer, Firefox, etc). Each browser could use the same mobile app fairly independently of the specifics of the cell phone hardware. Since the app is custom built for mobile - the fonts all display properly and the features are otherwise optimized for the mobile environment. Consider that stores today do not build separate websites for the PC versus the Mac. The concept is similar for HTML5 apps.
This is the promise of HTML5. With respect to my example about my dog showing up on real-time video, I included it as a separate example because one of HTML5's strengths is that it has highly integrated video capabilities. This is something previous versions of HTML did not have.
HTML5, Next Wave of Mobile Tech
When I first came across the HTML5 standard, the mental image I formed was that it allowed an app that previously ran local to the cell phone to run now on a browser in much the same way Microsoft (NASDAQ:MSFT) has migrated their Office platform to Office360, now a web-based service. But after reviewing some white papers on the Internet on HTML5, it appears that this analogy is highly flawed with respect to HTML5. Many investors also have the wrong view of this standard - HTML5 apps do not run mostly on the browser.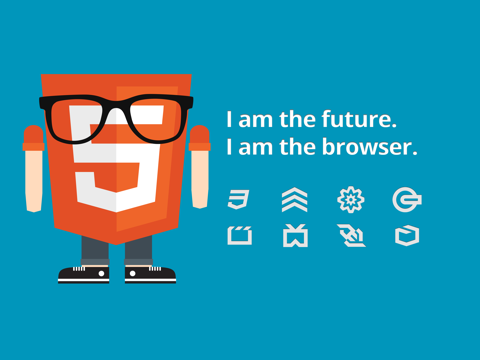 Source: petelepage.com
The way HTML5 works is that the browser initially downloads the app software to your cell phone. From then on the bulk of the software runs there (on your phone) while the browser becomes optional. Most apps continue to use the browser but the important thing here is that some of the software runs on the phone. Databases that feed information to the app continue to reside in the cloud just as they do for native apps. But it is important to understand that even for HTML5 apps, most of the execution of code still happens inside the phone instead of inside the cloud. This detail is one of the main reasons that HTML5 cannot instantly level the playing field for mobile apps - it works slightly differently on each browser and on each OS.
Difference Between Native and HTML5 Apps
| | | |
| --- | --- | --- |
| Item | Native App | HTML5 App |
| OS Compatibility | Each built for one OS | Universal |
| Restrictions | Set by the OS owner | Set by the web standard |
| Installation | App Store | World Wide Web |
| Features | PC Like | Web Like |
Disadvantages of HTML5
From my previous examples, you can probably see why both app vendors and consumers could benefit from this technology. But there are some serious problems with HTML5.
When an app is made available for the iPhone today, it has to go through the Apple App Store. Developers have to cede some level of control (and profits) to Apple for the privilege. Apple also gets to act as a censor. For these reasons, developers want HTML5 to succeed so that some of this control is passed back to them.
But when you think about what a wild west show the internet is, do you as a consumer want that for your mobile phone environment? You may not like the idea of Apple acting as a gatekeeper, but one of the big advantages is that little malware ever passes through those gates. Once the security guard is gone, ... well, you get the idea.
In addition to the security issue, HTML5 apps are far more restricted in what features of the cell phone hardware they can access. These restrictions continue to be controlled by the cell phone manufacturer. HTML5-based apps also typically run much slower than native apps. This standard is also incompatible with older browsers. Finally, it may be more difficult to sell HTML5 apps to the consumer because there is no centralized store for purchase. We are more likely to see a haphazard series of browser based purchase screens. It is therefore likely that more advertising will be needed to sell HTML5 apps or that the early HTML5 apps will be free.
Technical Problems with HTML5
Because HTML5 apps still need to access specific hardware in the cell phone and still run basically on the cell phone, each app tends to run slightly differently for each browser and for each OS platform. This has somewhat ruined the uniformity that would have otherwise led to universally available apps.
This lack of uniformity is known as fragmentation by developers - and it is never a good thing. This fragmentation is well documented in Wikipedia. Facebook, an early HTML5 zealot, pulled back last year:
... CEO Mark Zukerberg said this month that [his] HTML5 strategy had been a big mistake, bringing all the industry doubts about the mobile web future to the forefront and arousing fears that, like other multi-platform dreams before - Java, for instance - this one will turn out to be another nightmare of fragmentation.

- Rethink Research 9/20/12
As a general statement, the more an app needs to access specific hardware on the phone, the less likely it will be easy to port to HTML5. On the flip side, apps whose sole function is to gather information from the server (like the CNN app, for example) will likely be among the first to migrate to HTML5 and work well universally across multiple OS platforms - write once, use universally. If you are looking for a more in-depth discussion about the problems with HTML5, this is the best article I have found on the subject.
Apple's Position on HTML5
Given Apple's historical tendency to build walled gardens to protect their profits, a neophyte entering the HTML5 domain might assume that Apple would be fighting this industry standard with perhaps a standard of their own. When you consider how much control the cell phone manufacturer gives up when allowing the handset to work with HTML5, it just does not seem like Apple's style.
But in fact, Apple has embraced HTML5 fully and has been pushing the standard far stronger than any other cell phone vendor.
There has already been a lively discussion among the professional analysts that follow Apple as to whether or not HTML5 represents a risk to their apps revenue (which has high gross margins). Some have argued that HTML5 represents a net positive for Apple. But most investors who follow the technology currently have a more negative view of HTML5 with respect to Apple's future revenues. Forrester and Bernstein Research have been the most vocal so far, in suggesting that HTML5 will hurt Apple. (These are both premium sources so I have not included hyperlinks).
So why is Apple pushing HTML5 if it has the potential to disrupt at least some of its app revenues? The reasons are complicated. First, because HTML5 has well integrated video and audio features, the standard is yet another important weapon for Apple in its long-standing fight against Adobe's (NASDAQ:ADBE) FLASH. Second, although using HTML5 may reduce Apple's control, it does not eliminate it completely. The vendor still gets to have a strong say on which portions of a cell phone's hardware may be accessed by a browser. Third, by strongly supporting the standard, Apple puts itself in a position to drive the standard.
Microsoft (and Nokia's) Position on HTML5
Microsoft's first browser to support HTML5 was Internet Explorer 9. Prior to this, they had been using internally developed software called Silverlight to try to promote cross-platform software development. From the previous examples I gave, you can probably see why MSFT would want to embrace HTML5 on mobile platforms - it can reduce the fledgling OS's handicap in the Windows Phone apps market. After all, if one app can work across all OS platforms, then OS vendors no longer have to worry that their weak market share will shut them out of a new, popular app. In theory, the migration of apps to HTML5 will solve at least part of the app problem that MSFT and Nokia (NYSE:NOK) have with Windows Phone.
But the uniqueness of the Windows Phone User Interface (live tiles) makes it especially difficult for a developer to write an app once that can work across all platforms including WP8. To implement the live tile feature, some custom work will no doubt be required. This will inevitably lead to additional fragmentation for HTML5-based apps.
But due to the fragmentation issues we described earlier, HTML5 will not solve the entire problem. For the next one to two years, Windows Phone will still feel the pain of app lag unless it can capture enough market share to force the developers into building apps in a timely fashion. HTML5, thus, is one small piece of the app puzzle solution for MSFT (and Nokia).
Conclusion
But HTML5's initial promise, to create a world of universal compatibility, appears unreachable due to fragmentation and other issues - it does not quite deliver. Still, as HTML5 apps become popular, we will eventually become used to two different flavors of apps on our cell phone, those that run native (like most apps today) and those that depend more on the browser. It is important for investors to realize that HTML5 is not a panacea and will not allow every app to run on every cell phone platform - that universe continues to elude us for a bit longer.
Disclosure: I am long AAPL, NOK. I wrote this article myself, and it expresses my own opinions. I am not receiving compensation for it (other than from Seeking Alpha). I have no business relationship with any company whose stock is mentioned in this article.