This is a trade idea for those seeking value investing, otherwise known as "Buy Low, Sell High". Taking such a position means ignoring current fundamentals in favour of speculating that the sector or stock(s) will revert in time (usually 2+ years).
From early this year, many market sectors have been enjoying what for many was an unexpected bullish rally.
At first glance, the banking sector (as measured by BKK) seems to have participated in this rally. Reviewing the small cap banking sector, a different picture comes into view. The Russell 2000 Bank index is still negative for this year (-30%), compared to the performance of the broad Russell 2000 (up 25% YTD). So measured against both the banking sector and overall small caps, small caps banking has underperformed.
Of course, there are perfectly sound fundamental reasons for this. A quick perusal of the financial press indicates that there is a belief that many small cap banks will be unable to survive the next 12-18 months of trading.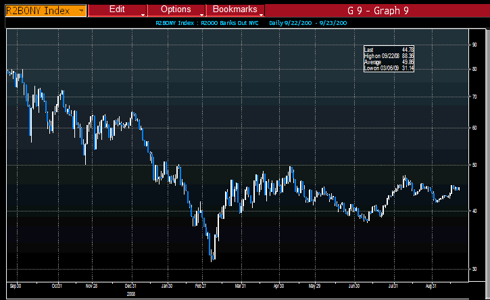 Click to enlarge
We have made no secret of our bullish outlook for equities from November last year onwards.
Despite this, we have two concerns about this current rally. Firstly the general failure of commodities to break out to the upsides makes us wary of a lack of global demand. Secondly the health of the banking sector; the very sector that lead the way into the recent downturn.
Valuations are certainly not demanding with the price/book ratio of small cap banks being 0.98. As simplistic as this is, it indicates that small cap banks will never provide a return in excess of their cost of capital. The ETF KBW (Regional Bank Index) is even worse, with a p/book ratio to just 0.89%
Not something that an investor finds attractive.
Which makes small cap banks and KBW an interesting proposition for the "value investor" or speculator. We have taken small positions and will either exit at a loss if there is no payoff with 2 years; or begin to accumulate should an upside occur.
October. This is one of the peculiarly dangerous months to speculate in stocks in. The others are July, January, September, April, November, May, March, June, December, August, and February. - Mark Twain
We usually leave this unsaid, but just a reminder: potential investors should do their own research and understand the risks of their trades.
Disclosure: Long KBE