On August 14th, Vipshop Holdings (NYSE:VIPS) will report second quarter earnings. In some aspects, that may be a good development for shareholders as the company has yet to miss in five reports since the company's 2012 IPO. However, another solid report may also raise further questions about the legitimacy regarding the company's reporting standards.
After posting earnings of $0.17 per share in the first quarter, or more than three times the initial estimate of a $0.05 profit, Vipshop's management was left to defend the accuracy of the company's numbers following a report published two weeks later by Greenwich Research Group accused the company of overstating growth.
Now in all fairness, the firm did have an announced short position in the stock at the time of the allegations. However, any time a Chinese company is faced with some sort of accusation regarding the accuracy of their numbers, shareholder wariness is sure to remain.
That was certainly apparent in late May when the report by Greenwich sent Vipshop's shares tumbling over 13% in one day.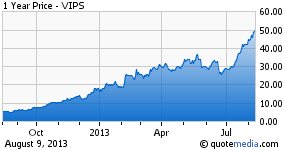 However, what should be the greatest warning for shareholders leading to this week's report is how shares have mostly traded since that initial fall. Enjoying an over 40% run since the beginning of July, investors will more than likely focus only on the negatives regarding the upcoming release.
If the company fails to clearly beat on their second quarter report, profit taking will probably overwhelm shares in the near term. However, a solid beat may once again lead to questions regarding the company's figures and accounting structure.
Whatever the outcome of the upcoming report, Vipshop's recent chart shows the investor response will probably be exaggerated.
After enjoying a methodical climb to $20, shares have been highly volatile since. Although the volatility has mostly benefited investors to this point, taking profits will be arguably safer than holding onto or even adding a position at this point.
No matter the company's future, a pullback is due and earnings reports often provide the best time for such corrections as proven by Vipshop's first quarter report. Despite the beat and the fact shares opened up 10% the morning following the release, the stock ended the day down 5%, or off 15% from the opening high.
With shares having gained another 33% since that first quarter report, more volatility and a greater potential fall probably awaits.
Disclosure: I have no positions in any stocks mentioned, and no plans to initiate any positions within the next 72 hours. I wrote this article myself, and it expresses my own opinions. I am not receiving compensation for it (other than from Seeking Alpha). I have no business relationship with any company whose stock is mentioned in this article.