Downtrends in the current market environment are few and far between. U.S. stocks, U.S. bonds, international stocks, emerging market stocks, international bonds, emerging market bonds, REITs, precious metals, most commodities, most currencies — the intermediate-term trend is "Up."
According to J. Clinton Hill, intermediate downtrends only exist in S&P 500 VIX Volatility Futures (VXX), PowerShares DB Agriculture (DBA), CurrencyShares British Pound (FXB) and PowerShares DB Bullish U.S. Dollar (UUP). If indeed the trend is one's friend, one should have little difficulty identifying an exchange-traded investment possibility in the midst of 700+ long ETF/ETN vehicles.
Is there a way that the prevailing winds could shift? Yes… if the U.S. dollar collapsed or if the U.S. dollar catapulted to lofty places. In contrast, a slow-n-orderly descent of the greenback whets investor appetite for risk, while a "firming" of the buck would do little more than bring on a much-needed, "health-restoring" pullback.
I do not believe that the U.S. dollar is in imminent danger (with an emphasis on the word imminent). What's more, I agree with most folks that the probability of a 7%-11% is quite high. It follows that the question becomes, "Which ETF should I buy on the dip(s)?"
Here, then, are a few ideas:
1. ProShares UltraShort 20+ Treasury (TBT). My call on TBT at a price point of 50 was premature, though averaging into the inverse ETF has limited loss. I'd like to personally thank Bill Gross whose affection for the long U.S. Treasury bond in his flagship Pimco Total Return has hindered my progress here.
That said, the Fed plans to exit from quantitative easing in October. Foreigners are buying less U.S. bonds with a maturity date beyond 10 years. And there's a fairly strong likelihood that a 75 basis point move higher on the 30-year is in the works by Christmas.
2. WisdomTree Emerging Market Equity Income (DEM). The premise here is that the ETF serves up an annual yield of roughly 6% distributed all at once at the end of the year. As much as I may prefer the ease and straightforward allocation of Vanguard Emerging Markets (VWO), a final year-end push coupled with a bonus income payment should make DEM a better intermediate-term performer.
3. iShares Global Energy (IXC). Clearly, many investors hope to balance a reliable income stream with a reasonable potential for appreciation. Telecom and utilities are consistent with income, but shaky on growth potential. Technology has an exceptional shot at capital appreciation, yet the income component is negligible.
Look to global energy a la oil and gas. It is one of the few sectors where the companies collectively show increases in dividend payouts over 3 years. What's more, the annual payment is close to 5%.
Granted, this may make the one-time distributions of WisdomTree International Energy (DKA) more attractive than iShares Global Energy (IXC). And I wouldn't fault you for running with DKA. Yet the volume is so thin on DKA, the entry and exit pricing may hinder your actual gains. In other words, there are a whole lot more shares of IXC trading.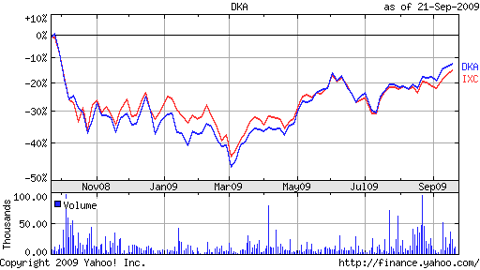 Full Disclosure: Gary Gordon, MS, CFP is the president of Pacific Park Financial, Inc., a Registered Investment Adviser with the SEC. The company may hold positions in the ETFs, mutual funds and/or index funds mentioned above.