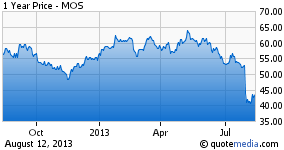 The U.S. economy continues to muddle along, with GDP (gross domestic product) likely expanding at a lackluster sub-2% pace. Corporate America, meantime, also continues to post relatively unexciting financial results, characterized by little-to-no revenue growth and earnings advances that are in the low-to-mid single digits. On the flip side, stocks remain on an impressive, extended upswing, last week's modest retreat notwithstanding. An absence of attractive investment alternatives, considering interest rates that still hover near historical lows, undoubtedly continues to fuel investors' enthusiasm for equities. Wall Street's and the financial media's penchant for comparing actual earnings to expectations, while virtually ignoring year-over-year comparisons, probably also goes a long way towards explaining the stock market's virtually relentless ascent; the fact that companies are largely beating estimates is carrying far more weight than the reality that profit growth, which determines the trajectory of stock prices in the long run, is modest at best. Consequently, valuations have become increasingly stretched, making it ever more difficult to find reasonably priced equities. That's not all, investors are clearly jittery about the prospect of Fed tapering (i.e., pumping less money into the financial system). The forthcoming potentially acrimonious battles in Washington, DC, about the nation's deficit-laden budget and raising the debt ceiling (again) haven't received much attention thus far, but they certainly could inject substantial volatility into a market that's been very calm for months. All that said, in this article, we make a case for the beaten down shares of Mosaic Company (MOS), which we think are now near trough levels and offer considerable recovery possibilities.
The Mosaic Company is the world's largest combined producer of phosphates and potash, two (of three, along with nitrogen) vital plant nutrients. Phosphorus is often referred to as "the energizer" for its role in converting the sun's energy into food, fuel, and fiber. Potassium serves as the "regulator" of many essential processes within the plant. Mosaic has grown considerably since its formation in late 2004 and has been enormously profitable, benefiting from socioeconomic and population trends around the globe that fueled increasing demand for its products. The company's shares have also fared well, up some 180% since they started trading almost nine years ago, as per-share earnings rose from $0.47 in fiscal 2005 to $4.42 in fiscal 2013. (Note: The producer of fertilizer is in the process of shifting from a fiscal accounting year that ended on May 31st to one that concludes on December 31st.)
MOS stock has lost more than half its value since early 2011, though, and its price is some 75% below the all-time high set in mid-2008. The financial crisis certainly took its toll, deflating much of the speculative air that had sent the shares skyrocketing 10-fold in the preceding two years. Investors in the company certainly haven't participated in the latest bull market either, as soft economic conditions and falling prices for agricultural products pressured prices for potash- and phosphate-based nutrients. And if that weren't enough, stockholders sustained a heavy blow in late July after a joint venture between two of the world's largest potash producers (one Russian and the other Belarusian) splintered, with significantly negative implications for global prices; the shares plunged 17.3% on July 30th on 14-times normal trading volume.
Looking forward, Mosaic shares are likely to stay volatile, given both what was already a challenging operating environment and now uncertainties associated with the aforementioned joint venture's collapse. The change in accounting periods adds incremental risk, as it obscures earnings predictability. That said, we think the shares are worthy of consideration for multiple reasons: First, the world's population is growing, while farmland is not, meaning farmers will have to generate more food from every acre. This clearly translates into increasing long-term demand for crop nutrients. Second, Mosaic has a rock-solid, cash rich balance sheet, along with substantial reserves of both phosphates and potash, certainly enough to keep operations running into the next century. Third, an agreement with the company's largest stockholder sets the stage for potentially considerable share repurchases over the next three years, starting this November, which would provide support to both per-share earnings and the stock price. Fourth, we think Wall Street's reaction last month was excessive. Mosaic produces more than potash. In fact, phosphates accounts for a far larger proportion of revenues, even though margins are considerably narrower. As well, the company derives most of its revenues in the Americas, which may temper the fallout from the venture's split. It's also possible the separation could prove temporary.
All things considered, we think these shares offer attractive turnaround possibilities to investors willing to wait out the current storm. Our long-term projections suggest the volatile issue could about double in price over the next three to five years.
The Company
The Mosaic Company is a leading producer and marketer of concentrated phosphate and potash crop nutrients for the global agriculture industry. It's also the largest integrated phosphate producer in the world and one of the largest producers and marketers of phosphate-based animal feed ingredients in the United States. Plymouth, Minnesota-based Mosaic mines phosphate rock in Florida and processes the ore into finished phosphate products at facilities in Florida and Louisiana. The company, the fourth largest producer of potash in the world, extracts the mineral in Saskatchewan, New Mexico and Michigan. It has production, blending or distribution operations in Brazil, China, India, Argentina, and Chile, and a strategic equity investment in a phosphate rock mine in the Bayovar region in Peru.
Although the Mosaic Company was formed in just October 2004, through the combination of IMC Global Inc. and the fertilizer businesses of Cargill, Incorporated, it traces its origins back to 1909 when Thomas Meadows first became involved in the phosphate mining business. The company now has approximately 8,400 employees in eight countries and serves customers in roughly 40 countries, including the top four nutrient-consuming countries in the world - China, India, United States, and Brazil. In addition to the mining, production, and distribution infrastructure, Mosaic has significant land holdings in the State of Florida, consisting of around 255,000 acres, some of which is being developed. This includes Streamsong, a "destination" resort and conference center that should be completed next year, and two golf courses that opened last year.
The company has two operating segments, the Phosphates and the Potash segments, with production capacity of 10.3 million and 10.4 million tons, respectively. In the United States and Canada, the company uses its own teams to market and sell products to wholesale distributors, retail chains, cooperatives, independent retailers, and national accounts. Elsewhere, Phosphates segment products are marketed primarily (67% in fiscal 2013) through PhosChem, a fully integrated marketing organization that was formed solely for the purpose of handling export sales for its member firms, while potash products are sold through Canpotex, which essentially manages the entire Saskatchewan potash exporting business (discussed in greater detail below).
Crop nutrients are global commodities and available from numerous sources. Competition is primarily on the basis of delivered price. That said, Mosaic's extensive production, storage, and strategically located distribution infrastructure affords considerable economies of scale and confers some competitive advantage.
Phosphates Segment (65% of 2013 sales; 38% of operating profits)
Mosaic's phosphates business consists of mines and production facilities in Florida, which produce concentrated phosphate crop nutrients and phosphate-based animal feed ingredients, and processing plants in Louisiana, which produce concentrated phosphate crop nutrients. The segment also includes the company's international distribution activities, incorporating sales offices, port terminals and warehouses in the United States, Canada, and several other key international countries. As well, the international distribution operation includes blending, bagging and production facilities in Brazil, China, India, Argentina and Chile. Mosaic accounted for approximately 12% of estimated global production and 59% of estimated North American production of concentrated phosphate crop nutrients in fiscal 2013.
The company's domestic phosphates operations have the capacity to produce approximately 4.3 million tons of phosphoric acid per year, or about 8% of world capacity and about 46% of North American capacity. Phosphoric acid is the key building block for the production of concentrated phosphate crop nutrients and animal feed products. In fiscal, U.S. phosphoric acid production totaled approximately 3.8 million tons, accounting for approximately 9% of estimated global production and 46% of estimated North American output. The phosphate crop nutrient products are marketed worldwide to crop nutrient manufacturers, distributors and retailers. Mosaic's principal phosphate crop nutrient products are: Diammonium Phosphate ("DAP"), the most widely used concentrated phosphate crop nutrient worldwide; and Monoammonium Phosphate ("MAP"), the second most widely used high-analysis phosphate crop nutrient and the fastest growing phosphate product worldwide. Production of concentrated phosphate crop nutrients approximated 7.6 tons in fiscal 2013 and accounted for roughly 12% and 59% of estimated world and North American output, respectively.
Mosaic is the world's largest producer of finished phosphate products, with more capacity than the next two largest producers combined. Approximately one-third of the output is shipped within North America while the rest is exported through both PhosChem and the company's own distribution channel. As of May 31, 2013, the company had proven and probable phosphate reserves of 498.7 million and 33.5 million tons, respectively. An equity investment in Miski Mayo mine in Peru further bolsters its long-term position as the world's leading integrated producer of concentrated phosphates.
Potash Segment (35% of '13 sales; 62% of operating profits)
Mosaic is the fourth-largest producer of potash in the world. The company mines and processes potash in Canada and the United States for sale in both North America and internationally. The term "potash" applies generally to the common salts of potassium. Muriate of potash ("MOP") is the primary source of potassium for the crop nutrient industry. Although used principally as fertilizer, potash is also used in industrial applications and, to a lesser degree, as animal feed ingredients. It's also used for de-icing and as a water softener regenerant. Mosaic accounted for approximately 13% of estimated global potash production and 42% of estimated North American potash production in fiscal 2013.
The company's three Canadian mines - Belle Plaine, Esterhazy, and Colonsay - are in the southern half of the Province of Saskatchewan. In the U.S., it operates facilities in Carlsbad, New Mexico and Hersey, Michigan. The current potash operational capacity totals 10.7 million ton of product per year, accounting for approximately 13% of world capacity and 35% of North American capacity. Production during fiscal 2013 totaled 8.3 million tons, representing around 13% of estimated world production and 42% of estimated North American output. In response to anticipated growth in global potash demand, management recently began implementation of a brownfield expansion plan that envisions the addition of five million tons to annual operational capacity; current market dynamics have slowed the expansionary activities.
As of May 31, 2013, Mosaic had 2.2 billion tons of recoverable reserves (1.9 billion in Canada) and another 3.4 billion tons of potentially recoverable reserves. Thus, the company has more than a century's worth of ore reserves in Saskatchewan alone, at current operating levels.
Key Products
Phosphate crop nutrients represent Mosaic's largest top-line contributor, accounting for 41.2% (or $4.1 billion) of aggregate fiscal 2013 revenues. Potash crop nutrients are the second-most important component of sales, adding $3.4 billion (34.4%) to last year's total. Next are Crop nutrient blends and "other," with sales of $1.5 billion (14.8%) and $1.0 billion (9.6%), respectively. The company's portfolio of feed ingredients is designed to help animals improve the digestion of food, build stronger skeletal systems, and enhance lean muscle growth. Products range from anionic mineral supplement for dairy cows to Nexfos, a next-generation feed-grade phosphate that is a source of highly available phosphorus, calcium and sodium content that help meet animal and poultry requirements for essential nutrients. The industrial products, meantime, are utilized for oil-well drilling muds, metal electroplating, and aluminum recycling. They are also used by food processors and pharmaceutical manufacturers.
Geographic Markets
The United States is Mosaic's most important market, accounting for 39.1% ($3.9 billion) of its total sales in fiscal 2013. Some 60.9% (or $6.1 billion) of the company's revenues were derived in international markets. Brazil represents the largest foreign buyer, with purchases of $2.1 billion, $2.2 billion, and $1.8 billion in fiscal years 2013, 2012, 2011, respectively. Sales outside Canada and the U.S. were 61% of the total in FY 12 (MAY). The second-most important foreign component of sales was those through Canpotex, accounting for 12.4% ($1.2 billion), 11.7% ($1.3 billion), and 10.0% ($992.9 million) of total sales in fiscal 2013, 2012, and 2011, respectively. The next three largest buyers were Canada ($686.3 million), India ($475.2 million), and Argentina ($258.3 million). Direct sales to China totaled only $173.3 million.
A Crumbling Duopoly?
Fertilizers are substances or mixtures that contain one or more of the major plant nutrients and sometimes secondary and/or trace nutrients. They are added to soil to replace essential nutrients depleted by crops. The main nutrients are phosphorus, nitrogen, and potassium (supplied as potash). Fertilizer markets are both seasonal and volatile. Demand is a function of grain prices, government farm programs, the acreage and mix of crops planted, weather patterns, farming practices, and currency exchange rates. Population growth and dietary trends play important roles as well. The cultivation of corn is the largest single use of fertilizer in the U.S., at about 45% of total consumption. Wheat is a distant second (13%), followed by soybeans and other oilseeds (6%), cotton (5%), fruits and vegetables (5%), and all other crops and uses (26%).
Canada is by far the world's largest producer of potash, followed by Russia, Belarus, Germany, China, Israel, Jordan and the United States. The potash industry is concentrated, with the three Saskatchewan producers - Potash Corporation, Mosaic, and Agrium, Inc. - accounting for about one-third of total world production. The four largest producers in the world are Potash, Russia-based Uralkali, (Belarus) state-owned Belaruskali, and Mosaic, in that order. On the phosphate side, Mosaic is the largest U.S. phosphate fertilizer producer, followed by Potash Corporation and CF Industries Holdings Inc.
Until just a few days ago, the global potash market was considered a duopoly, largely dominated by Canpotex (in operation since 1972), which is wholly owned by the three major Canadian (Saskatchewan) producers, and Belarusian Potash Co. (BPC), a similar consortium that exports Belarusian and Russian potash. Collectively controlling almost 70% of global potash exports, with a roughly 35% market share each, the two marketing organizations (considered cartels by many) for years essentially dictated the supply and price of potash around the world. This cozy arrangement sustained a potentially fatal blow this past Tuesday, however, when Russia's Uralkali announced that it had decided to stop its export sales through BPC, citing Belaruskali shipments outside BPC following a decree issued by Belarusian President Lukashenka last December cancelling the exclusive right of BPC to export that nation's potash. In conjunction with making that announcement, the Russian concern's chief executive, Vladislav Baumgertner predicted that global potash prices would fall some 25% to below $300 a ton. Shares of Potash and Mosaic plunged that day, as did the shares of Uralkali, as investors reacted harshly to the possibility that industry prices, margins, and profits would fall dramatically.
Uncertainties Galore Near Term
It's impossible to know at this early stage how the BPC is going to play out. The worst case scenario would probably have the two estranged partners boosting output in an attempt to mitigate the impact of falling prices. This strategy would undoubtedly only worsen the pricing dynamic and hurt all potash producers. On the flip side, the breakup could prove temporary in nature, as Uralkali specifically noted in its announcement that it did not "exclude the possibility of cooperation on a mutually beneficial basis in future." Indeed, considering both the nearly 20% loss in market value stemming from the separation and the inevitable harsh realities of operating independently, a reconciliation certainly seems at a 50/50 proposition in the not-too-distant future. For its part, Belarus, which is sorely strapped for foreign reserves, certainly can't afford to let Belaruskali, one of its few cash cows, battle for too long against better-capitalized global competitors in a race to the bottom. In assessing the latest developments, it's also important to note that Uralkali has expressed, on multiple occasions, a strong interest in acquiring its Belarusian counterpart. A price war that undermined the potential target's viability could help it achieve that goal. If there is a silver lining, a sharp drop in potash prices may well spell the death knell of the development of new potash mines, most notably BHP Billiton's plan to build the world's biggest potash mine in Western Canada. Canpotex, meantime, has indicated that it's premature to alter its marketing strategy, pending clarity on how Uralkali will operate going forward.
Favorable Secular Trends
Macroeconomic and financial stresses around the globe have hurt the fertilizer sector in recent years. This reality is underscored by stock prices that are considerably below their all-time highs set in the summer of 2008. Looking out longer term, however, the industry stands to benefit greatly from worldwide population growth, rising per-capita income, and ever-expanding demand for food, from a relatively fixed agricultural land base. These trends signify increased demand for fertilizer products, as farmers continually seek to improve the quality and yield of their crops.
A Timeline for Major Stock Repurchases
On May 25, 2011, Cargill divested its 64% ownership stake (285.8 million shares) in Mosaic, splitting off its shares to Cargill shareholders and debt holders. A portion of the shares (157.0 million) was subsequently sold through a public secondary offering, while Mosaic negotiated the purchase of another portion. The Margaret A. Cahill Trusts (MAC Trusts) retained ownership of approximately 128.8 million (Class A) shares. A plan was set forth by which the trusts could sell 43 million of the shares as of November 26, 2013, another 43 million one year later, and the remaining 43 million after November 26, 2015. Mosaic has been building cash on its balance sheet in an effort to purchase some or all of the shares from the trusts; cash totaled $3.7 billion at the end of May and the company has considerable borrowing capacity. The indications are that share repurchases will be initiated after November 26, 2013. Ironically, the recent price plunge, assuming no meaningful recovery in the near future, would allow the buyback at a far lower cost to the treasury than was anticipated.
Our Tentative Earnings Estimates
Mosaic's top and bottom lines have increased dramatically since the company's formation in the fall of 2004, with revenues compounding at a low teens annual rate and share net rising at an even faster pace, albeit from a very small base. Revenues increased from $4.4 billion in fiscal 2005 to $10.0 billion last year, while earnings advanced from $0.47 to $4.42 a share. Prosperity in many of the emerging economies, where most of the world's population lives, notably China, India, and Brazil, helped fuel substantially higher demand for fertilizer in the past decade. Profitability, meantime, was also bolstered by benefits associated with economies-of-scale and the operating leverage inherent in the mining business, as reflected in the roughly 16 percentage point expansion in the operating margin. All that said, it's important to note that both revenues and earnings are highly sensitive to a plethora of variables that are largely, or completely, out of management's control. They include weather, economic conditions, prices for agricultural commodities, which influence fertilizer affordability, and volatile raw material costs. Looking back at the last several years, since the financial crises of 2008, both revenues and earnings were flattish, as macroeconomic pressures squeezed phosphate and potash prices and essentially offset increased shipment volume.
Mosaic's financial results have historically been difficult to predict. The task becomes exponentially more difficult for the year ahead for multiple reasons. Most important, the bottom-line impact of the spat between Uralkali and Belaruskali is virtually impossible to divine at this early stage. Potash prices will undoubtedly continue to slide in Asia. The fallout in North America and South America, Mosaic's most important geographic markets, is far less clear, considering Canpotex's transportation and logistical advantages. Also unknowable is the duration of the breakup. Critically, too, the company announced last December that it's changing its fiscal year to end on December 31 from the historical May 31. As such, it will begin reporting quarterly results on a calendar-year basis with the quarter ending on September 30, 2013. The company will also report results for a transition stub period of June 1 to December 31, 2013. The combination of seasonality in Mosaic's business and the absence of comparable year-earlier results make it almost impossible to generate meaningful estimates for the balance of Calendar 2013. Further complicating matters is the probability that the number of shares outstanding will most likely drop considerably later this year, either through open market purchases or implementation of the MAC Trust agreement. Given all of these variables, we've decided to stay with the historical fiscal accounting period for our earnings model. On this basis, we think earnings will approximate $3.45 in fiscal 2014 and $4.15 in fiscal 2015, rising to $6.45 in the final year of our projection horizon. The long-term projections assume some "normalization" in the potash market and the retirement of all Class A shares.
The Bottom Line
There are certainly a large number of moving parts when it comes to assessing The Mosaic Company, perhaps most notably the still unclear ramifications of the BPC breakup. It is important to note, however, that agriculture is not dead and secular population and socioeconomic trends augur well for fertilizer providers over the long haul. Investors should also note that the potash sector is still controlled by very few large players, with five companies accounting for about 70% of the world's total production capacity. Commodity prices could undoubtedly continue to soften but the trajectory will have to reverse course at some point, possibly following the elimination of some of the smaller marginal players. Moreover, reconciliation between Uralkali and Belaruskali can't be ruled out, either through the resurrection of BPC or a merger of the two companies. On balance, we think MOS shares offer an attractive risk/reward profile.
Disclosure: I am long MOS. I wrote this article myself, and it expresses my own opinions. I am not receiving compensation for it (other than from Seeking Alpha). I have no business relationship with any company whose stock is mentioned in this article.