ArcelorMittal (NYSE: MT) is one of three big giants of steel producers, with POSCO (NYSE: PKX) and Nucor (NYSE: NUE) the other two. MT is by far the biggest producer of steel in the world, yet it only meets less than 10% of total world demand. Would you be interested in buying the biggest steel company in the world today that is available for sale for less than half of its book value?
ArcelorMittal is traded as an ADR on the New York Stock Exchange and is headquartered in Luxembourg. For Q2 of 2013, the steel giant posted a net loss of $0.8 billion or 44 cents per share, compared with a net income of $1 billion or 66 cents per share a year ago. Please see the below excerpt from the 2012 annual report of MT:
"With global growth slowing, 2012 proved a difficult year for the steel industry. The difficulties were particularly marked in the second half when uncertainties over the future of the Eurozone, the impact of austerity in Europe and destocking in China combined to hit demand and prices in many markets. Overall, global steel demand still grew 1.6% but the pattern was far from uniform. However, the year finished with a pick-up in both raw materials and steel selling prices as Chinese mills restocked."
ArcelorMittal reduced its outlook for earnings before interest, tax, depreciation and amortization (EBITDA) to $6.5 billion from 7.1 billion for 2013, due to weak demand and lower raw material prices. The company expects that profitability will be driven by 1%-2% increase in steel shipments, about 20% increase in marketable iron ore shipments, and the realized benefits from asset optimization and gain initiatives. We sit, sleep, eat, drive, live, wash and dry our clothes in steel. So far the growth in steel business has been slow but it is sure to catch up with global recovery.
ArcelorMittal expects to spend about $3.7 billion on capital expenditures in 2013. On July 15, 2013, MT paid its annual dividends of $0.20/share. Due to an expected investment in working capital and the payment of the annual dividend, net debt is expected to increase in the second half of 2013 to roughly $17 billion. With a flexible operating network, the company has focused production according to regional demand trends while cautiously investing in a key growth project, which is "Mining."
The company's strong emerging-market exposure will prompt a quicker sales recovery than at many of its competitors. Steel demand in the developed world, particularly Europe is likely to recover at a much slower pace. ArcelorMittal became the largest steel producer in 2006 after the merger of "Mittal Steel" and "Arcelor," now having about 8% of the world's steelmaking capacity. Supplying one fifth of the global automotive market's steel needs, the company is a strategic partner for many large manufacturers, reaffirming its importance in the global steel market.
Please take a look below at the sales of the company in the last 5 years, with year-to-date sales in 2013: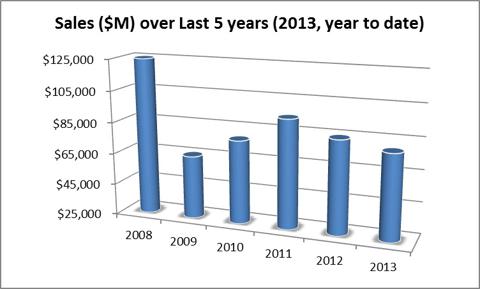 As you can see the sales have seen a wild ride after the 2008 US recession, followed by the European recession but that is exactly what makes this an attractive investment, in our opinion. We believe that as both US and Europe recover, two biggest markets for MT, it would see its fortunes reverse. ArcelorMittal has been very active investing in the emerging markets, since a presence in these growth markets is essential for survival and growth. Amid weak demand for steel, the U.S. manufacturing sector is still growing, supported by the robust automotive market.
The global recession has increased the importance of developing economies, which now represent almost 80% of global steel consumption, versus 50% in 2000. ArcelorMittal has turned its focus to developing markets with varying degrees of success. The company already has a significant presence in Brazil with a 30% market share. Brazil has experienced rapid growth in its automotive and construction sectors, and developments for the World Cup and the Olympic Games add another million tons of annual steel consumption. MT has made progress in obtaining necessary environmental licenses and dealing with government regulations in India, for its $18 billion dollar Green field Indian projects (Jharkhand and Karnataka). Similarly steel demand in China is growing, with China in hot pursuit of creating homemade vehicles with the long range plans to sell these in foreign markets (with US being the most lucrative). ArcelorMittal has well positioned itself for rapidly growing steel demand in China with its joint venture with "Valin Steel Co" (also known as VAMA), where the company will be producing raw steel sheet material for cars. ArcelorMittal also has cost advantage over its US rivals (such as Nucor) due to its location advantage, i.e. being near to China.
The company has a significant presence in every major steelmaking market, including developing countries, where we expect demand growth to be strongest in the next several years. This mitigates the risk of regional economic downturns while giving the company the ability to participate in areas of the world with biggest promise of growth. Further, the company's vertical integration and flexible operating network, paying attention to regional demands and strong emerging market focus, give it an edge over competition.
ArcelorMittal is exposed to the cyclical nature of the steel sector, which is dependent on global economic growth and is often subject to high volatility in order rates, input costs, and selling prices. This has been quite apparent in the last few years, with revenue falling nearly 50% and EBITDA margin declining by almost 9% from 2008 to 2009 as the financial crisis in US and Europe took hold. This was followed by two years of 20%-plus top-line growth and a substantial recovery in profitability as steel fundamentals improved in tandem with a swift increase in developed economies across the globe.
ArcelorMittal reports its operations in six reportable segments representing continuing operations: Flat Carbon Americas, Flat Carbon Europe, Long Carbon Americas and Europe, Asia, Africa and CIS ("AACIS"), Distribution Solutions and Mining. Please see below the results for each segment going back to 2010.

The three most revenue generating (although not currently profitable) segments are:
Has production facilities in USA, Canada, Brazil and Mexico
Has production facilities both in Eastern & Western Europe
Long Carbon Americas & Europe
Has production facilities in North/South America and East/West Europe
It is apparent from the numbers above that Capex (capital expenditures) from Mining are the highest among all 6 segments, $1.8 billion in 2012, as opposed to $545 million average on all remaining 5 segments. It should also be noted that Mining is the lowest revenue generator of all, so one might question as to why the company has recently forayed into mining business in the first place. The only logical explanation I could derive from MT financials is that company is cross selling mining products within its own segments and making a profit doing so. But it's like taking it from one hand and giving it to the other. We are going to watch this trend closely going forward.
Word about Management:
Mittal family owns more than 40% of outstanding shares, thus the largest shareholder and takes up the top two seats; Lakshmi Mittal as CEO and chairman of the board and his son, the CFO. During the last two decades, Lakshmi Mittal expanded a family-owned steel business into the world's largest steel producer. In the coming future, shareholders should be served well by ArcelorMittal's international expansion ambitions not to mention the talented management team on the helm.
The company has been a leading consolidator in the global steel industry, which has in recent years substantially improved steel companies' capacity planning and strengthened their negotiating power over customers. Following the 2006 merger between Mittal and Arcelor, the industry's two boldest consolidators joined under the same roof. While we are relatively comfortable with the company's capital allocation, we know that steel is a highly volatile sector and leveraging up to make aggressive capital expenditures or acquisitions in 2007 and 2008 caused the company to slash its dividend and issue equity at depressed prices in 2009. We would like management to operate conservatively, and as economies improve, try to pay down debt as much as possible, though share repurchase could remain a big shareholder friendly activity at today's depressed stock prices.
Risks
ArcelorMittal's earnings power is highly leveraged to steel demand and prices, with about 80% of sales conducted on a short-term basis. The steel industry is highly cyclical and demand is dependent on the global economy. Following the financial crisis in late 2008, global steel prices and demand fell dramatically and the company's operating income dropped from $12.3 billion in 2008 to a loss of $1.7 billion in 2009. This clearly demonstrates the meaningful effect that deterioration in market conditions can have on results. The pace of the company's earnings recovery will depend on the continued improvement in the global demand for steel, with Europe still lagging far behind. Should the recession persist longer than expected, the company could incur several years of low profitability and growth.
Furthermore, developing countries offer a complex mix of political and economic environments that can be hard to overcome by an outsider. A clear example is China, home to half of the world's steel production, where ArcelorMittal has been unable to establish a leading presence
Valuation:
No doubt, ArcelorMittal is a complex company and we can use various methods to see if it is a good investment at this time.
Book Value:
If you were to look at the book value/share alone, it seems to be a great bargain.
Book Value / Share = $30.92
Price of Stock (as of 8/6/13) = $12.24
Enterprise Value:
Enterprise value as of Aug 6, 2013 = $38.52 billion
Market Cap (approx.) = $21.5 billion
Price / Sales (last 12 months) = 0.29
Price / Book = 0.47
Enterprise Value / EBITDA = 5.87
Thus valuations from enterprise perspective make ArcelorMittal attractive.
DCF (Discounted Cash Flow Analysis):
Assumption for DCF for the next 10 years and going to perpetuity are as follows:
12% discount rate
11% WACC (weighted average cost of capital)
Perpetuity growth rate: 3%
Earnings growth rates (year after year for 10 years): 6%
Discount Free Cash Flow value of ArcelorMittal = $22.26

Pertinent Ratios of ArcelorMittal as compared to other Benchmarks
Conclusion:
Howard Marks (Chairman of Oaktree Capital Management), a billionaire in his own right, writes in his wonderful book, "The Most Important Thing; Uncommon Sense for the Thoughtful Investor," that most investors do only "Level 1" thinking when making investment decisions, i.e. they look at the most popular ideas, hot stocks that everyone is talking about and what most pundits are touting. They usually buy it too high when stocks are hyped up and thus become prone to selling at a loss.
Howard Marks says that in order to become a better than an average investor, one must do, what he calls a "Level 2" thinking. In this type of thinking you look at investments that are out of favor but represent excellent value. By doing your own analysis and digging deep, you find reasons why these businesses are being unjustly shunned by the market. You ask yourself questions such as:
Is there a mistake being made in popular opinion?
What are the long-term prospects of the business as a whole, ignoring current rhetoric?
What are the competitive advantages of this business that make it superior to competition?
If you could find enough reasons why a stock is being unjustly punished by "Mr. Market," you could very well run into a great potential investment. At that point all you need is courage of your convictions to make a buy decision and wait for either economic dynamics to improve or let the market come to its senses.
We believe that ArcelorMittal is exactly such a company that is caught in the headwinds of global recession, especially from two of its most important markets, Americas and Europe. It is strengthening its blue print in the most important growth markets such as China, India and Brazil. It is the largest producer of steel already and could easily leverage its knowledge and steel making expertise into these new markets. Once short-term aberrations in stock markets subside and economies start to improve, it might be too late to catch this stock at today's depressed prices.
Disclosure: I am long MT. I wrote this article myself, and it expresses my own opinions. I am not receiving compensation for it (other than from Seeking Alpha). I have no business relationship with any company whose stock is mentioned in this article.