Opexa Therapeutics, Inc (NASDAQ:OPXA) is a company engaged in the research of cellular therapies with the potential to treat major illnesses, mainly focused on multiple sclerosis. The company was incorporated in March 1991 and has focused on the development of the TCELNA, or T-Cell Therapy, using what is called a T-Cell Therapeutic vaccine licensed from Baylor College of Medicine. While this treatment (and company) is still at the development stage (Phase II to be precise), OPXA is poised to take on the challenge of being one of the major players in the industry, even before it reaches its full potential, once their products reach full development.
In the ongoing research against Second Progressive Multiple Sclerosis (SPMS), it is only mitoxantrone which is the approved effective treatment. However, it carries with it side effects such as leukemia and heart failure, and so still leaves the patient susceptible to major risks. Hence there is a need to further develop the T-Cell Therapy. In September of 2012, the research Phase IIb for TCELNA Immunotherapy was started. Data from the results of this phase is expected to be accessible on 2016.
Meanwhile, in February this year, Opexa Therapeutics entered into a $5M Option and License Agreement with Ares Trading, more commonly known as "Merck," which has the option to fund the development when Phase III proceeds. Should Merck take this option, it would be paying an upfront license fee of $25M. Should Merck fully develop the T-Cell Therapy for SPMS, Opexa Therapeutics is poised to receive up to $70 million worth of milestone payments. While competition mainly from companies such as (but not limited to) Novartis, Bayer-Scherring AG and even Merck-Serono exist, Opexa Therapeutics is confident that it can provide the safer and more economically beneficial (if not the first) option. Furthermore, if the TCELNA is approved by regulatory standards and commercialized by Merck, Opexa Therapeutics should receive royalties of up to 15% in annual sales, even stepping up should sales reach the $500 million, $1 billion and $2 billion milestones.
Risks and Current Stock Trends
The capacity for research can only go so far. While the treatment is in progress, there continues to be a heavy need for funding until the development is either completed or the project progresses to Merck. Profitability will only arrive once the T-Cell Therapy has been completed and trickled down to the prospective market. It is noteworthy that the technology being developed for this is still in its early stages, and this includes the aid of third parties for the clinical trials, data collection and further analysis. Upon completion of the development however, there is no assurance that the rate of acceptance for the new T-Cell Therapy. Most risky of the concerns however is the pacing of development from the competition. Once the competition has come up earlier with a product that treats the same condition, the progress of the T-Cell Therapy will clearly be compromised. In spite of this, the rise of the competition will not ascertain the demise of the T-Cell development completely, as there may be other benefits that can be had with this product which may come out during the development stages.
Opexa Therapeutics' stock was initially very promising, with shares hitting up to 63 percent this year with 430, 000 shares. In fact, its shares more than doubled this June, with shares increasing from $2.04 each to $2.82 each, and possibly even projecting a possible $3 per share in the terms to come.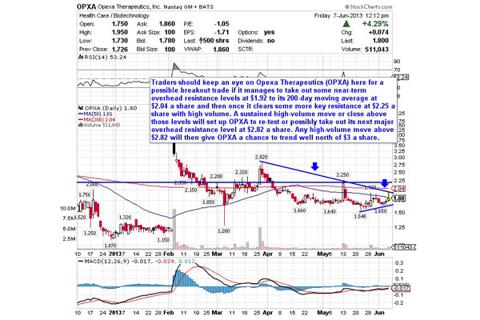 However, it is worth noting that as of August 7, there has been a tremendous drop. Speculation was that this was seen to be typical market overreactions as the project progresses but stock owners can only hope for a better week once trading resumes. After all, the process of developing the T-Cell is a work in progress, and as with all works in progress, encounters highs and lows throughout its development. While it may have some primary concerns, the prospect of having a significant cure remains relevant. This has been clarified by the company that it is selling $1.50 per share until Aug. 13, 2013.
Conclusion
In spite of these risks, Opexa Therapeutics has remained bullish since the start of the year. Since that time, it has already been projected to be one of the major breakouts for this year. Its involvement with Merck is indeed very promising as the gains have been negotiated at every stage of the success of the project. However, the biggest caveat in the security of investing at this point is the gamble of when it will come up with the fully developed TCELNA which will still lead to the Phase III of this development. Once this is completed. However, the pessimists on TCELNA ever reaching Merck's development will have something to regret.
Disclosure: I have no positions in any stocks mentioned, and no plans to initiate any positions within the next 72 hours.
Business relationship disclosure: The article has been written by an Analyst at ResearchCows, ResearchCows is not receiving compensation for it (other than from Seeking Alpha). ResearchCows has no business relationship with any company whose stock is mentioned in this article. Any analysis presented herein is illustrative in nature, limited in scope, based on an incomplete set of information, and has limitations to its accuracy. The author recommends that potential and existing investors conduct thorough investment research of their own, including detailed review of the company's SEC filings, and consult a qualified investment advisor. The information upon which this material is based was obtained from sources believed to be reliable, but has not been independently verified. Therefore, the author cannot guarantee its accuracy. Any opinions or estimates constitute the author's best judgment as of the date of publication, and are subject to change without notice.