We were encouraged to see the Securities Exchange Commission take some action on a former management level employee at Green Mountain Coffee (NASDAQ:GMCR) for illegal insider trading. Although the SEC appears to be focusing on low hanging fruit in this particular case, it exposes the internal controls and actions of previous senior management to closer scrutiny.
Overview: The SEC charges announced August 2, 2013, allege former employee Chad C. McGinnis ("McGinnis") and a friend, Sergey Pugach ("Pugach") netted $7 million in illegal profits by trading (in advance of the company's public release) before 12 of the past 13 earnings announcements since 2010. If you do the math, that's $2.33 million a year during a three year period.
In contrast, between August 2010 and August 2013, GMCR insiders (officers, directors, etc.) purchased $1,209,524.00 worth of stock and sold $466,111,858 for net total of -$464,902.00. Insider sentiment during the three year period was clearly negative, with sales-to-buys approximately 4:1. It's worth pointing out that insider options exercised during the similar period largely mimic the timing of insider sales.

Click to enlarge
A comparison of reported insider activities to the illegal trades cited in the SEC complaint only offer an anecdotal perspective of timeline. However, it is interesting when you compare the pace of activity relative to timing of reportable insider transactions, earnings announcements (shown below) and the alleged illegal transactions of McGinnis and Pugach.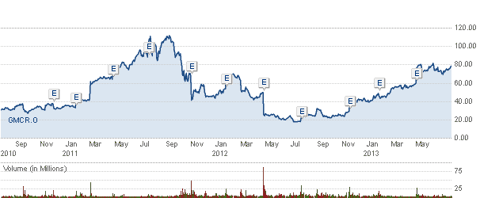 Click to enlarge
Mr. McGinnis was formerly employed at GMCR as a systems administrator in the company's IT department. In that capacity he reportedly had access to a wide range of confidential information. The question is how was this information exploited?
The SEC complaint unsealed July 31. 2013 in U.S. District Court for the District of Connecticut alleges that McGinnis and Pugach purchased GMCR "securities", typically out-of-the-money options shortly before earnings announcements were made. (Example of May 2012 earnings trade is below). CNBC's Tyler Mathisen reported similar allegations in a broadcast following the SEC announcement. Details about the directional nature of the illegal trades can be viewed here.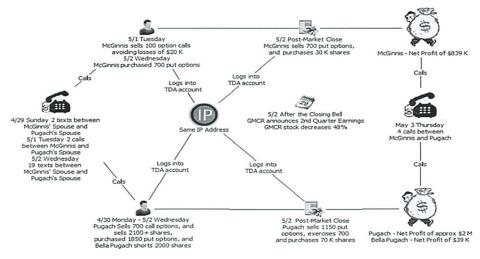 Click to enlarge
Visualization provided by SEC.
To profit from OTM options, the underlying stock price either has to be above "call" or below "put" the strike price of the option. OTM options are an inexpensive but risky way to speculate on the direction of a stock's price movement. Deep OTM options have no intrinsic value and will expire worthless unless there is a dramatic change in the price of the underlying stock.
It is important to note that the alleged illegal trades occurred during a period (2010 to 2013) of increased scrutiny to the company's accounting practices and internal controls. Another factor potentially influencing a forward bet on earnings would be the short interest in the name.
The McGinnis case is remarkable in that the OTM options trades were profitable 92.3% of the time. Given the extreme volatility of GMCR's share price between the years 2010-2013, the alleged illegal trades were bold, risky and exceptionally well-timed. It also raises the possibility that McGinnis may have had a more comprehensive and intimate knowledge of GMCR's affairs than what has been disclosed by the SEC.
Such a possibility begs some questions. Was McGinnis privy to legal strategies or inter-departmental conflicts? Did he have access to email correspondence discussing or debating potentially material events? Was he aware of any financial information which might have significant bearing on pending earnings results? Did he have access to accounting information which might instill confidence to the directional nature of an options trade?
We can think of many more questions but point here is McGinnis in his capacity as systems administrator, placed him in the hub of the GMCR network. During the period of the alleged illegal activities, GMCR was experiencing rapid growth, including the integration of several acquisitions. It is also reasonable to assume that McGinnis was aware of GMCR's internal controls issues.
Time-frame of the illegal trades and the internal controls issue also bring up a personal side-note related to GMCR's Q42011 earnings report. GMCR's public relations contacted us on October 26, 2011 asking for a retraction of an expected earnings date we had included in a story published the previous day. Realizing that earnings announcements are a significant market event, we cross-reference multiple sources before inclusion. October 26, 2011 was the consensus date provided and the date we used.
Our publisher was also contacted and reference to that date was removed. Ironically, GMCR public relations advised us (in the Oct. 26th correspondence) that the company had not yet announced a date for the earnings release. Several hours later (afternoon of Oct. 26), GMCR did in fact issue a press release announcing November 9, 2011 as the Q4 earnings date.
Interpret at will, but given the heightened media and market attention directed at GMCR (going into their anticipated fiscal year-end audited numbers), management's sensitivity to "earnings" was glaringly evident. Our mention of the correspondence is purely anecdotal, but interesting given GMCR's stock price decreased by 38.99% one day after release of Q4 earnings.
Ironically, defendant Pugach shorted the stock and bought OTM put options prior to announcement. Following the announcement, he covered his short position and sold the OTM put options for a profit of at least $305,000. (Page 9 of SEC complaint).
Timing is everything: Insiders sell their shares for a variety of reasons and exercised stock options (from grants and awards) are included in the GMCR data above. Yet, it is notable that a bulk of reported insider sales (in dollar value) also occurred between 2010 and 2013.
To be clear, the SEC charges against McGinnis and Pugach do not implicate the company or its senior management's involvement in the case. This point was reiterated in a GMCR response statement published August 2, 2013. GMCR President and CEO Bryan Kelley offered this:
"All indications are that this case involves an irresponsible individual acting alone and we have no reason to believe anyone else associated with the Company was involved."
As we conveyed previously, bringing current CEO Bryan Kelley into the company was needed to get the GMCR "house" in order. From an operating perspective, we view his hands on the helm as constructive to the company's future. He became acting CEO in January 2013.
However, investors need to be mindful that a separate and ongoing SEC investigation into GMCR is entering its third year. The fact that the SEC has not made any material or actionable discovery as of yet, does not mean they will not in the future.
The "Dark Years": We have been covering GMCR since September 2010 and have been bearish on the stock throughout. The relationships we were seeing in the financial statements did not parallel the story being told by management or earnings. This was particularly evident in our analysis during the parabolic growth phase in 2010-2012 fiscal years. Our archived articles and analysis on GMCR can be viewed here.
Our viewpoint then and remains still, skeptical to the legitimacy of the company's reported financial results during that three year period of time. The illegal insider trading scheme does not add any smoking gun to our viewpoint, but it reinforces our doubts about the integrity of GMCR's internal control mechanism and the management team in place at the time.
It also draws the actions of previous management back into the discussion. McGinnis and Pugach allegedly netted $7 million (albeit illegally) during a similar period of time that reportable insiders netted proceeds of almost $465 million. Amidst the insider selling in 2011 for example, GMCR's share price soared from $40 to over $100, only to tank back to pre-rally levels a few months later (circled below).

Retail, institutional and momentum traders exploited the momentum and volatility also, but directional extremes in GMCR shares (particularly during 2011) suggest many non-insiders may have been caught on the wrong side of their trade. If anything, the insider trading charges open a door to possibility for bigger fish to be caught.
If the SEC can identify a rogue trading scheme at the non-executive level, then it is reasonable to think investigators might be inclined to explore further up the food chain.
Regardless of the outcome, one aspect is crystal clear. Between 2010 and 2013, investors were led to believe the GMCR growth story was intact. Meanwhile, people most familiar with the company (insiders) were cashing in their chips.
Other Considerations: GMCR reported FQ3 earnings last Wednesday. Earnings beat consensus by $0.05 but revenue missed estimates by $14M. The company is also currently in the process of rationalizing (think restructuring) its asset base to improve operating efficiencies. These efforts may be bearing fruit as management credited a "drive in leverage" for some of the improvement in its Q3 bottom-line growth.
GMCR shares fell over -6% following Wednesday's Q3 report, but the stock is up an impressive +85% YTD. Our historical view of GMCR's share price is that it typically does not correlate to the underlying fundamentals. This perspective is reinforced by our analysis of the financial statements, earnings quality and cash-flow.
However, the ongoing SEC probe into the company should not be dismissed lightly. Although the illegal insider trades focus attention on the actions of a management level employee, the scope of fiduciary duty and its obligation apply to any person(s) in possession of material non-public information.
We find it very difficult to believe that McGinnis and Pugach perpetrated their trades based solely on information or language gleaned from "pending" earnings announcements. Given GMCR's history of share price volatility, a consistently successful OTM trade in GMCR would require some level of assumption that market participants will react in a predictable manner. Getting it right twelve out of thirteen times suggests more than luck or a working knowledge of behavioral finance.
A more likely scenario to the incredible success achieved by McGinnis and Pugach might be in the depth of information disseminated. Observing the evolution of internal developments leading up to an earnings announcement would provide a distinct advantage. Being privy to confidential details as they unfold, offer "best available information" value. It would also provide objective context to how an earnings release might influence or be perceived by the market.
GMCR Remains A High-Risk Proposition: The cockroach theory implies that if you see one there are likely more. It will be up to regulators to determine whether or not GMCR violated any securities laws. Yet, the illegal trade scheme is a reminder that regulators are still in town.
Being stupid is not a crime, but the McGinnis / Pugach case paints an unflattering picture of GMCR's previous executive management team and corporate governance. The fact McGinnis exploited his position for as long as he did, speaks poorly of the internal controls and their oversight.
Investment Opinion: Until results of the SEC probe are known, we would avoid this stock as a fundamental play. Twitter "tweets" and social media chatter about GMCR is chock full of trade advice, technical observations and options strategies. This suggests short-term engagement remains active, but GMCR's low beta is deceiving (compared to benchmarks) in a slow summer tape.
Valuation wise, GMCR's current 29% P/E multiple appears to be pricing in some confidence of the new management team and the company's recent efforts to improve operating metrics. Again, we expect CEO Kelly to get things lean, but it will take some time. Going forward, investors will also likely be influenced by new product announcements, partnerships, etc.
However, GMCR carries a lot of baggage from its previous acquisitions and hyper-growth days. There are numerous unexplainable accounting issues, unresolved inventory concerns and curiously timed secondary offerings.
Risks include potential restatements, asset impairment charges, fines/penalties and anything else that might ruin shareholder equity resulting from an adverse SEC action. Was management negligent, reckless or just asleep at the wheel? There are too many unanswered questions during the 2010-2013 period which could come back to haunt investors going forward.
As for the timing of the illegal trades and the reported insider transactions, the only relevance between them is their frequency and regularity during the period 2010-2013. To a forensic investigator however, these relationships might provide clues to the exchange and flow of material and non-public information between insiders. Knowing who knew what and when, may get us closer to how and why.
Disclosure: I have no positions in any stocks mentioned, and no plans to initiate any positions within the next 72 hours. I wrote this article myself, and it expresses my own opinions. I am not receiving compensation for it (other than from Seeking Alpha). I have no business relationship with any company whose stock is mentioned in this article.
Additional disclosure: Data and information sources used in this article were provided by: SEC, Reuters, Wall Street Journal, Market Watch, CNBC, Seeking Alpha and company press releases.