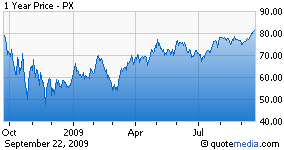 Monday, Praxair Inc.'s (PX) Chinese subsidiary installed its NCOOL cryogenic heat exchanger system at a Shanghai Pharmaceutical (Group) Ltd. unit. It employs Praxair's patented NCOOL cryogenic heat exchanger system in a pharmaceutical freeze dryer.
Praxair's highly efficient nitrogen-based system replaces its mechanically refrigerated freeze dryer with a system that is environmentally safer, more reliable and has greater processing capability. By utilizing the cooling value of ultra-cold liquid and gaseous nitrogen, the NCOOL system eliminates reliance on compressors and halogenated coolants (CFCs or other ozone-depleting substances). The system is used for precision cooling and temperature control of production lyophilizers, chemical reactors and other critical fluid cooling applications.
Based on the promising future prospects of liquid nitrogen cooling of pharmaceutical freeze dryers, Praxair (China) Investment Co. Ltd signed its first contract to supply liquid nitrogen.
China is showing solid signs of recovery. Infrastructure spending by the Chinese Government will create jobs and boost consumer demand in the short term. Thus, we expect growth to pick up in China this year and in 2010.
The auto, steel and chemical industries have announced a significant number of plant start-ups in the second half. Management thus expects its pipeline of new business to remain strong for at least the next five years. However, low natural gas prices have hurt the company's top-and bottom-line results in the second quarter of 2009, which is likely to continue for the next couple of quarters.