Forest Oil Corporation (NYSE:FST) is an independent oil and gas company, primarily operating in North America. This company is engaged in acquiring, exploring, developing and producing natural gas and natural gas liquids, as well as oil. Forest owns assets in several exploration and production areas in the United States. The company also has exploratory and development interests in two other countries, namely South Africa and Italy. Currently, Forest is conducting its operations exclusively in the United States. Forest's primary areas of operation include Eagle Ford Shale in Southern Texas, the Texas Panhandle Area and along the Eastern Edge of Texas bordering into the Northern Louisiana Area.
Texas Panhandle Area
As the holder of approximately 100,000 net acres in the Texas Panhandle Area, Forest is one of the top acreage holders in the area. The area provides horizontal drilling opportunities that target multiple oil formations such as the Missourian Wash known as Hogshooter, Tonkawa, Douglas and Cleveland, as well as several liquid rich intervals in the Granite Wash formation.
For the year, Forest intends to operate two rig drilling programs targeting -- Tonkawa, Douglas, Hogshooter and other oil locations.
Eagle Ford Shale
Approximately 86,000 net acres in the Eagle Ford Shale is located in Gonzales County of South Texas. Forest has widely experienced consistent results from this shale and has the largest most uninterrupted block of acreage in the area. The drilling in the Eagle Ford Shale is focused in the central fairway of Forest's acreage position. Forest has initiated a development plan that employs one to two rig drilling program in the area, which should allow it to hold approximately 40,000 acres over the next several years.
In Jan. 2013, FST agreed to sell all of their oil and natural gas locations in Southern Texas, except for the Eagle Ford Shale oil properties for a net proceed of $307 million. This transaction completed on Feb. 15, 2013.
In April 2013, FST entered into an agreement regarding the future development of their Eagle Ford Shale acreage with Schlumberger. In accordance with the agreement:
To own half of the working interest in the Eagle Ford Shale acreage position, Schlumberger (NYSE:SLB) will pay a drilling carry arranged at $90 million dollars for its participation in future drilling and completion services and other related development services.
After the completion of the drilling carry, which is intended to be a phased contribution, both the companies will do future drilling based on a 50-50 share basis.
The agreement applies to wells which began drilling operations on or after the Nov. 28, 2012, which had not yet been moved to production before the April 1, 2013. Forest retained interests in all the wells and its production that were drilled before the Nov. 28, 2012. Being the operators of the drilling program, FST expects that the drilling carry will be realized by mid- 2014.
Schlumberger, as stated in the agreement, will offer resources to encourage the progress of the development and production of the Eagle Ford acreage by means of integrated service offerings. They will also provide assistance in the form of asset management support. This includes, but is not limited to, completion, drilling, lifting and reservoir management technologies, as well as unconventional resources workflow development.
East Texas / North Louisiana Area
Approximately 123,000 net acres in the East Texas and North Louisiana Area is worked by Forest Oil Corporation. The area has high potential for horizontal drilling opportunities targeting multiple stacked-pay intervals, which includes the Haynesville, Cotton Valley and other formations.
Forest's development program was initially focused on natural gas in the Haynesville Shale in North Louisiana, but in 2011, the activity was reduced in this area due to the decrease in natural gas prices. During 2012, FST changed its focus to liquids-rich drilling projects to take advantage of these higher-margin opportunities.
In 2013, FST plans to operate a one rig drilling program in East Texas.
Geographic Segment
The table below summarizes developed and undeveloped acreage in which Forest either owned working interest or has held an exploration license as of Dec. 31, 2012.
By Dec. 31, 2012, Forest's net underdeveloped acreage in United States were held under leases which constituted approximately 20%, 18%, and 13% which will expire in 2013, 2014, and 2015, respectively, if not extended by exploration or production activities.
Forest operates in one industry segment the exploration and production of both oil and gas. They now have only one reportable geographical business segment: the United States.

Depleting prices in NGL, Natural Gas and Oil
Historically, oil and natural gas prices have been volatile and are subject to fluctuation in response to a variety of factors that are beyond the company's control. Approximately 67% of the estimated proved reserves at Dec. 31, 2012 were natural gas, causing the company to be particularly dependent on prices for natural gas. During the 4Q11 and continuing into 2012, natural gas prices declined to ten-year lows. For six months, ending on June 30, 2012 the company experienced a hike in its average realized sales price of natural gas. The continuous depleting prices in oil and FGL can have adverse effects on the company's drilling operations which in result will have material impact on the company's financial state. A continuation of low natural gas prices or a significant decline in oil price may have the following effects on the business:
Impairing the financial condition, liquidity or inability to fund planned capital expenditures.
Limiting the access to sources of capital, such as equity and debt.
Restricting the company from developing its current properties, or from growing our asset base.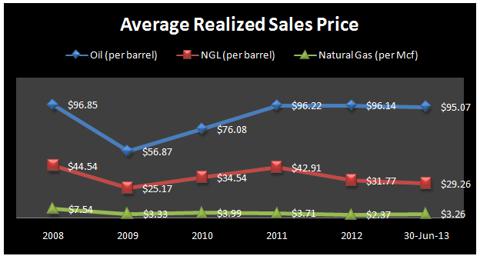 The effects of natural gas and oil derivatives that Forest currently owns are not included in the 2013 price differential guidance for the year. Based on current prices, Forest forecasts that: Natural Gas price differentials will average from $0.45 to $0.55 per MMbtu which is lower than the NYMEX Henry Hub price. Oil price differentials will average $0.00 to $2.00 per Bbl which is greater than the NYMEX West Texas Intermediate price. Natural Gas Liquids realizations will average 30-35% of the West Texas Intermediate price.
Though Revenue is declining the Expenditures are efficiently controlled.
The decreases in equivalent sales volumes in the 2013 periods as compared to the 2012 periods were impacted mostly by divestitures, occurring in November 2012 and February 2012, of oil, as well as natural gas properties located in South Louisiana and South Texas.
Revenues from oil, natural gas, and NGLs were $235 million in the first six months of 2013 as compared to $295 million in the first six months of 2012. The $60 million decrease was primarily a result of the decrease in equivalent sales volumes due to the aforementioned divestitures. The decreased revenue, which was caused by the decline of sales volume, was recovered by an increase in the average sales price by about 19 percent. The average sale price per Mcfe increased from $4.81 in 2012 to $5.72 in 2013.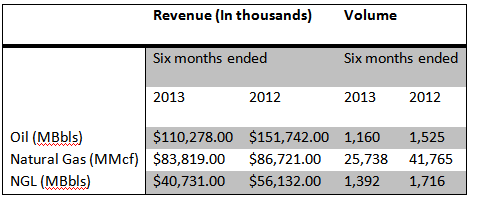 The production expense, as reported for six months, ended June 30, 2013 amounted to $53,994 as compared to $80,421 for the corresponding six months ending in 2012. Though revenues have dropped by 20.33%, the production expenses have decreased by 32.86% depicting the management's efficiency in controlling its expenditures.
For the six months ended June 30, 2013, Forest recognized net loss of $35 million as compared to a net loss of $544 million for the six months ended June 30, 2012, respectively. The net loss for the six months ended June 30, 2013 included $15 million unrealized loss on derivative instruments, $25 million loss on the early termination of debt, and $7 million in severance-related expenses associated with the sale of our South Texas oil and natural gas properties.
Indebtedness
As of June 30, 2013, Forest had a principal amount of long-term indebtedness of $1.63 billion, including $130 million drawn under the bank credit facility.
In March 2013, Forest redeemed the remaining $300 million in principal amount of 8½% senior notes at 107.11% of par, recognizing a loss of $25.2 million upon redemption due to the $21.3 million call premium and write-off of $3.9 million of unamortized discount and debt issue costs.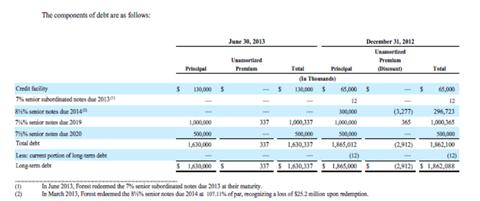 The company is bound to comply with certain restrictions and conditions as imposed by the above issued Senior Notes, which requires meeting -- financial ratios and tests, primarily with respect to consolidated interest coverage, total assets, net debt, equity, and net income. For instance, the bank credit facility as availed has imposed a condition stating the ratio of total debt outstanding to EBITDA (as adjusted for non-cash charges) for a trailing 12-month period will not be permitted if it is greater than 4.5 to 1.0 at any time. FST's ratio of total debt outstanding to EBITDA for the 12-month period ending June 30, 2013, as calculated in accordance with above condition stood at 4.37.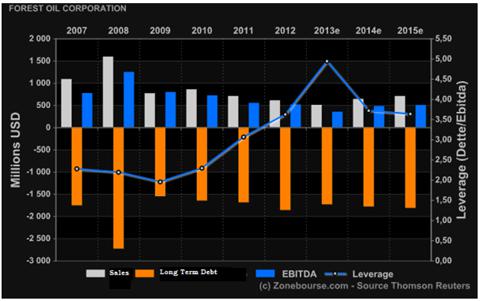 In July 2013, Forest announced that it will initiate a marketed process to pursue the potential sale of its oil and natural gas properties located in the Texas Panhandle Area. If the sale of these assets is completed, the proceeds will be used to reduce the indebtedness.
Contingent Liability Related to the Pending Bankruptcy of Pacific Energy Resources, Ltd.
In August 2007, Forest closed the sale of their oil and gas assets in Alaska to Pacific Energy Resources, Ltd. In March 2009, PERL filed for bankruptcy protection under Chapter 11 of the U.S. Bankruptcy Code. On PERL's request, the bankruptcy court has approved abandonment of PERL's interests in certain of the Alaska Assets. The owners of interest in Alaska Assets who still remain have declared that Forest Oil Corporation is liable for the commitments made to PERL in respect to the company, which includes any commitments regarding operational costs and any costs associated with the decommissioning and plugging of platforms and wells. Litigation between Alaska Assets and Forest Oil Corporation has been settled, but there is additional litigation between the two regarding the decommissioning of a platform in Cook Inlet.
Key Takeaways:
The initiatives undertaken by Forest Oil to increase its production for liquids are note worthy. Forest's focus on cost control and the upside from the Missourian Wash and Granite Wash interval positions will help it well to weather the weakness in natural gas prices.
In the emerging basins of Texas, Canada and Mexico, Forest has begun to develop a steady presence. Forest's effort in expanding its liquid production to maximize its margin is right on it way gaining pace.
Forest has already added considerable acreage in the Permian Basin, enabling it to access potential oil resources in several oil-bearing pay zones which include -- Wolfbone and Wolfcamp Shale plays. The average production for the year is expected to average between 220 - 230MMcfe/d. The forecast is primarily centered on oil comprising 40 percent of total production, which can prove to be favorable in the light of weak gas and liquid prices.
The company's active steps in asset acquisitions as well as divestitures have helped it to reduce its debt.
Eagle Ford Shale and Panhandle area is an important piece of the upstream growth plans that will develop over the next several years. Management, in this respect, will be updated to suit the capital program for 2013. Additional reduction in the prices ad volume of natural gas and liquids may be protected against by the company's switch to higher-margin oil development.
As per the planned cap-ex program in the asset for the year, Forest Oil expects a 30% boost to its oil volumes.
Recent asset divestitures and solid cash flow, has stabilized the company and will allow Forest to start focusing more exclusively on developing from its existing assets, including its recent Eagle Ford transaction
Concerns:
The declining reserved of Forest as compared from the 2011 level is concerning. The company has lost a large portion of its reserves due to the price volatility in gas and asset sales. Forest Oil Corporation is still intending to deleverage while shifting to liquids. Investors may wish to be wary, especially when comparing the 2013 numbers to the 2012 levels,
With natural gas accounting for more than 65.5 percent of total production in the first quarter of 2013, Forest Oil is exposed to the prevalent tentative outlook of the North American natural gas market. The price changes in natural gas have more effect in its operations and cash flow than to fluctuations in the market price for oil and NGLs.
Forest is primarily operating in United States only and has limited international exposure. When compared to similar international companies, this corporation is less diverse and less prepared to face any potential problems within the regions that it is already operating in.
Conclusion
As per the points discussed, the management has efficiently reduced the company's overall costs as compared to the depleted revenues. The company's strategies in hiving off parts of its properties can significantly reduce its debt and position it in a balanced financial leverage. With the ongoing efforts of the company, I tend to have a bullish approach on the stock, which has a lot of potential and space for growth.
Disclosure: I have no positions in any stocks mentioned, and no plans to initiate any positions within the next 72 hours.
Business relationship disclosure: The article has been written by an Analyst at ResearchCows, ResearchCows is not receiving compensation for it (other than from Seeking Alpha). ResearchCows has no business relationship with any company whose stock is mentioned in this article. Any analysis presented herein is illustrative in nature, limited in scope, based on an incomplete set of information, and has limitations to its accuracy. The author recommends that potential and existing investors conduct thorough investment research of their own, including detailed review of the company's SEC filings, and consult a qualified investment advisor. The information upon which this material is based was obtained from sources believed to be reliable, but has not been independently verified. Therefore, the author cannot guarantee its accuracy. Any opinions or estimates constitute the author's best judgment as of the date of publication, and are subject to change without notice.