Annaly Capital (NYSE:NLY) just reported earnings that were actually pretty good, as detailed in this article. The most compelling question for investors is if the dividends will need to be reduced yet again. We have seen the dividends drop each quarter for about 4 quarters in a row now, and dividend income investors are getting squeamish about the erosion of the total return.
Usually, a dividend income seeking investor watches share price fluctuations far less than the actual dividend received. With NLY, investors have enjoyed yields of 12-14% over the course of the last several years, but at what cost?
The issue is the purchase price. If an investor bought at the top of around $18.00/share, he/she would have lost about $6.00/share in value, and received roughly $1.95/share in income.
The main problem with that has several different parts.
If the investor must sell the shares, a loss of $4.00/share will be realized after dividends received.
The future prospects are bleak for NLY and further, even more drastic dividend cuts are coming.
From the last earnings report we now know that the book value of NLY has dropped to $13.03/share. A 9% discount to book would normally place a floor of sorts on the share price. The problem with that is the floor has been cracked to the downside ever since the Fed began giving mixed signals about tapering QE down sooner than later.
The Earnings Do Give Us A Hint
The very first sentence of the company press release tells us quite a lot:
Annaly Capital Management, Inc. today reported GAAP net income for the quarter ended June 30, 2013, of $1.6 billion or $1.71 per average common share as compared to GAAP net income of $870.3 million or $0.90 per average common share for the quarter ended March 31, 2013.
With this increase from one quarter to the next, some would conclude that the dividends are safe, and might even get increased.
Well, not quite.
Without the effect of the unrealized gains or losses on interest rate swaps and Agency interest-only mortgage-backed securities, net loss on extinguishment of the 4% Convertible Senior Notes due 2015 (the 4% Convertible Notes), impairment of goodwill and loss on previously held equity interest in CreXus Investment Corp. (CreXus), net income for the quarter ended June 30, 2013, was $460.6 million or $0.47 per average common share as compared to $464.4 million or $0.47 per average common share for the quarter ended March 31, 2013.
The actual bottom line, all things accounted for, was actually flattish to lower. Now an investor could conclude that the dividends will remain the same, but not be increased.
Well, not so fast again.
During the conference call, Wellington Denahan responded to one query about the business itself:
I've said, year in year - on these calls and to investors individually that mortgages start somewhat of a pain in the ass to deal with, and quite frankly that's the way it is.
My take on this particular comment is that Denahan, and other mREIT CEOs, are just as confounded by where the Fed is heading and when, that a chart to navigate where interest rates will go, where the yield curve spread will be, and how fast everything actually happens might just have investors conclude that more dividend cuts are on the way.
Guess what - not so fast one more time.
Denahan pre-faced all of her comments and responses with this:
With this volatility comes opportunity. Investment spreads have improved market leads. Risk has been more properly priced and demand for high quality collateral in the funding markets remains robust. Regardless of the economic data, or who is the next Fed Chairman, it seems the Fed needs to reduce its purchases or risk becoming an even greater share of the market as both treasury issuance and mortgage production decreases.

As long-term investors in these markets, we welcome the return to a more normalized spread environment and remind investors that over the last 16 years as a public company, the vast majority of the more than 500% return delivered to shareholders has come from spread income.
As far as I'm concerned, this statement from the CEO of NLY gives me most of the information a long-term dividend income seeking investor needs to know : 500% return over 16 years as a public company.
Click to enlarge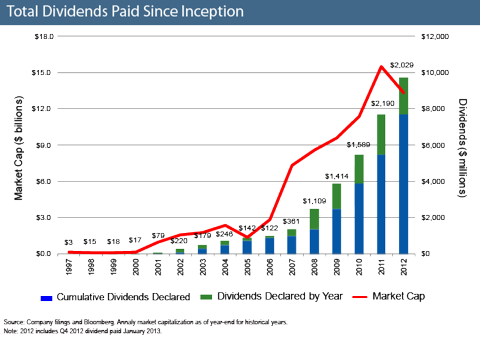 Click to enlarge
These two charts, directly from the company website, tell us just about everything we need to know right now.
NLY has navigated through all sorts of interest rate environments since 1997.
NLY has returned over 500% in shareholder value through dividends paid, through the ups and downs by the way.
Combing the track record of NLY, with the fairly positive earnings report, and Wellington Denahan's own statements, I conclude that the dividends are not going to be cut, and we might see more long-term stability.
By the same token, the addition of CreXus should add net income to this overall picture, and we MIGHT see a tick up in dividends next quarter. Unless of course the Fed begins playing even more unanticipated games.
I'm certain of one thing however: long-term investors have historically been rewarded by the NLY business model, period.
Isn't that why we own the stock?
Disclaimer: The opinions of the author is not a recommendation to either buy or sell any security. Please remember to do your own research and consult an expert in the mREIT business before making an investment decision.
Disclosure: I am long NLY. I wrote this article myself, and it expresses my own opinions. I am not receiving compensation for it (other than from Seeking Alpha). I have no business relationship with any company whose stock is mentioned in this article.