I have been watching wrestling since the 90s and witnessed various wrestling eras. Despite being an avid fan for so many years, I have just begun questioning whether I would invest my hard earned money in World Wrestling Entertainment (NYSE:WWE) and recommend investors to do the same. This analysis will answer the featured question and help us understand the dynamics of the company.
Business model
World Wrestling Entertainment is an entertainment company that has been associated with the sports entertainment business for over 30 years. The company develops unique storylines, which are delivered through television, internet, and live events, using their contracted professional wrestlers. The company's active roster consists of highly trained professional wrestlers (Superstars & Divas). Presently, the Superstars and Divas are approximately 135 in number and are under an exclusive contract. These vary from multi-year guaranteed contracts with established Superstars to developmental contracts with Superstars in training. As of March 2013, the company has approximately 721 employees. This headcount excludes Superstars.
The primary source of income of the company is dependent upon four different business segments which consist of Live and Televised Entertainment segment, Consumer Products segment, Digital Media segment, and WWE Studios. At present, the company does not have any direct competition. However, they do consider professional/ college sports, other forms of live, filmed or televised entertainment and other leisure activities as their indirect competition.
Know your risks before you invest
According to the latest SEC filings, the company will continue to increase its content production for distribution and planning to create a WWE network. The WWE network is a planned hybrid network exclusively owned by WWE, which includes TV, mobile and online content distribution. Failure to maintain/ renew agreements with television networks and pay-per-view programming could affect the operating results. Inability to develop entertaining storylines, retaining/ developing superstars or creating an entertaining event can hamper its popularity, resulting in decline in business.
Unexpected loss of Chairman/ CEO, Mr. Vincent K. McMahon would affect the company's ability to create superstars and storylines. A decline in the popularity, changes in social and political climate/ economic conditions of the country could adversely affect the business. The company's role as to whether it creates a positive effect in the social community has already been questioned in the Connecticut State Assembly.
An increase in bad debts, changes in the regulatory atmosphere (television networks, promoting and conducting of live events), uncertainties from international markets and certain risks associated for conducting public live events could affect the operating results and damage the business strategy. In addition, higher production cost associated with their feature film business could become another significant risk. The company could face additional risks related to their computer systems and online operations.
The company's Class A common stock has a relatively small public float. A substantial number of stocks are owned by the McMahon family members, which means the family has the ability to manipulate the stock price. Moreover, McMahon also earns a majority of Class B common stocks, resulting in voting rights of nearly 82%. So, he can control affairs of the company and his interest may conflict with the interests of Class A common stockholders.
Thus, all of the aforementioned factors can negatively impact the operating results of the company.
Global Reach
World Wrestling Entertainment has a strong global presence, and it has a unique position both in the domestic and international market. At present, more than 100 million fans tune-in weekly to witness live events through TV and live arena coverage. The weekly programs include both RAW and Smackdown which are being watched in more than 150 countries. There are about 1.5 billion YouTube views on the company's content. Furthermore, it's the no 1 cable program in the US and various international networks. Overall, the net income of the company has increased over the past few years. Net income surged 1.3% over the past 2 years.
Segmental analysis
According to my calculations, Live and Televised Entertainment business segment contributed nearly 70% of the total revenue of the company over the past 2 years. This is followed by the Consumer Products business segment, which contributed 20%, while Digital Media and WWE Studios contributed 6% and 4%, respectively. Over the past 2 years, revenues outside of North America accounted for 24% of total revenues.
The Live and Televised Entertainment segment includes revenue earned from the sale of tickets of live events, sales of merchandise at these live events, television rights fees, integrated sponsorship fees, pay-per-view fees and video-on-demand programming.
The Consumer Products segment includes direct sales of the company's produced home entertainment business (DVD/Blu-ray), magazine publishing and royalties related to various themed products such as video games, toys, and apparel. In the year 2012, this segment experienced a 7% decline in revenues due to declines in licensing (weaker performance in the video game category) and magazine publishing business (weaker newsstand demand).
The Digital Media segment conducts sales through advertising on the official website. It also generates income from various fees received for digital content and sale of merchandise on the official website. The segment experienced a 23% increase in revenues over the prior year, due to increase of fees from new agreements with YouTube and Hulu. Also, the advertising revenue increased by $1.5 million from the previous year.
The WWE Studios segment revenues declined by $13.0 million compared to the prior year due to the bad timing of their film releases, lower number of films released, inefficient film distribution policy and films not doing well in the market. The WWE Studios segment includes revenue from the distribution of film entertainment.
Future Predictions
The company should continue investing in talent development, building creative storylines and creative events. This will help engage fans, increase the numbers of live attendances, viewership numbers on television networks and pay-per-views, both in domestic and international markets. This should increase the revenue of the company in the coming future.
I believe the management's decision to launch a potential WWE network will result in a greater number of subscribers of the network, resulting in increased revenue.
The following table has been extracted from the company's shareholder presentation. If the company attracts 2 million subscribers, the new network will generate an additional revenue within the range of $90 million - $130 million. The revenue could rise to as much as $270 million if the new network attracts nearly 4 million subscribers.

Source: shareholder presentation
Re-negotiation of four key television agreements over the next few years should also gain more revenue for the company. These include USA Network and Syfy in US market, BSkyB in UK and Taj TV in Indian market. These contracts could help generate another two-third of the annual TV rights revenue, generated in 2012. The company is trying to establish new digital content in the form of new mobile apps, mobile/ online games and gaming consoles. With these key drivers, the company is planning to increase its net income from $63million to within the range of $125 - $190 million in the next 2 to 3 years.
World Wrestling Entertainment should tap in more countries, preferably in Latin America and Asia Pacific as it has seen rapid growth in emerging markets like India and China, where it witnessed a growth of 20% in recent years.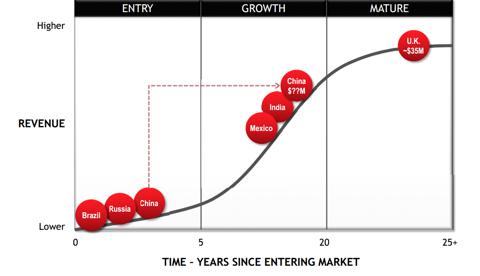 As shown in the diagram above, the UK's market has reached its maturity. Therefore, further investments in this market are not advisable. The Indian and Mexican markets are on a growth stage with their revenues expected to increase over next 5 to 10 years. The company should target holding live events in various cities of these countries and introduce their product customized offerings. For example, they can use local commentators, speaking native tongue. The company can focus its strategies on China as it has the potential to generate more revenue over the short term.
Conclusion
I am bullish on the future of World Wrestling Entertainment as the management is committed towards bringing in new strategies that benefit the company in the near future. These strategies include continued development of Superstars and storylines, re-negotiations of TV agreements, development of new digital content, including mobile apps and online and mobile games. The company is also considering tapping new and emerging markets. Finally, the launch of a WWE Network would again prove beneficial for the future of the company.
Disclosure: I have no positions in any stocks mentioned, and no plans to initiate any positions within the next 72 hours. I wrote this article myself, and it expresses my own opinions. I am not receiving compensation for it (other than from Seeking Alpha). I have no business relationship with any company whose stock is mentioned in this article.