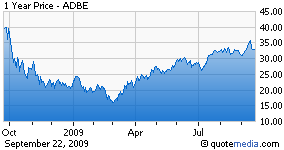 Monday, Adobe (ADBE) launched its new Flash Distribution Service Platform at the IAB MIXX Conference and Expo. The Flash Distribution Service is hosted, managed and maintained by Adobe and its partners on a pay-per-use basis.

The platform consists of a number of facilities available online that enable advertisers, publishers, game developers and other flash content providers to develop applications that can be easily shared and transmitted between desktops, Mobile Internet Devices (MIDs) and across social networks.

Additionally, the company's AIR software enables tracking and measurement of application distribution and customer usage through the Distribution Manager. As a result, comprehensive traditional and social media analytics are generated. The number of new devices on the market and increase in social networking make this a particularly useful feature for content developers.

The distribution service has been created through an agreement with Gigya, which specializes in making widgets for social networks. The company recently made a bid to acquire Omniture (OMTR) for $1.8 billion. Omniture provides the same kind of analytics services to Gigya, so the acquisition would strengthen Adobe's position in the area and could also lower its dependence on Gigya.

In the recently concluded quarter ended August 2009, the company generated revenue and earnings that beat consensus estimates. Adobe's platform products generated the strongest growth in the quarter, albeit off a small base. Platform gross margins also grew the strongest.

Management guidance for the fiscal fourth quarter ending November was slightly stronger, indicating sequential revenue growth for the first time this fiscal year.